A Croydon arts and culture hub continues to fight for its future despite the threat of closure.
In May 2017, Regent Land and Developments made an offer for the building in which Matthews Yard is based subject to securing planning permission for demolition, with a decision due in June.
The Save Matthews Yard campaign has since been launched, and in March it secured Asset of Community Value (ACV) status, offering additional protection from development.
Matthew's Yard founder Saif Bonar said: "I am obviously against proposals for demolition of the builiding as I feel this will be incredibly disruptive not only to Matthews Yard but to all our neighbours.
"It is an unneccessary step as the building can be modernised to provide much needed housing without the need to destroy Matthews Yard."
Saif opened Matthews Yard, which is also home to popular eatery Brgr & Beer, in 2012 following the summer riots, in order to provide a cultural and community space.
Many events have been hosted at the venue, including dance, theatre, comedy, film and live music with more than £50,000 being raised by local people for the continued development of Matthews Yard.
A petition was launched by the Save Matthews Yard campaign, attracting over 6,000 signatures.
Matthews Yard includes a theatre, gallery, restaurants and workspaces for businesses.
Saif said: "The community have provided phenomenal support because we have been a source of inspiration and motivation for so many – we were trailblazers."
Members of the Croydon community have expressed their concern with the potential removal of Matthews Yard.
Founder of Croydonites Festival Anna Arthur said: "I feel very sad that Matthews Yard might be demolished because we don't have enough venues in Croydon so its loss will be felt very deeply."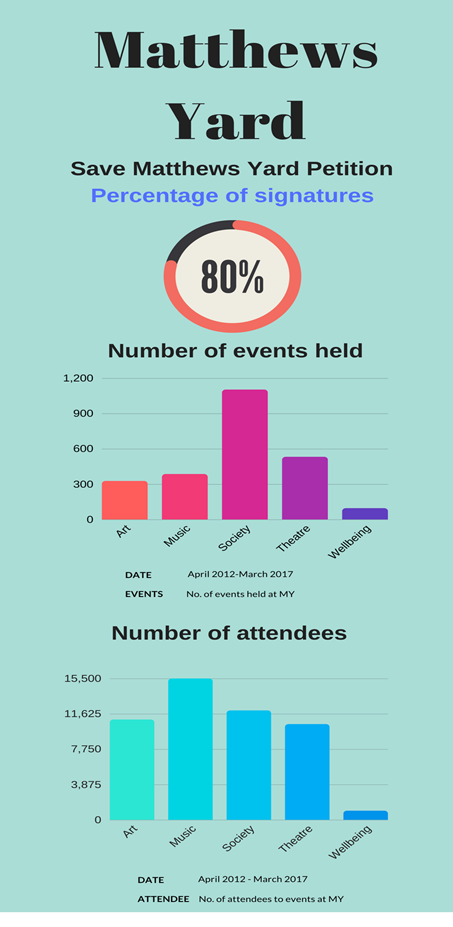 Croydonites is a theatre festival that showcases local artists and high quality performances that has used Matthews Yard space for their events.
Anna said: "Saif, wanted to create something for the local community, so the original intention came from a very good place, it was not about making money.
She added: "In addition, lots of local people helped financially, either through buying shares or loaning money and so they feel part of it. The theatre is the first crowded funded performance space in the UK."
Photographer Rob Wilson Jnr, who has collaborated with Matthews Yard, said: "Matthews Yard is a safe space for the community to come and express themselves, their creativity and their art."
He added: "It was crowdfunded partly by the community and that says something about the people –  one couple are getting married soon and I know that they met here."
The developers want to build 55 new flats and in addition include a cultural hub called The Beamhouse.
A spokesman for Regent Land and Developments said: "The new events space will be called 'The Beamhouse' and will offer community and charity events including open mic nights, poetry and spoken word; comedy, cabaret, fashion launch nights; film, yoga and fitness events."
However, Saif is sceptical about the developers plans for a cultural space.
He said: "I have concerns over the viability of any cultural or community hub they propose with the rates they are intending to charge.
"This is why we did not agree a lease with them ourselves."
The planning committee at Croydon Council will make a decision later this month as to whether they will approve plans for demolition.
Saif said: "We are in ongoing discussions with the local authority and have the backing of the council leader and others so we are confident that whatever happens, Matthews Yard will live in on in some form."
He added: "My hopes for Croydon is that it continues its path of becoming a more attractive and exciting place for residents and visitors."