Commuters are more likely to be attacked while waiting for a train at Wimbledon than Brixton, exclusive figures obtained by SW Londoner reveal.
The startling figures revealed that nine more incidents of assault were recorded at the SW19 rail hub between October 1 2013 and November 1 2014.
In total 26 attacks were recorded in Wimbledon compared to just 17 in Brixton.
Combined with data from eight other southwest London stations, a total of 158 assaults took place over the same period – a staggering rate of three attacks per week.
Clapham Junction is by far the most dangerous station, with 70 assaults recorded.
This statistic however is somewhat tempered by the fact that the station is one of the busiest in Europe in terms of the number of trains that pass through.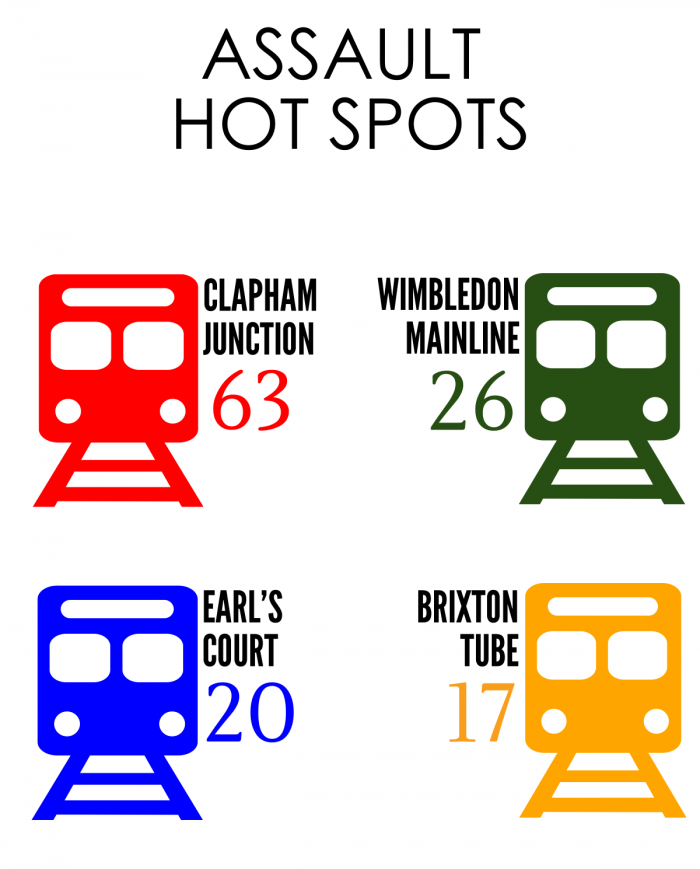 At the other end of the scale Sloane Square had no attacks recorded during all but one of the months studied.
Fulham Broadway also fared well despite regular large crowds converging on the station on Chelsea match days.
Just three assaults were recorded despite the sometimes rowdy game day atmosphere.
A British Transport Police spokesperson said that although there was disparity between different stations the statistics had to be looked at in context.
He said: "Comparing stations with each other is not always easy but, for example, you are more likely to change trains at Wimbledon mainline than Sloane Square underground station.
"There will be more people on the platform and the station at Wimbledon rather than just passing through on trains."
SW Londoner also revealed that six of the assaults recorded across south west London were racially-motivated, while another six were of a sexual nature. Five of the assaults were on police constables.
The BTP spokesperson said officers are constantly working to reduce incidents of assaults, and that crime at stations is down for the tenth year in a row.
He said: "Our officers regularly patrol stations, to reassure the public and staff alike, and act as a deterrent."
The force also regularly runs operations to target offenders, and have partnered with licensed premises in stations to help reduce alcohol-related attacks.
Picture courtesy of Charbel Akhras, with thanks