Hundreds of early birds took part in a 20km sunrise walk in Richmond.
More than 400 gathered at 3.30am to take part in the unique walk starting at Ham House run by Shooting Star Children's Hospices (SSCH), a charity that supports young people with life-limiting conditions.
Organisers said 167 people took part in the 20km and with 247 walkers tackling the 10km route helping to raise at least £51,000 with a target of £90,000.
Cath Munro, 34, from Herne Hill, whose 15-month old nephew George is supported by SSCH, was at the walk with George's mum, Donatella, 36.
Ms Munro said: "We are walking today to celebrate Donatella's amazing son George who has spent nine months in hospital. He's now home and is going to be getting care at Shooting Star Children's Hospices' Hampton hospice, Shooting Star House."
"The walk has been phenomenal, we really enjoyed it. The sun was out, the route was wonderful, people were amazing and it's all before breakfast time so we have the rest of the day ahead of us!"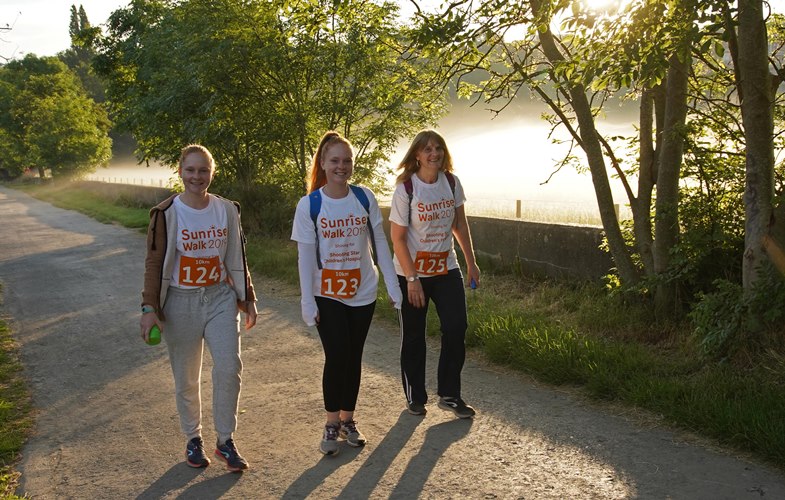 EARLY RISERS…three of the walkers enjoying early morning sunshine
George, who lives in Chelsea with his parents, has two rare syndromes, 1p36 deletion and 4p duplication that have given him seizures and dystonia.
According to Ms Munro's Just Giving page, only about 100 children in the world have 4p duplication and George's combination of the two makes him unique.
Before the walk on June 2, participants remembered loved ones by hanging decorated lanterns on a "Celebration Tree" to light the starting line.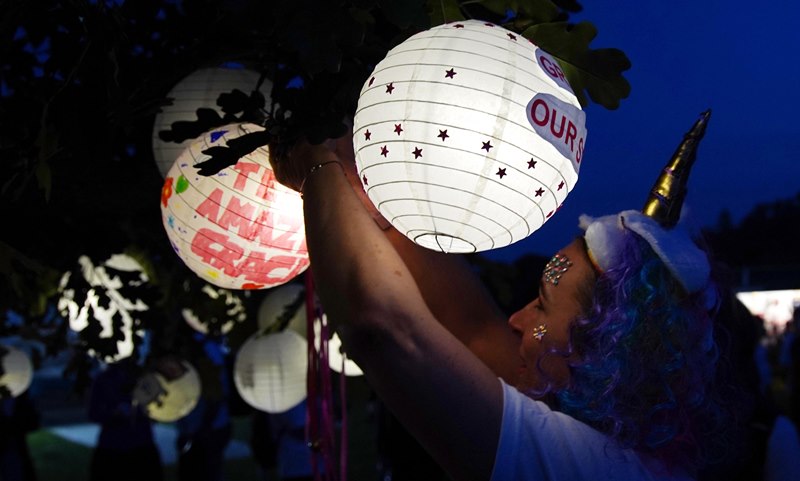 LIGHT OF OUR LIVES…walkers hang lanterns to help light the starting line 
They also observed a minute's silence to pay tribute to bereaved families supported by the charity.
The route went through the area's most picturesque sights including Richmond Park, Richmond Hill, Ham Common, Bushy Park and Hampton Court Palace.
Each walker received a commemorative medal as they crossed the finish line and then recharged with a post-walk picnic breakfast.
This was SSCH's seventh sunrise walk in Richmond and it will be holding its first in Guildford on 30 June.
SSCH chief executive Nigel Harding said: "We are so grateful to all our participants who got up in the early hours and walked the long distances, and to all those who donated and showed their support.
"Thanks too must go to our wonderful volunteers who are always so dedicated and give up their time to help set up the event, marshal and cheer on our walkers."
Mr Harding said it is becoming increasingly challenging to raise the vital funds it needs to provide its bespoke support and services.
He said: "We are hopeful that our Richmond Sunrise Walk will exceed our target of £90,000 – which will make an immeasurable difference."
SSCH cares for babies, children and young people with life-limiting or life-threatening conditions, and their families, throughout Surrey and across 15 London boroughs.
The conditions range from illnesses children are born with such as cerebral palsy and epilepsy, to those they get later in life like cancer.
It supports families free of charge from diagnosis to end-of-life and throughout bereavement with a range of nursing, practical, emotional and medical care.
To find out more and sign up for the Guildford Sunrise Walk on June 30 visit: www.shootingstar.org.uk/sunrise-walk
Pictures courtesy: Dave Jackson