A Kingston pensioner was conned out of £4,500 in a sophisticated scam two months ago – now police have released a CCTV image of a woman they want to speak to.
On April 28 the 69-year-old victim received a phone call from a man pretending to be from her bank.
He informed her that her bank card had to be changed to prevent fraud and she should dial the number on the back of her card to speak to someone.
The victim did as she was told and dialled the number shown on the back of her card.
When the call was answered, a man explained to her that her card had to be changed and he was going to ask her some questions.
During the phone call, the man managed to obtain the victim's bank account and personal details including her PIN number.
He also asked the victim to put her bank card into an envelope and a courier would be coming to collect it from her.
A few minutes later a man arrived at her address saying he was there to collect the card – she handed the envelope to him and the man left.
A short while later, the victim decided to go to her local branch and enquire about the phone call.
It was there she was informed that £4,500 had been withdrawn from her bank account.
CCTV later revealed a woman withdrawing the money from the victim's account.
Detective Constable Iain Millar, of Kingston CID, said: "Courier fraud is a sophisticated scam where victims are duped into revealing their PIN and handing over their bank card to a courier or taxi driver.
"The victim may be asked to ring the number on the back of their card thereby further convincing the victim that the call is genuine.
"However the scammer keeps the line open so that the victim unknowingly talks to another member of the gang, posing as a bank employee.
"I urge anyone who may recognise the woman on the CCTV image (below) to contact police as she could assist us with our investigation and catch those responsible.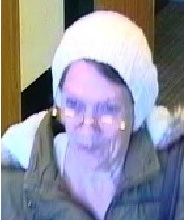 "I would also like to remind people that the police and banks will never ask for your PIN or bank card and if someone on the phone asks for it, hang up immediately."
Anyone with any information is asked to contact DC Millar on 020 8721 842 or Crimestoppers anonymously on 0800 555 111, quoting CRIS 0403944/15.
Image courtesy of Ray Forster, with thanks