Newly-founded Bournyack Theatre Company will be making their debut in April with a production of 'Drowning on Dry Land' at the New Wimbledon Studio.
Written by British playwright Alan Ayckbourn, the comedy takes aim at modern "Z-list" celebrity culture.
'Drowning on Dry Land' tells the story of Charlie Conrad, a man famous for being a failure, whose world comes crashing down after investigative journalist and amorous clown show him how fickle fame can be.
The production, directed by Paul Tate, will run every day from April 18 until April 23 and will include some matinee performances.
"Although some of his things may be considered to be wacky and different, there's always an underlying realness about the characters and the people," said theatre company founder Martin Rossen who is currently acting in 'An Inspector Calls' at the West End.
"I think [the play] just teaches you to be happy with what you are," said Mr. Rossen said, who is funding the production from his own pocket and through a crowdfunding campaign.
He added: "You can learn things, you can be things, you can elaborate and go further in your field if you try, but don't take anything for granted."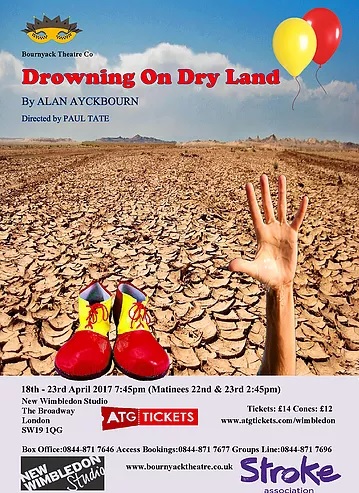 The cast will include Blair Robertson as Charlie Conrad, Janine Pardo as Charlie's wife Linzi Ellison, and Louise Devlin as up-and-coming journalist Gale Gilchrist.
As a tribute to Alan Ayckbourn, who suffered a stroke in 2006, members of the Stroke Association will be collecting donations at performances.
The Bournyack Theatre Company, the name of which comes from an anagram of Ayckbourn, is a new non-profit group which aims to bring plays by well-known writers, as well as new writers work, to audiences in London and further afield.
Tickets are £14, while concessions tickets are available at £12, and can be booked on the Bournyack Theatre Company website.