Vehicle crime figures in Kingston and Surbiton are at their highest in six years.
The latest police statistics show a sharp increase, with incidences in May 2017 reaching 100 compared to 51 in May 2016.
The figures on UKCrimestats.com show that nearly a third more vehicle crimes were recorded in May 2017 than the past year's average.
Katie from Kingston fell victim to this increase in March this year. Her Mercedes was stolen by a group "armed with guns".
They reportedly broke in to her home, stole the car keys, and quietly took the car out of the drive before starting it around the corner and making their getaway.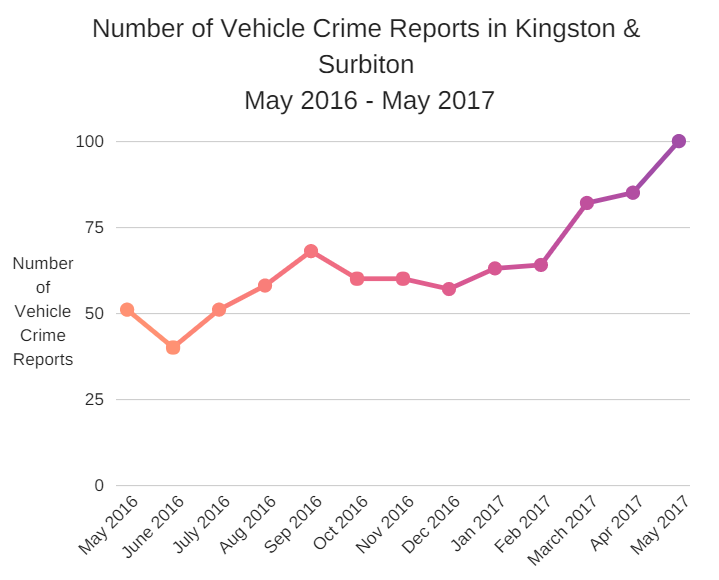 She said: "It was a steal-to-order job. We only realised how organised it was when we saw the scratches on the driveway from the machine they had used to lift the car out of the drive right below my bedroom window."
At the scene the following day she said Kingston Police officers told her: 'There's not much we can do. There have been seven burglaries every night this week just around Coombe estate'.
Katie said the thieves had used a technique called 'fishing'. It involves the use of a coat hangar through an entrance or exit to gain entrance or extract vehicle keys from within the house.
A Metropolitan Police spokesperson advised: "Don't leave your car keys anywhere near to an exit or entrance to the house."
They also said that Kingston's increase in vehicle crime is in part to do with the spate of bike-related crime that has been sweeping across London.
Anthony Enoch, Borough Commander for Kingston, said: "We fully support Operation Venice, the Met's operation to target moped enabled crime across London, and regularly provide crime prevention advice to members of the public as part of our ongoing strategy to reduce this type of crime."
Mr Enoch added: "We continue to work hard with our key partners to try and combat this rise in crime, and locally we have run a number of operations to target suspects and regularly proactively patrol in hot spot areas."
More information on how to help protect your vehicle can be found on the Metropolitan Police website.