In the UK 95 million cups of coffee are drunk every day – but what if that cappuccino you drink on your commute could change someone's life for the better?
That's the idea behind Change Please – a social enterprise employing homeless people as baristas, providing them with housing, mentors, and helping them rebuild their lives.
100% of its profits are channelled into reducing homelessness, and since its inception in 2013, it has had an 82% success rate of getting people into employment.
"Our mission is to tackle homelessness with coffee – it's as simple as that," explained founder and CEO Cemal Ezel, 35.
"People want to help – if someone is going to do something anyway, then it's just changing the option they make."
A trip to Vietnam in 2013 made Mr Ezel reconsider his life path and he left his City job in a bid to do something good.
"Homelessness is a problem you see all the time and it's one that we as a society can try and fix", he explained.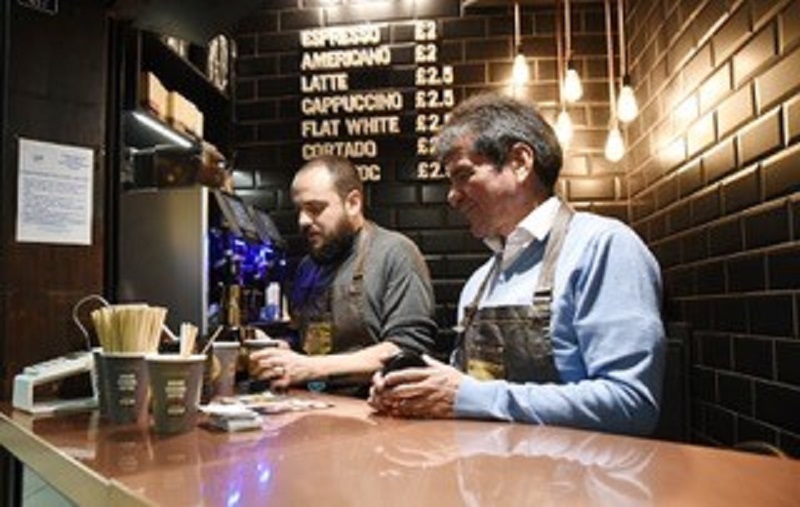 MAKING A CHANGE: A new coffee kiosk has opened in Clapham Common tube station
After initial funding from Virgin Start Up helped set up the first few stands, six years on with 33 sites around the UK, the company sustains itself through the trade of its coffee – all of which is ethically produced and supports Peruvian domestic abuse victims and landmine victims in Tanzania.
Change Please works in partnership with The Big Issue, homeless shelters, and TfL to get homeless people off the street and into employment.
In their latest venture with TfL, six kiosks will be built in tube stations across London. The first in Clapham Common received a positive public reaction after its opening in November last year.
Within ten days of recruitment all staff are found housing and work 40-hour weeks where they receive the London Living Wage.
The company aims to make the worker sufficiently independent so that after six months work they are able to move on to another job.
The latest report by homelessness charity Shelter found 320,000 people were homeless in the UK, while sleeping on buses has increased by 15% in the last year; the government classifies childhood poverty as the greatest determining factor in homelessness.
"There are a whole range of reasons why people find themselves homeless, and it's important to understand why this is a growing issue as opposed to putting everybody in the same box," said Mr Ezel.
"People often assume that the only potential people who are homeless are those who are dependent on drugs, or alcohol.
"For us by having someone work as a barista on our sites means being able to break that perception and show people that actually they can do more and they have stories and are real people."
Change Please, which Richard Branson called his 2018 start-up of the year, is a perfect example of how business and social good can happen through trade.
"It genuinely does work, it does make a difference," said Mr Ezel.
It's a convenient, charitable, and clever initiative that is making a change to the way London is tackling homelessness.
For more information see the Change Please website.