Two memorials have been unveiled on the first anniversary of  the Croydon tram crash, honouring the seven people that died.
A civic ceremony took place in New Addington at the site of one memorial, and was attended by hundreds of people.
On November 9 2016 a tram travelling at 44mph in a 13mph zone derailed, killing seven people and injuring 51.
The seven killed were Dane Chinnery, 19, Donald Collett, 62, Robert Huxley, 63, Philip Logan, 52, Philip Seary, 57, Dorota Rynkiewicz, 35 and Mark Smith, 35.
An earlier private ceremony, attended only by the victim's families, marked the unveiling of another memorial at the crash site at Sandilands Junction.
The New Addington ceremony featured numerous speakers, including bereaved families and the Mayor of London Sadiq Khan, and a minute's silence followed by a performance from Fairchildes Primary School and Meridian High School's choir.
In commemoration of those who lost their lives in the tragedy, Councillor Tony Newman, leader of Croydon Council, said: "Almost a year has passed since the tram derailment, but those who lost their lives, their families and others affected by this terrible incident are never far from Croydon's thoughts."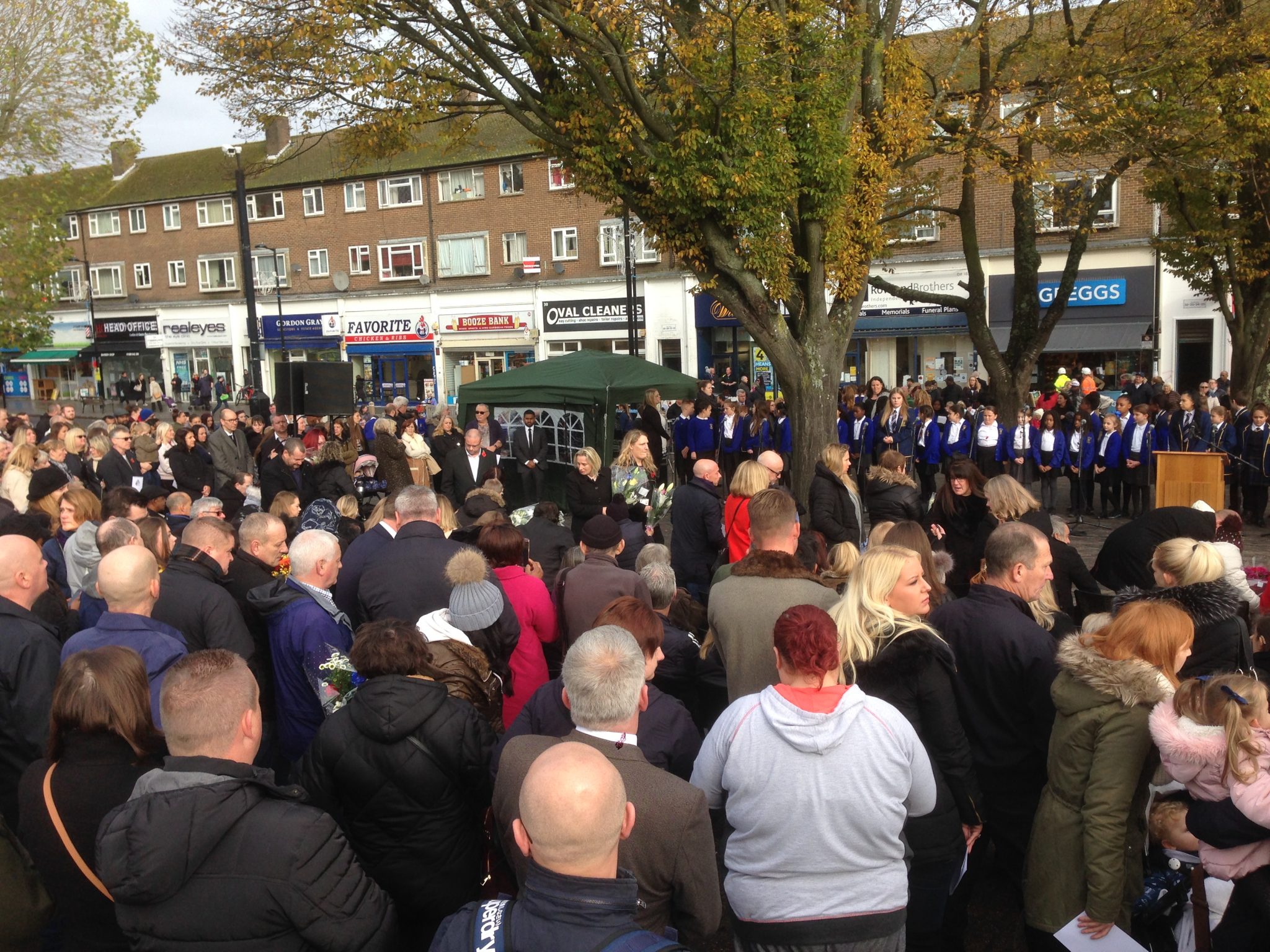 Homage was paid throughout the ceremony to members of the emergency services who attended the scene of the crash.
Sergeant Chris Morbey, one of the first responders to the incident, said: "I have never been so proud of my colleagues, whether a police officer, firefighter or paramedic. On a cold and drizzly morning, I saw some amazing people do some truly courageous things".
Sergeant Morbey also offered his respect to members of the public affected by the crash.
He said: "A hero is someone that is thrown into a horrific incident and, although seriously injured, they bend down and they help the person next to them. A hero is a parent, a partner, a son or daughter who carry on with their lives knowing they are never going to see their loved ones again. You are my heroes."
In the past year, Transport for London (TfL) have introduced additional safety measures to avoid a repeat incident.
However, not all changes have been met with acceptance. Tram drivers voted to strike earlier this month over TfL's proposition to introduce CCTV to monitor drivers without prior consultation.
At yesterday's memorial, Sadiq Khan said: "Our public transport system should be a place where people are always safe.
"We owe this to the victims, the families and to all Londoners."
A year on from the accident, the Rail Accident Investigation Branch's (RAIB) investigation into the cause of the crash is still ongoing.
On the significant wait for a final report, Councillor Newman said: "We also need to give families the space to move on with their lives, which to a degree they won't be able to do all the time there are reports waiting to come out."
RAIB has advised that its report is "nearing completion" and due to be published at the end of the year.