Yesterday, Buckingham Palace was ringing with silence, as the half-mast flag swayed under the drizzling rain.
Those paying their respects stared at the palace, unable to walk away, unsure of what to do. They were completely lost.
Throughout the day, there was a constant influx of people leaving flowers, cards, candles and more to express how much Her Majesty Queen Elizabeth II meant to the country and the world.
Some who had arrived in the morning still remained at the palace in the early hours of the evening as it was clear that many members of the public felt lost without their Queen.
Through times of great upheaval, the Queen empowered the nation. Pam Brys, an American nurse on holiday in London, said: "She gave people strength."
For the UK and many across the globe, 8 September 2022 will be written into history as a day resonating with loss.
As masses gathered at the gates of Buckingham Palace to pay their respects, the public was barely able to speak about the tragedy of the day.
For many, the Queen was a source of stability, warmth and comfort. Without need of meeting her or speaking to her, the nation was consoled through the unsettling changes and difficulties of the last 70 years simply knowing she has there, watching over them.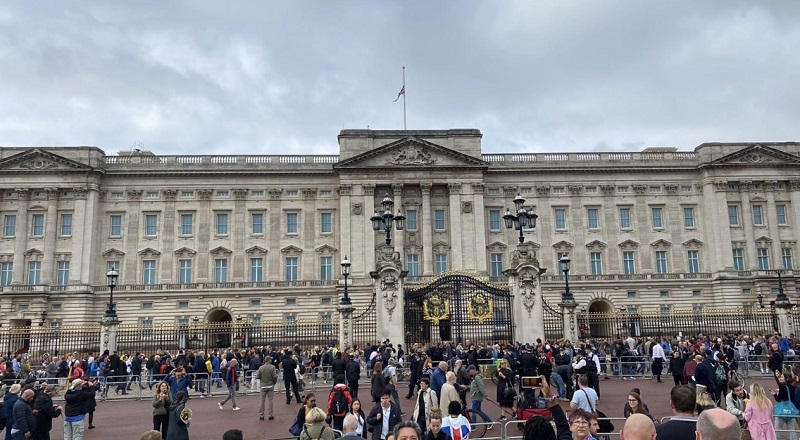 Shelley Elliston, a British civil servant, with her dog, George, named after King George VI, said: "The Queen meant everything to me. I loved her. She was as much a part of my family as my own family."
To have had such an impact on the lives of those at home and abroad is a testament to her as a Queen, and even as another mother or grandmother to many.
As it was made clear today, she brought people together. People from all over the world and people of all ages. Tourists, who had flown in only a few hours earlier, came to pay their respects.
Those not from the UK were as much a part of the crowd as those that were. It demonstrated that the Queen was a connection that united people from all over the world.
Young children left handwritten messages to the queen and drawings of themselves standing next her. Even to those so young, the Queen was an idol to look up to.
Differences between cultures, nationalities and ages were all cast aside at the gates of Buckingham Palace yesterday, for Her Majesty Queen Elizabeth II was important to everyone.
While she will always be remembered for her Christmas speeches and immaculately matching dresses and hats, it is her smile, her kindness, her devotion and her comfort that will remain in people's minds each time they look at a coin and see her face.