Kim and Andy Murray have launched a charity raffle today to give tennis fans the opportunity to own a priceless tennis ball signed by Murray and late tennis legend Fred Perry.
This unique prize is the only known piece of tennis memorabilia signed by these Wimbledon champions, and auctioneers have been unable to put a price on it.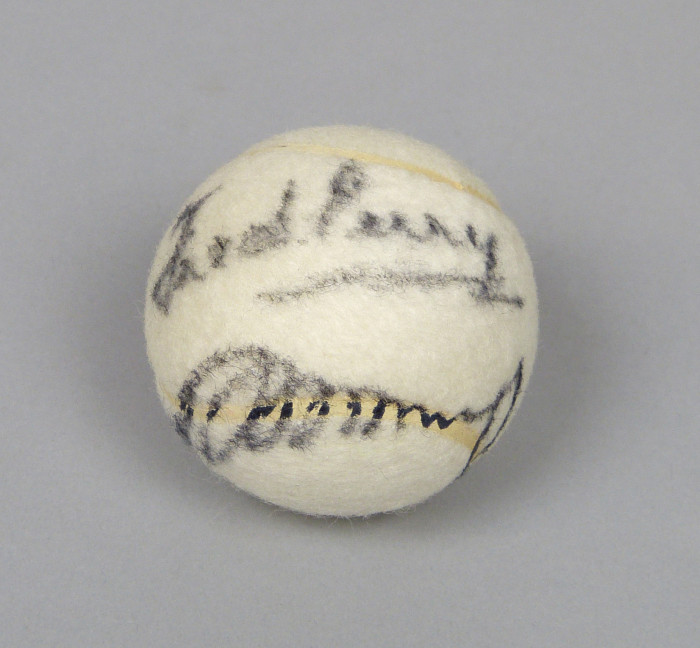 PRICELESS: The tennis ball signed by Wimbledon champions Perry and Murray
The white tennis ball is one of a set of three that was gifted to Grand Slam Champion Andy Murray by tennis fan Gail Sargent.
Gail was a life-long tennis player and met Perry on his visit to Maresfield Tennis Club in 1994.
More than ten years later she watched a young Andy Murray practising at a different tennis club.
Captivated by his potential, Gail passed the signed balls on to Andy, allowing him to do with them as he saw fit.
Unbeknown to Andy Gail was battling ovarian cancer, a battle she sadly lost in 2010 while being cared for at the St Peter & St James Hospice in Wivelsfield, Sussex.
Murray said: "I am incredibly grateful to Gail for the gift she gave me all those years ago, it didn't seem right to just keep them hidden away.
"So many people are touched by cancer, so I'm really hoping we can raise a lot of money with this raffle."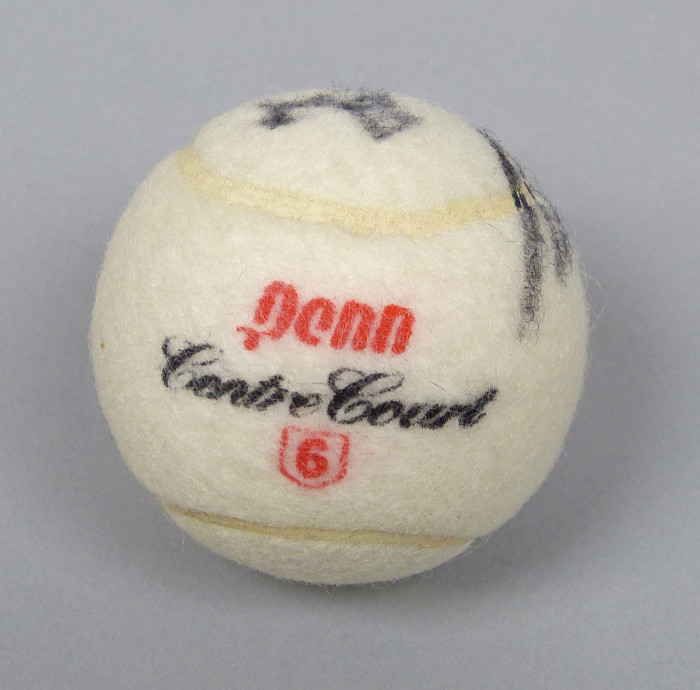 SPORTING HISTORY: Raffle prize up for grabs
Years of British tennis heartache were finally brought to an end when Murray clinched the Wimbledon title in 2013 and the balls resurfaced in the family home.
In Gail's memory, and after witnessing firsthand the battles with cancer suffered by his friends Elena Baltacha and Ross Hutchins, Andy has decided to auction one of the balls for charity.
Andy has chosen the St Peter & St James Hospice where Gail received her specialist care in the last months of her life and which is celebrating its 40th anniversary this year.
Andy and Kim have also donated a ball to the Wimbledon Lawn Tennis Museum, to be showcased indefinitely, so that the thousands of fans that walk through the gates of the All England Club every year have the opportunity to glimpse a small part of tennis history.
Andy and Kim will keep the third ball.
Colin Burgess, Chief Executive of St Peter & St James Hospice, said: "We are so grateful to Kim and Andy Murray for their generosity and support.
"This unique prize and raffle mean so much to us in this our 40th anniversary year.
"Fundraising is vital to us as St Peter & St James Hospice receives 14% of our funding from the government therefore, the majority of financial support comes from our community.
"There are fantastic prizes in the draw and I hope people feel encouraged to buy raffle tickets for this 'once in a lifetime' opportunity."
Anna Renton, Curator of Wimbledon Lawn Tennis Museum, said: "We are extremely honoured that Kim and Andy have asked us to exhibit such a unique item, and are proud to be supporting this very worthy cause."
The raffle will go live today and will run all the way through to the end of the grass court season.
Tickets are just £1 each with the winning ticket being drawn on the day of the Wimbledon final, July 12.
The second prize in the draw is a signed Andy Murray t-shirt, a pair of tickets to the Wimbledon Lawn Tennis Museum and a tour and the third prize is a pair of tickets to Wimbledon Lawn Tennis Museum & Tour and a 2015 Wimbledon towel.
You can enter the raffle here: http://www.raffleplayer.com/andymurray