Specialist advice was ignored when almost 20 trees— some reaching 90ft tall — in Dinton Fields were chopped down last month.
Residents objected when told the trees, including 16 poplars, would be cut down for health and safety reasons.
Independent tree specialists suggested only five diseased trees needed to be removed immediately, but despite councillors agreeing to abide by their decision according to a leaked Lib Dem memo, all 19 were felled last month.
Lib Dem Councillor Jon Tolley, cabinet member for resident engagement, said: "We said that we would abide by that second opinion. It was a promise that could not necessarily be relied upon."
Given the location of the trees, which were overhanging public pathways as well as a school and its playing fields, Mr Tolley said that the council would not be prepared to take the risk to public health and safety.
However, other councillors have denied the accusation made by the council that the independent advice turned out to be incorrect.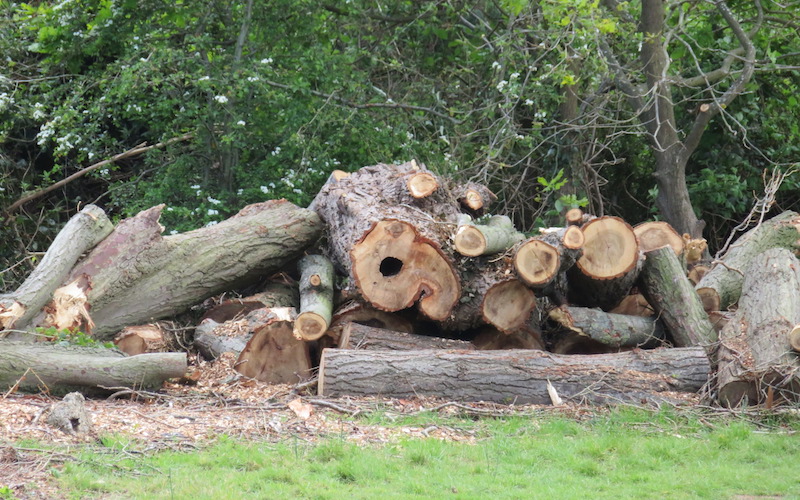 FELLED: All 19 trees were cut down last month.
Recently-defected Green Party councillor, Sharron Sumner, called for the creation of an independent citizens' assembly to hold councillors to account, citing figures which show that one ward has lost 150 trees in the past year.
Councillor Sumner also called for citizens to contact her if a resident sees a tree notice, or believes trees are set to be cut down unnecessarily.
She said: "There are at least three incidents of unnecessary tree removal and there are conflicting accounts of what is being removed.
"We also had the incident at Kingsmeadow where the contractor accidentally removed the wrong trees.
"The councillors had a vote about forgoing a pay rise to keep the tree officers but all the Lib Dems there that day voted against the proposal."
Alison Fure, a naturalist and blogger covering issues in the local area, said: "Kingsmeadow was a bigger tragedy as the trees were healthy.
"The trees should have formed part of the application and then it would have been rejected as we have a tree strategy which prevents felling 12 or more mature trees in one go."
Ian Thomas, Chief Executive of Kingston Council, said: "We remain fully committed to preserving as many trees as possible in our borough.
"Regrettably, we have had to make the decision, in collaboration with our tenants, Kingstonian Youth, to remove 19 trees on Dinton Fields near St Agatha's Junior School and nursery for health and safety reasons."