A 25-year-old man was attacked by three thugs in a Wimbledon nightclub in March — police have released CCTV today in an appeal for witnesses.
Police were called at around 1:45am to reports of an assault at Tunnel 267 nightclub on The Broadway on Saturday, March 19.
Three men walked into the nightclub, formerly known as Watershed, and later approached a 25-year-old man at the bar who was ordering some drinks.
Following an exchange of words about queue jumping, one of the suspects hit the victim in the face with a glass causing cuts to his cheek, ear and forehead.
Two other suspects then punched and kicked him.
The London Ambulance Service attended and took the victim to a south London hospital, where he was later discharged with ten stitches.
Detectives from Merton Borough investigating the assault have issued CCTV footage of three men they wish to speak to in connection with the incident.
The suspects, who were captured on CCTV, are described as:
Suspect one [image ref 211768] is described as a tall, black man of medium build with short black hair and a short beard, aged in his 20s.
He was seen wearing a black t-shirt with two buttons on the front, black trousers, black shoes and a hooded jacket with a fur hood. He had tattoos over both his wrists.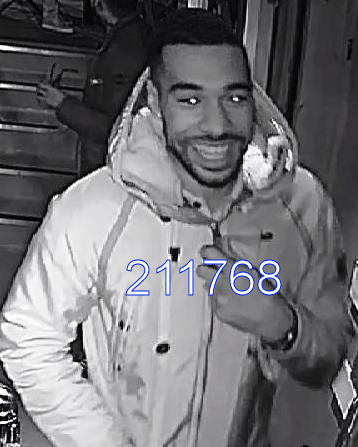 Suspect two [image ref 211769] is described as a clean shaven white man of medium build in his 20s wearing light coloured trousers and t-shirt, black belt and black shoes.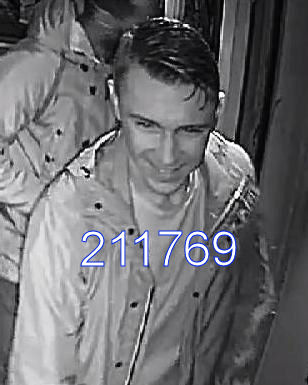 Suspect three [image ref 211770] is described as a black man of medium build with short black hair and a short beard, aged in his 20s.
He was seen wearing a zipped jacket over a light coloured t-shirt, jeans and trainers. He had a tattoo on the left side of his neck.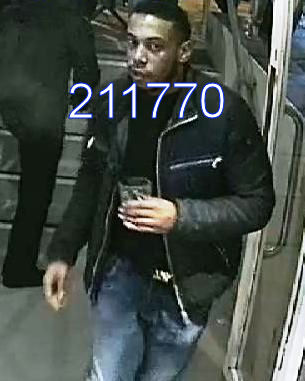 No arrests have been made and enquiries continue.
Police are keen to hear from anyone who may recognise the three men shown on CCTV or who witnessed the incident.
Anyone with any information is asked to contact police on 101 quoting reference number 211768 (suspect one), 211769 (suspect two) or 211770 (suspect three). Alternatively, call Crimestoppers anonymously on 0800 555 111.
Images courtesy of Metropolitan Police, with thanks
Featured image background courtesy of Ray Forster, with thanks