London's James Bond heritage got a boost when the inspiration behind 'M' was commemorated by an English Heritage blue plaque in Westminster last week.
Sir Mansfield Cumming was the first Chief of the Secret Intelligence Service (MI6) from 1909 until his death in 1923.
His habit of initialling papers meant he became known as 'C', a pseudonym still used for the position today.
His plaque hangs at his former home and office, 2 Whitehall Court, now part of The Royal Horseguards Hotel, close to Bond author Ian Fleming's own Blue Plaque in Belgravia.
Vice Admiral Sir Tim Laurence, chairman of the English Heritage Trust, said: "Mansfield Cumming was an extraordinary leader whose influence is still keenly felt within MI6 and popular culture."
Sir Mansfield joins F.F.E. Yeo-Thomas GC, a secret agent known as the 'The White Rabbit' who was the inspiration behind Bond, who is commemorated in Camden.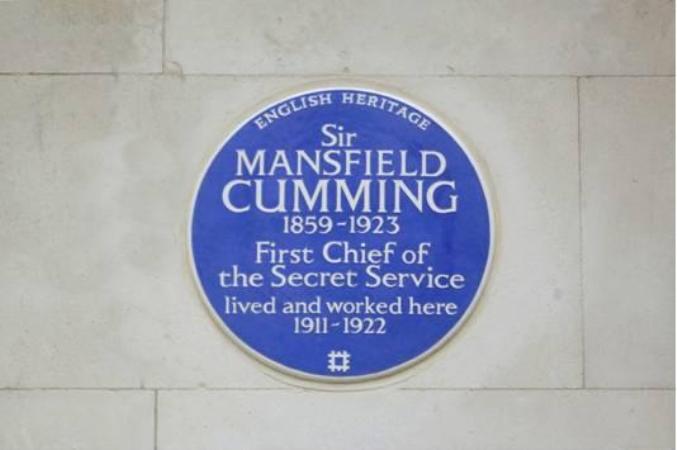 He is the latest secret serviceman to be honoured, with Second World War agent Violette Szabo recognised in Lambeth and features on the Brixton pound B£20 note.
The latest James Bond film 'Spectre' is set for release in October in UK, with many scenes filmed throughout London.
007's flat will be located on Stanley Crescent in Notting Hill, and filming has taken place outside MI6 in Vauxhall.
The plaque is located at what was previously the headquarters of the Foreign Section of the Secret Service Bureau.
Riddian Davies, general manager of Royal Horseguards Hotel, said: "We hope this blue plaque will encourage people to remember his legacy in years to come and to discover the stunning history behind the hotel which was once his home and office."
From a Royal Navy background, Sir Mansfield left a legacy as the first chief of what was then known as the Secret Intelligence Bureau.
He established First World War network 'La Dame Blanche' which contributed to the arrest of many German spies in England.
Alan Judd, a leading biographer of Mansfield Cumming, said: "The organisation he formed grew into what we now know as MI6, shaped to this day by his integrity, determination, humour and idiosyncrasies."
Image courtesy of the BBC via YouTube, with thanks