Two Putney-trained ocean rowers are taking part in a 3,000 mile race across the Atlantic next month.
Isaac Kenyon, 24, and Ben Ajayi-Obe, 25, are one half of the four man Atlantic Discovery team taking part in the Talisker Whisky Atlantic Challenge.
Putney Town Rowing Club supported the pair's intensive preparations as they trained for the ocean race that will take them from shores of La Gomera, Canary Islands to English Harbour, Antigua.
The club's head men's coach, Julie Lewis, 48, said: "We consider ourselves to be one big family at Putney Town and the club very proudly supports its rowers at all levels in any endeavour that they want to do.
"We are extremely proud to have been a part of Ben's Atlantic Challenge training and fundraising."
The training schedule featured marathon 24 hour rowing machine sessions as well as bespoke coaching on the river for rowing novice Isaac.
In April, the club played host to a successful world record attempt for the longest continual row which saw the pair row for a combined total of 183 hours.
The Atlantic Challenge is an annual race billed as the world's toughest row.
Isaac said: "We have prepared as best as we can for the unknown, it is a race that you can't really prepare for.
You don't quite know how you are going to react when you go out into the open sea, you don't see land, you're completely self sufficient for days and days on end."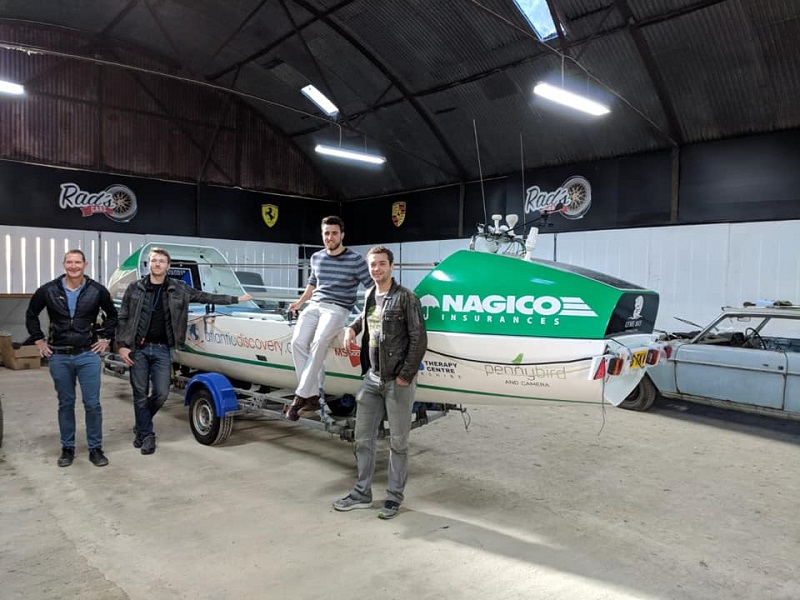 ON DRY LAND: Isaac and Ben with teammates. Photo credit: pennybird and camera 
Atlantic Discovery will set off from La Gomera in the Canaries on 12 December 2018, joining 30 teams participating from around the world.
Each participant will burn around 8,000 calories a day and lose approximately 20% of their body weight over the duration of the Atlantic Challenge race.
Over £5 million was raised for charities worldwide over the past four races.
Atlantic Discovery is raising money for the Multiple Sclerosis Society and the Berkshire Multiple Sclerosis Therapy Centre, where Ben's mother Rose is receiving treatment.
Ben said "My mum Rose has lived with MS for 18 years. Every day is a frustrating struggle, yet she overcomes her symptoms with sheer determination and grit. She has taught me that one grows as a person by overcoming adversity.
"Atlantic Discovery has chosen to row for Rose, hopefully raising awareness of MS which affects 2.5 million people worldwide."
Isaac added: "Ben does all these crazy challenges to help his mum and the Atlantic row is one of them."
Feature image credit: pennybird and camera