Sir Vince Cable praised Jeremy Corbyn this evening for tapping into the youth vote in this year's snap General Election as he was returned to his Twickenham seat.
Expressing his shock at being re-elected to the constituency he lost in 2015 to the Conservative's Tania Mathias, Cable stormed to victory with 34,969 votes – with almost a 10,000-vote majority.
Displaying one of the highest voter turnouts in the country, 79.7% of Twickenham residents headed to the ballot box on Thursday to return Cable to his seat, seeing his support increase by a staggering 14.7% from 2015.
The Liberal Democrats veteran, who was accompanied by a large and positive campaign entourage, said: "I think we have all underestimated the force of the younger generation.
"They really turned out in massive numbers. Mr Corbyn, to his credit, understood that and tapped into it."
In an evening of relentless election shocks across the UK, Cable candidly explained his shock when the snap general election was called.
He said: "I, like most other people, assumed that they Conservatives knew what they were doing and that they would get a comfortable majority.
"I was surprised as anyone else when they called the election early, but we did see it as an opportunity.
"I was getting on with a different life. I've got a novel coming out in the Autumn, I had lots of other different things I had taken on which I am now going to have to stop taking on."
Cable offered condolences to less successful Lib Dem candidate Nick Clegg, who lost his Sheffield Hallam seat to Labour.
He said: "I'm very sorry, he's a good man.
"I have been there two years ago so I know how it feels."
Tania Mathias, the Conservative candidate who won the seat off Cable with a 2,000-vote majority in 2015, humbly thanked Twickenham constituents before quickly leaving the venue accompanied by family and friends.
Mathias was one of many Conservative MP's banished from south west London on election night.
Katherine Dunne, Labour's candidate for Twickenham, said of the Conservative's poor performance: "I think it's an absolute disaster for May.
"I don't see how she can come back from this at all.
"She called this election to try and increase her majority to have a strong and stable government, and we saw that falling apart but I don't think we realised quite how far it was going to.
"The Tories are pretty ruthless. I don't see them letting May get away with this."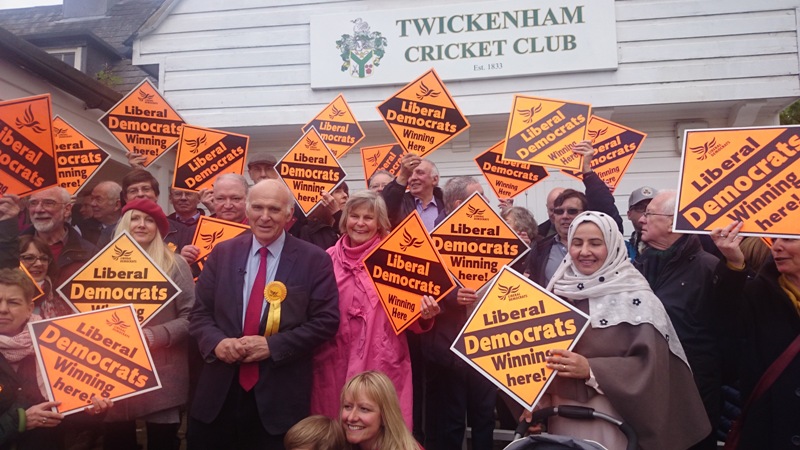 Cable touched on the influence of Brexit in encouraging the swing away from Theresa May.
He said: "There clearly was a correlation between the Conservative's vote and the Remain vote.
"What is happening is that lots of young people, in particular, feel they were cheated out of their future because of the Brexit vote, and they have used this election to make their point very forcibly.
"This means we will have to look at this again as Brexit is approached and the extreme-UKIP type of Brexit the government has put on the cards.
"I would be surprised [if there was another Brexit vote]. The Lib Dems argued for one but not in this context. We weren't arguing to reopen the vote; we argued that at the end of the negotiating process the public should then be offered a choice.
"Nobody expected it to arise in this context. But that's one of the many imponderables that will have to be sorted out over the next few days."
Ruling out any chance of taking up a prominent role in his party or the government, Cable said: "I am not going to be cabinet minister. I'm very much focused on Twickenham issues.
"Going around schools, taking the temp of local hospitals – that will be my focus."