Hundreds of people took to Raynes Park Sports Ground last Saturday as the eighth annual Born Too Soon Cup raised more than £2,000.
The football tournament, run by sports coaching company Target Sports Coaching, saw 15 teams battle it out for the trophy in a 6-a-side format in aid of the charity, which provides vital equipment and support for babies born prematurely and their families at Kingston Hospital.
Since its founding in 1985 the money raised by Born Too Soon has enabled it to purchase specialist equipment such as heated mattresses, incubators, special pads which allow babies to be held while receiving treatment, and a Bilirubinometer, a device which scans to check for a baby's jaundice level.
Alongside this, the charity is on hand to support the families with a host of special touches to make life easier and it is thanks to charity days such as the Born Too Soon Cup that this is possible.
Michael Branch, Target Sports Coaching director, said: "Days like this are massive.
"Over the last seven years we've managed to raise around £14,000 and an incubator for a child in the unit is about £5,000 so, if you look at it on that scale, we've been able to get nearly three incubator machines into the unit.
"These are obviously the most important part of a child's introduction into the world to give them the best chance of being able to survive from an early birth.
"Me and my wife Abigail set up the tournament because of our children.
"They both went through the care of the neonatal unit at Kingston Hospital and so it was our way of giving something back to the hospital. We wanted to help other children going through the same experiences and their families who need the support as well.
"They did such an amazing job of bringing both our children up from birth and made things a lot easier, supporting us through what was probably the most difficult period of our lives so far."
The day was not just about the football on show, with a barbeque, cake sale and bouncy castle all adding to the family fun of the event as those in attendance, including untold excited toddlers, did their bit to support the cause despite gale force winds threatening to disrupt matters.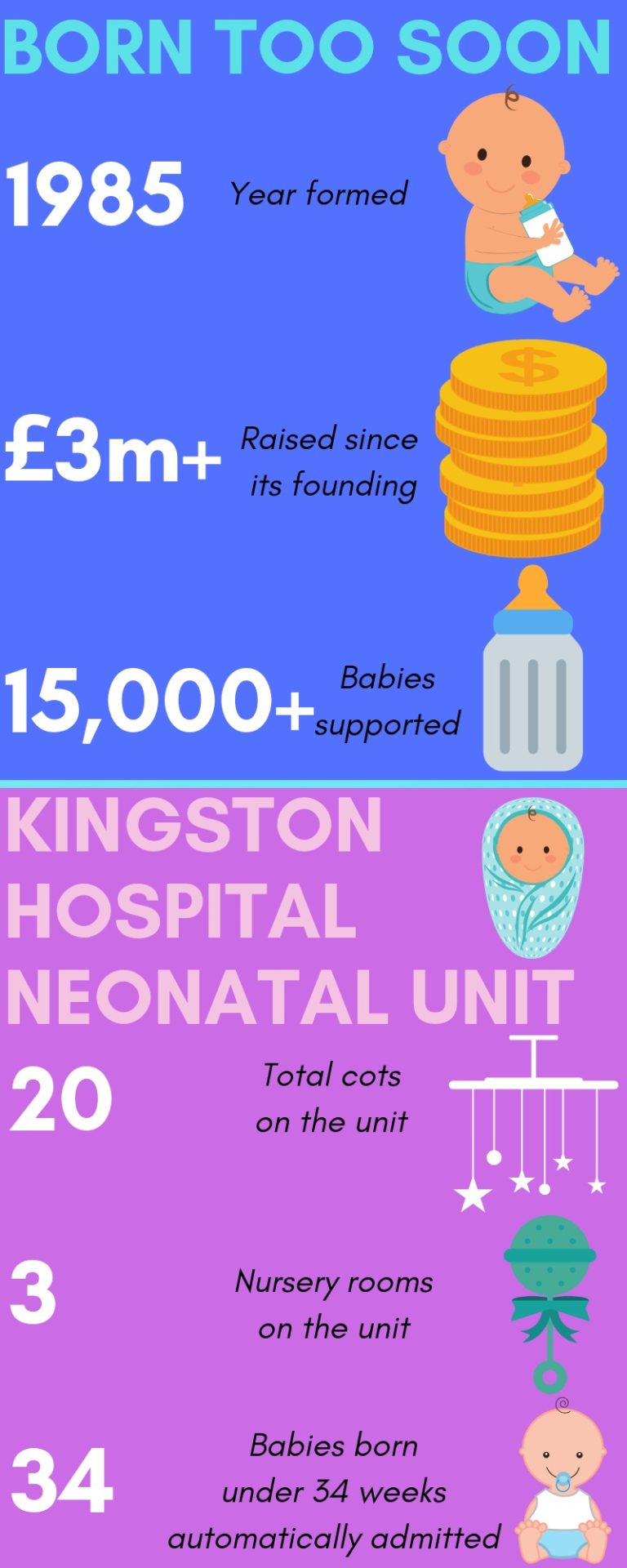 Abigail Fogg, Target Sports Coaching director, said: "Everyone here is really generous and supports us through raising money, whether we sell burgers, refreshments, or goes on the bouncy castles.
"Families can spend up to 10 weeks, maybe more, in hospital and so the charity is vital in it provides a lot of support for the unit who put on lots of little touches which help you get through a really rough time."
Among those supporting the tournament were several families who have first hand experience of having a baby on Kingston Hospital's Neonatal Unit as well as the support Born Too Soon give out.
Eleanor Reed, whose son Will was in the unit after being born 10 weeks early, said: "It's really important to us, we couldn't have done without the charity when we were in hospital.
"Michael and Abigail do amazing work to put something like this on, they're lovely people."
In a move befitting the spirit of the day, the sun managed to shine eventually and £2,305 was raised for charity.
What is more, Target's very own team won the tournament.