A nursery teacher dressed as the Easter bunny was seen sprinting seven miles around the Southfields grid last Saturday in support of NHS staff. 
Elliot Milnes, 38, who teaches sports at Wimbledon Park Montessori School, decided to spread a little holiday cheer by dashing past children's houses in full floppy-eared attire.
This is nothing new for Elliot, who first dreamt up the idea in last year's lockdown, when families were unable to venture out of their houses for Easter 2020. 
The sportsman delighted parents and children alike with his quirky antics — so much so that he later repeated the stunt on Halloween dressed as a giant pumpkin.
He said: "It was great to see so many smiley, happy faces — from the parents as well!
"They loved seeing the kids all excited and having so much fun."
As founder of children's sports company Active Little Angels, Elliot has been running regular classes, parties and holiday camps for three to six-year-olds in the Wimbledon and Southfields area since 2006.
He said: "I felt it would be worthwhile to do it here because there's a real sense of community with so many young families on every street.
"In the past 15 years, I've become friends with the local nursery owners and they see me as not just a teacher, but as part of the furniture."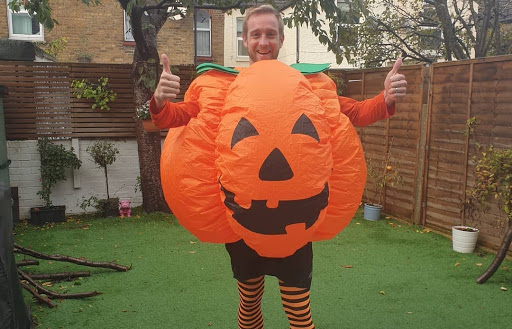 Determined to ensure no child missed out on the bunny's shenanigans, Elliot made it his mission to pass every single house on the Southfields grid, mapping out a seven-mile running route that he completed in 23 degree heat.
The following week, he ran three more six-mile routes to spread the magic to children in the St George's Hospital, Earlsfield and Wandsworth Common areas.
This year, lockdown rules were more relaxed and the Easter bunny was able to stop and say hello to children on the street, many of whom recognised their teacher. 
"None of them guessed I've been Father Christmas for the last three years, but when there's a six-foot-tall rabbit running down the street they're going to figure it out!" he said.
Elliot was surprised to find local residents wanted to pay the bunny to pop up in different locations, which prompted him to set up a JustGiving page instead.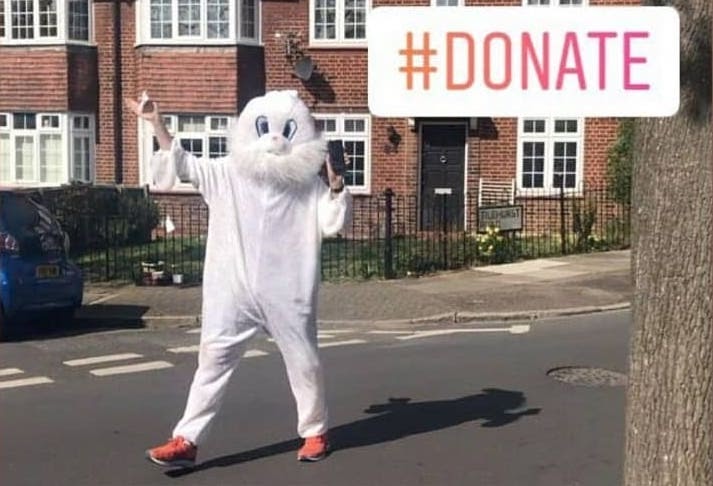 So far, he has raised over £7,000 for the staff at St George's and Queen Mary's hospitals and plans to reach his £10,000 goal by continuing this strange new holiday tradition into the near future.
As former head coach of Battersea Ironsides Women's Rugby, Elliot is particularly keen to raise money for the St George's nurses, some of whom play on the team. 
He said: "I know how stressful it's been for the staff at St George's.
"When we were enjoying an early summer in lockdown last year, they were under so much pressure wondering how long they would have to do this for.
"I want the money to go towards the people who have worked so hard for all of us."