Caroline Pidgeon has slammed transport minister Chris Grayling for being 'tribally party political' in the wake of Southern strikes hitting Londoners this week.
The next bout of strikes are due to take place January 10-12, paralysing a large number of Southern services.
And City Hall transport committee chair Ms Pidgeon said fare increases were a political decision.
"The mayor has put all the right arguments across," she said.
"The challenge he has is that we have a secretary of state that doesn't believe in devolution, who is tribally party political and doesn't want to work with a labour mayor and is clearly more of a car lover than a public transport lover.
"Until we get a change of secretary of state, we're going to continue to have problems between national transport issues and London ones where a national franchise is failing and the government won't do anything."
The strikes come after rail watchdog ORR declared driver-only trains to be safe on Thursday, January 5 – despite contradictory claims by unions ASLEF and RMT.
"The railways have got to modernise," added the Liberal Democrat London Assembly member.
"If you had a model of London overground you would have a member of staff at the station as well, so you would have the extra safety check."
Prices have increased by 2.3%, prompting rail watchdog Transport Focus to call for Southern to freeze fares until the quality of service returns to normal.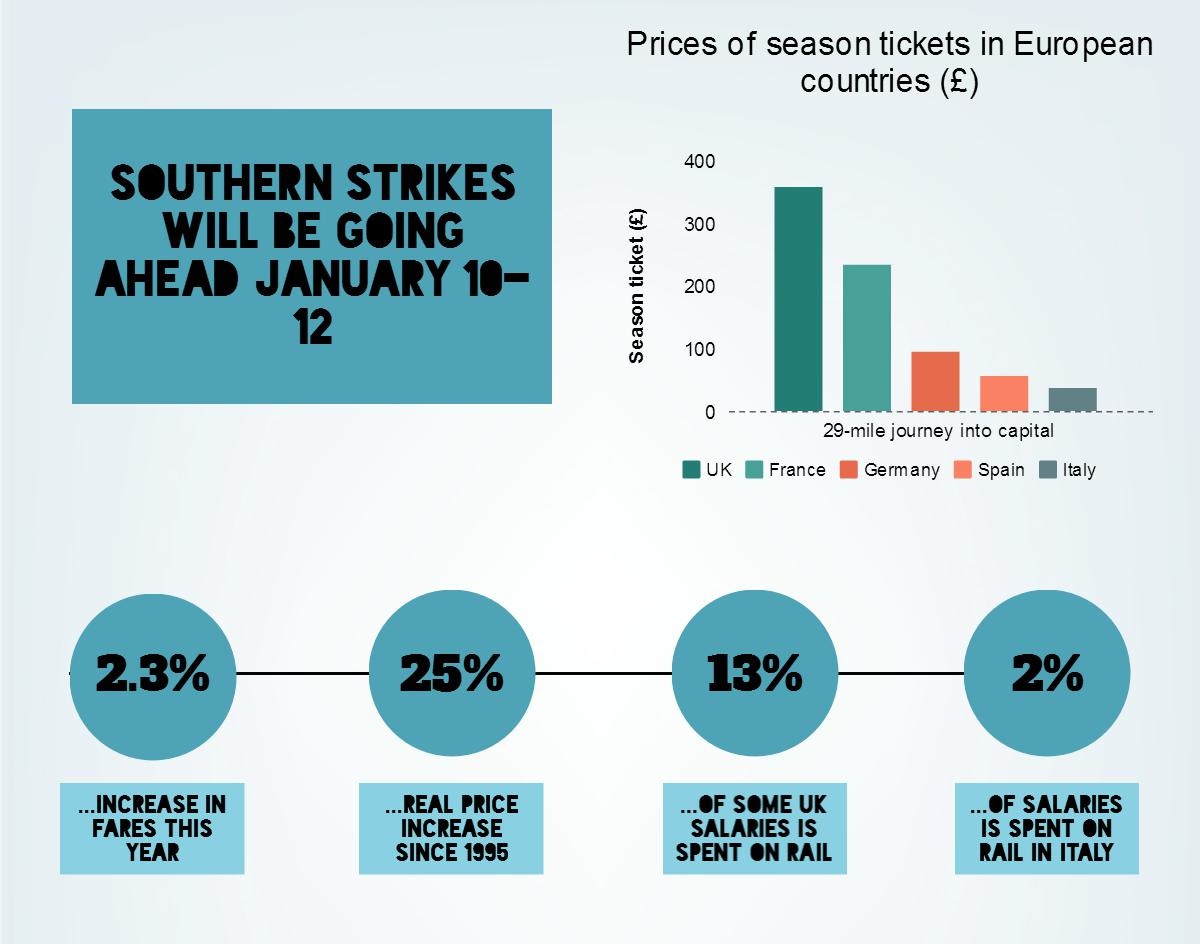 While Southern have promised passengers a refund of a month's fare to compensate for the strike chaos, there has been no word on keeping fares down for the duration of the dispute.
"The secretary of state has been really woeful in his lack of action," said Ms Pidgeon.
"Southern need to be held to account. The unions need to get a grip because they're going to have legislation against them if they continue this indiscriminate striking."
A Department for Transport spokesperson said: "The mayor's business plan for the South Eastern train routes provided no extra capacity in peak hours, and there was no funding identified for improvements to infrastructure.
"These would come at a cost to Londoners or mean re-prioritising other travel schemes in the capital.
"MPs and councillors had raised concerns about the mayor being given control over services for people who could not vote for the mayor.
"We can deliver services improvements through partnership, without the need for a massive reorganisation."
A spokesperson for the Mayor of London said: "The devolution of London's suburban rail services is backed by the overwhelming majority of Londoners, in addition to councils, MPs, and Assembly Members from all political parties.
"It is only the transport secretary who continues to bury his head in the sand, and refuses to acknowledge the huge benefits rail devolution could provide.
"For too long, London's rail commuters have been getting a bad service – with nightmare delays, cancellations and overcrowding increasingly the norm on our suburban rail routes."
In response to the comments made by Ms Pidgeon, a Govia Thameslink spokesman said their focus was on improving service to passengers.
He said: "Changing the name over the door won't solve anything; the unions are opposed to modernisation full stop.
"It must be remembered that it's the government that determines fare increases on regulated fares such as season tickets, and all revenue from ticket sales in this GTR franchise is passed to the Department for Transport. We do not see a penny of it."
RMT and ASLEF were approached for comment