Volunteers set up an organisation to provide donated technology including laptops and tablets to deprived residents during Covid-19.
As winter approaches and the UK battles with a second wave of Covid-19, access to basic technology helps connect people and prevent loneliness.
Many people don't have access to the internet or basic technology such as laptops and tablets.
A group of six volunteers set up Ready Tech Go during the national lockdown in May, a non-profit aimed at providing internet access and basic technology to residents across West London, to tackle the issue referred to as the digital divide.
Secretary Nikos Suslos, 25, said: "When we started we thought it would be only older people that needed help, but I've been astonished myself by the different types of demand that is out there.
"We started to realise that a lot of people were stuck inside at home, and were really lacking what most of us have as a given.
"Often kids need access to technology in order to complete homework and online learning, but many families only had access to one smartphone among them, or not even that.
"We've helped families, old, young, homeless and even refugees who need access to technology in order to access basic Home Office services."
Volunteers from the organisation obtain donated technology by reaching out to people in the community online via social media and advertising, as well as thorough word of mouth.
Donated devices are then processed by an in-house technology specialist to ensure they are of good working quality and are reset to factory standards for security purposes.
Devices are then matched with appropriate individuals or families that have been referred by community organisations across West London, including Barons Court Project, West London Welcome, Solidarity Sports and Shepherds Bush Families Project.
One family based in White City estate, pictured, received a tablet so their two young children could complete their homework.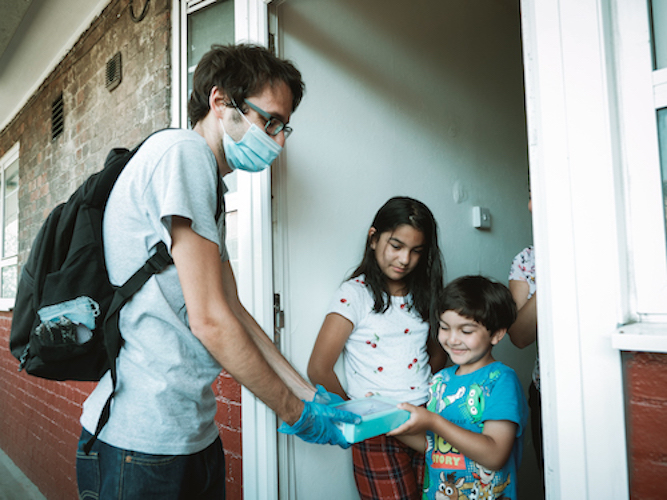 Another recipient, referred to as 'Y' for security reasons, is a torture survivor and needed a device in order to contact his family in Sri Lanka.
So far, Ready Tech Go has received over 50 donations of devices and have provided tech to over 30 needy individuals.
Ready Tech Go also receives cash donations and grants from local charities which the organisation spends on brand new devices for deprived residents.
The organisation is made up of mostly volunteers from a BAME background which helps them to overcome language barriers and relate with the diverse backgrounds of many of the people they help.
Anyone with unwanted technology is encouraged to donate devices to https://www.readytechgo.org/donate-a-device.