Fed up with the reputation of the borough, an inspired entrepreneur has created a fashion brand to give a Croydon make-over.
Croydon vs The World was set up by the co-founder of Croydon Tech City, Jonny Rose, in a bid to re-brand the area.
The 29-year-old launched his brand on Friday June 3 at Rise Gallery — one of Croydon's newest art galleries home to the likes of high-profile artists including Banksy.
Mr Rose said: "I was inspired by the popularity of Hometown pride T-shirts from around the world, like Toronto, Sydney, Memphis and Detroit.
"Lots of people are starting clothing labels to celebrate and represent their area and now is the time for Croydon to have a similar brand."
Four years ago Mr Rose set up Croydon Tech City with a few others, the initiative successfully attracted hundreds of tech start-ups and more established businesses into the area.
The entrepreneur has now turned his attention to fashion, he said: "It's a really easy medium to get the message out.
"You can be on social media and place adverts in papers but there is nothing better to get the message out than by seeing lots of people walking up and down around Croydon wearing branded clothing.
"I just thought it made perfect sense."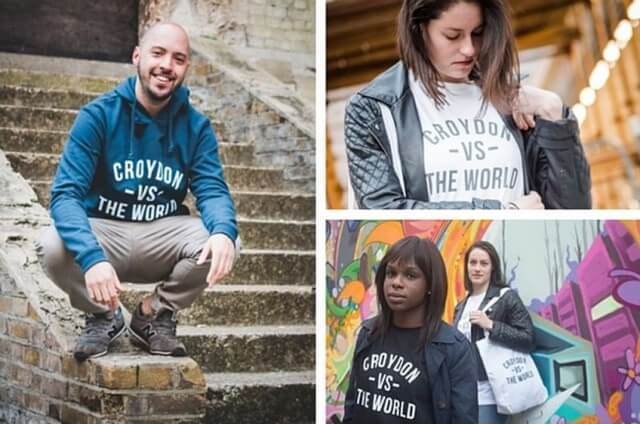 HOMETOWN PRIDE: Mr Rose wants to put Croydon on the map
The area is now undergoing a multi-billion pound regeneration project attracting big business and new housing developments.
"For years and years Croydon has been the butt of jokes," Mr Rose said.
"And although it is not the worse place in the world it has always been synonymous with being boring, ugly and brutalist not a cool and happening place.
"That's why it is really pertinent to have a brand like Croydon vs The World because that has all changed hugely."
Croydon is now home to several art galleries and both a Westfields and Box Park are set for the area.
Mr Rose said: "There is much happening right now making it one of the coolest places in south London."
The rapid transformation of the borough has raised some concerns from residents but Mr Rose remains optimistic.
He said: "My hope for Croydon is that everyone can come here and make it, that the success and regeneration doesn't ostracise locals.
"There are always grand debates about gentrification when new money comes into the area but I hope Croydon will be a place where both existing locals and new people, those young and old, will be able to find their place and make much of life."
Images courtesy of Rob Wilson Jnr of Fluid4Sight, with thanks