Defying odds and pundits, David Cameron is back in Downing Street and in the space of an hour he's seen his three national rivals – Ed Miliband, Nick Clegg and Nigel Farage all resign.
With 40 staff covering events across south-west London, read our Election Day special edition – click on the image below.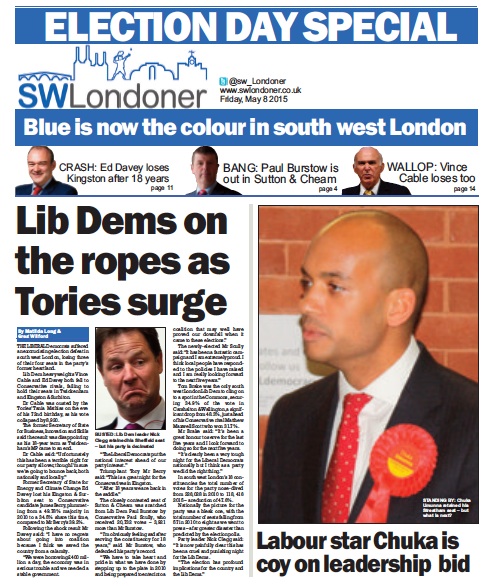 The Conservative Party brushed aside their rivals as south west London turned blue overnight claiming 11 of the 16 constituencies in the area.
Voters turned out in their droves as all but Mitcham and Morden (down 1.1%), Carshalton and Wallington (down 1.2%), Sutton and Cheam (down 0.6%) and Richmond Park (down 0.4%), experienced a surge in voting numbers.
The most notable turnout growths from 2010 – all Tory wins – were in Putney (73.75% up from 64.4%), Chelsea and Fulham (63.6% from 56.8%) and Kensington (56.8% from 53.3%).
A downtrodden Labour secured a paltry four seats in SW London in Tooting (1.3% turnout rise to 69.9%), Streatham (62.8% to 66%), Croydon North (up 1.9% to 62.5%) and Mitcham and Morden (65.9%).
Tom Brake secured the Liberal Democrats' only seat in Carshalton and Wallington with 47,444 votes and 67.8% of the electorate.
The remaining Tory seats of Wimbledon, Battersea, Kingston and Surbiton, Twickenham and Croydon South and Croydon Central saw a slight increase in voter turnouts.     
Overall voting numbers shot up from 776,746 in the 2010 general election for the aforementioned constituencies to 812,110 this time around – a 4.55% growth.