A budding Raynes Park stylist from Sinead Kelly Salon in Barnes scooped the Young Talent Award at L'Oréal Professional Style and Colour Trophy Awards in Lisbon earlier this year.
Sara Bergantini who trained at Kingston College and qualified under Sinéad's training at just 17 took home the crown in October.
The event was held at the Meo Arena in Lisbon in front of more than 2,200 hairdressers from across 65 countries and was followed live on Facebook by more than 36,000 people.
The 21-year-old said: "The whole experience was amazing and winning was not something I expected.
"My jaw dropped, I was speechless and had to get on stage as soon as I could otherwise I think I may have fainted."
There were 70 models, six judges, 100 hairdryers and styling irons, 500 colour products and 1,000 cans of hairspray at the competition.
The team sailed past both the regional and the national stages of the competition back in July and worked hard to create a unique look for the international competition.
Winning the Young Talent Award has had a huge impact on both Sara and the salon.
Sara said: "We are so busy with customers and media appearances. This whole experience is something I will never forget.
"Sometimes people judge you on your age and it is nice to be able to show how good you are.
"Anyone my age should push for their dreams, push boundaries and you can achieve things you never thought possible."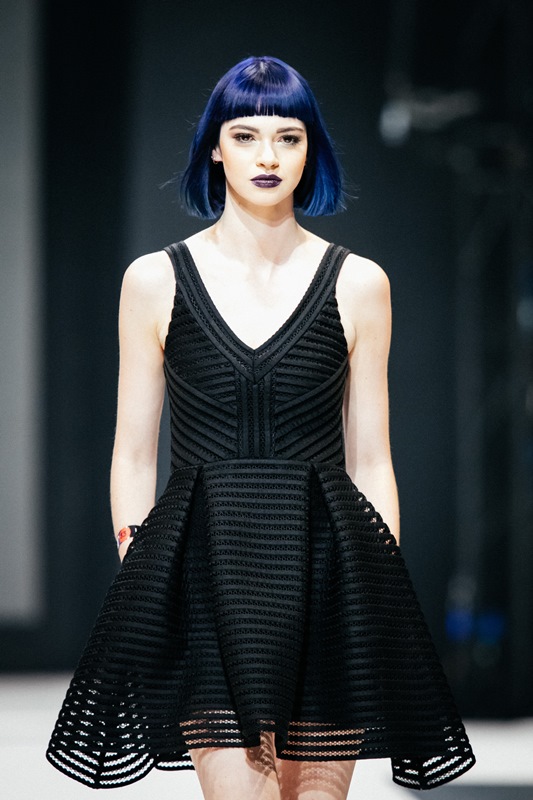 DAZZLING DENIM: The winning look
The whole process took six months and focused on creating a look that represented bold blunt colours, that was modern but had a classic twist.
The denim colour was a flash of inspiration from colourist Vas Mikellidis who spent 15 hours turning the hair from brunette to vibrant blue.
The Sinead Kelly salon in Barnes is renowned for its expert styling and colour and welcomes celebrities such as Holly Willoughby as their clients.
Holly tweeted: "Oh my goodness me!!!! Hugest congratulations to @sineadkellylnd for winning the whole @lorealprouk colour trophy at the #LCT16 finals last night."
The L'Oréal Professionnal Style & Colour Trophy is the longest running live hair competition in the world.
First launched in the UK in 1954 it only focused on colour but this year saw it extending into styling to reward the top experts in this field.