By Danielle Manning
November 7 2019, 20.25
Follow @SW_Londoner
A 500-year-old Tudor jetty used by Elizabeth I will be visible at the Richmond foreshore for a short time only.
The annual maintenance 'draw off' of the water at Richmond lock and weir revealed the remains of the hidden structure and attracted history buffs keen to get up close with Richmond's royal past, in a pursuit known as 'mudlarking'.
Mudlarker Liz Anderson, who braved the cold to explore the wooden jetty that once served Richmond Palace, said: "It sends a shiver down your spine.
"It really is a portal into the past kind of feeling from something that most people don't know is there.
"When you're thinking about all of that, you're standing there with your eyes shut imagining the barges coming up, perhaps from Hampton Court.
"When you see something that is left from that period, it really does give a tangible connection, touching the timbers and imaging what things would be like."
Mudlarkers were poor Victorians scavenging on the river bank for items to sell, but now it is hobbyists and treasure hunters who enjoy the mucky practice.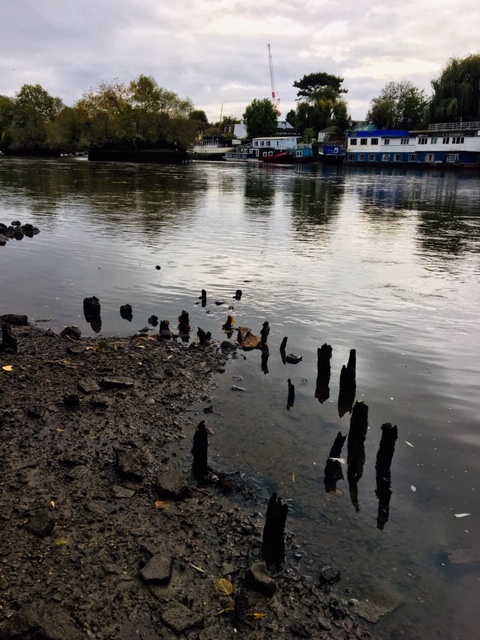 And whilst high-value finds are rare, everyday artefacts still give an exciting glimpse into the area's history.
Among Liz's modest haul was a piece of post-medieval pottery from a servant's cooking pot and a tiny fragment of a 17th century Delft glazed pot.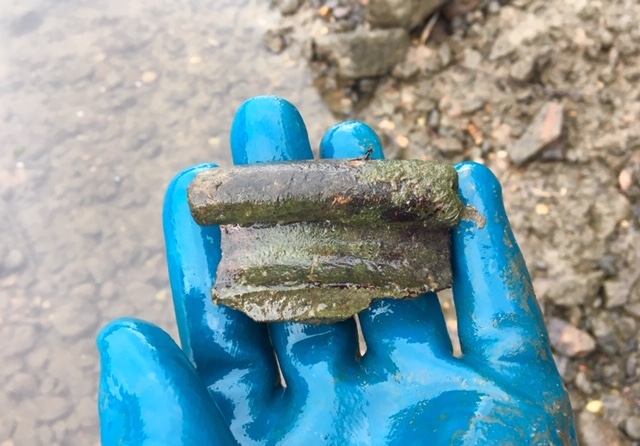 "That was quite high status stuff," she said, "so that also may well have come from the palace, the romantic in me thinks it does."
Alan Cartwright, head of marine engineering at the Port of London Authority, said: "Richmond lock and weir is a remarkable example of Victorian civil and mechanical engineering, which is also complex, unique and large.
"Each year we carry out essential inspections and work which means taking the gates out of action temporarily. This is called the 'draw-off'.
"The result is that water levels are low enough to expose the river bed between Richmond and Teddington at low tides."
The Richmond 'draw-off' lasts until November 17. But be warned, although anybody can walk along the foreshore, it is illegal to remove items without a permit.
Find out more at www.amudlarksdiary.com