London's Peter Harrington, known as the UK's largest rare bookseller, is celebrating its 50th anniversary this year with a new catalogue devoted solely to remarkable works by female authors.
Featuring 180 rare books, manuscripts and ephemera, the bookshop is currently presenting this collection through the exhibition In Her Own Words, held in the Peter Harrington Mayfair branch.
I attended the preview on and was asked: "What sort of literature are you interested in?" Then it dawned on me that I am 23 years of age and the only books I have ever read are academic novels assigned by my tutors.
And I'm not even talking about Harper Lee's To Kill a Mockingbird or Salinger's The Catcher in the Rye… although I did read The Lord of the Flies once. No, I'm talking about Laclos' Les Liaisons Dangereuses, Marie de France's collection of medieval texts and Djebar's Femmes D'Alger. It's quite embarrassing actually.
I am standing here, staring blankly at antique wooden cabinets filled with these rare, magnificent works of literature dating back to early eighteenth century, and all I have ever read is medieval French literature. My father always used to say: "Lucrezia, why don't you just pick up a book and read?" At that moment, I couldn't stop thinking about him running his hands through his hair in despair.
"History!" I replied. Would history be considered literature? Well, that's just it. Literature is an entire world of fascinating collections of art, history, philosophy, letters and poetry. There are no limits, and that is precisely what enchanted me about Peter Harrington's exhibition. I followed the alphabetically-organised trail of, what I saw as, works of art. Clara Adam's cream envelope carefully embedding a single pearl brought back from the 1936 maiden voyage of the Hindenburg and Virginia Woolf's 1927 original typescript review of Aspects of Fiction by E.M.Forster are only two of the exceptional works of literature by pivotal figures.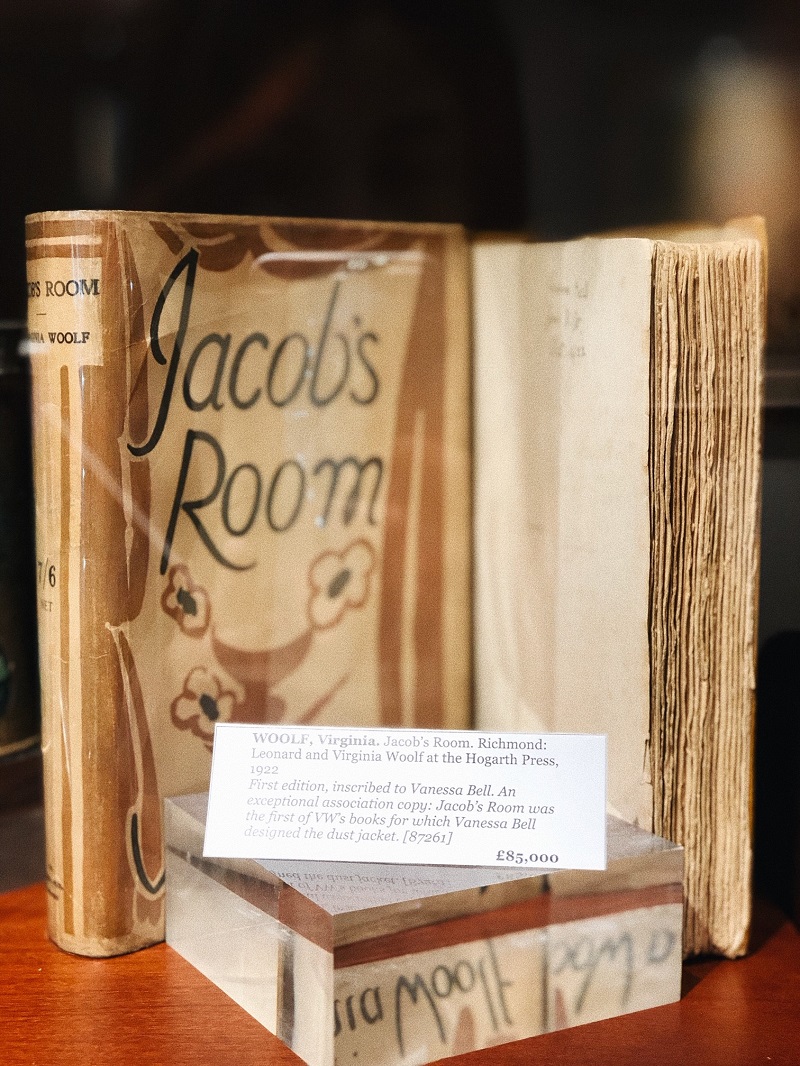 Further examples of these are: the first edition of The Diary of a Young Girl by Anne Frank, 1947, in Dutch (worth £6,000); a first edition presentation copy of Jacob's Room, inscribed by Virginia Woolf to her sister Vanessa Bell who designed the dust jacket (worth £75,000) and the first separate edition of the remarkable work in the history of computing containing what has been described as 'the first computer programme' by 'the first computer programmer' Ada Lovelace, worth (£200,000).
A second catalogue entitled 150 has also just been issued containing fifty remarkable books and manuscripts from the 15th to the 21st century available for sale in the bookshop. "I know my father would have been staggered at some of the books that have passed through our hands in recent years," said his son, Pom Harrington, owner of the Peter Harrington bookshop.
Pom Harrington is also the new chairman for the Firsts, London's rare book fair, a flagship event hosted by the Antiquarian Booksellers' Association from 7-9 June in Battersea Park, displaying over 150 rare and unique works including signed first editions, museum-quality manuscripts, art and ephemera.
You can find Peter Harrington at 43 Dover Street, London, W1S 4FF and 100 Fulham Road, London SW3 6HS. The exhibition will run until Friday 15 March.