Three high streets in Croydon are among the top ten unhealthiest high streets in London, a report revealed last week.
The Health on the High Street report, by the Royal Society for Public Health (RSPH), ranked Thornton Heath, South Norwood and New Addington as third, fifth and sixth unhealthiest streets in London.
The report looked at 146 London high streets and scored them based on the prevalence of healthy or unhealthy businesses.
RSPH chief executive Shirley Cramer CBE said: "While the face of the British high street continues to change, the environmental and economic factors that influence inequalities in health outcomes across the country remain stubbornly intractable.
"Our Health on the High Street rankings illustrate how unhealthy businesses concentrate in areas which already experience higher levels of deprivation, obesity and lower life expectancy.
"Reshaping these high streets to be more health-promoting could serve as a tool to help redress this imbalance."
In order for a business to be health it was graded on social interaction, mental wellbeing, access to health care and promotion of healthy lifestyle choices to create a Richter scale of healthy high streets.
Businesses such as payday lenders, bookmakers, tanning salons and fast food outlets have negative scores whereas pubs, libraries, pharmacies, dentists, opticians and leisure centres have positive scores as they have a beneficial impact on public health.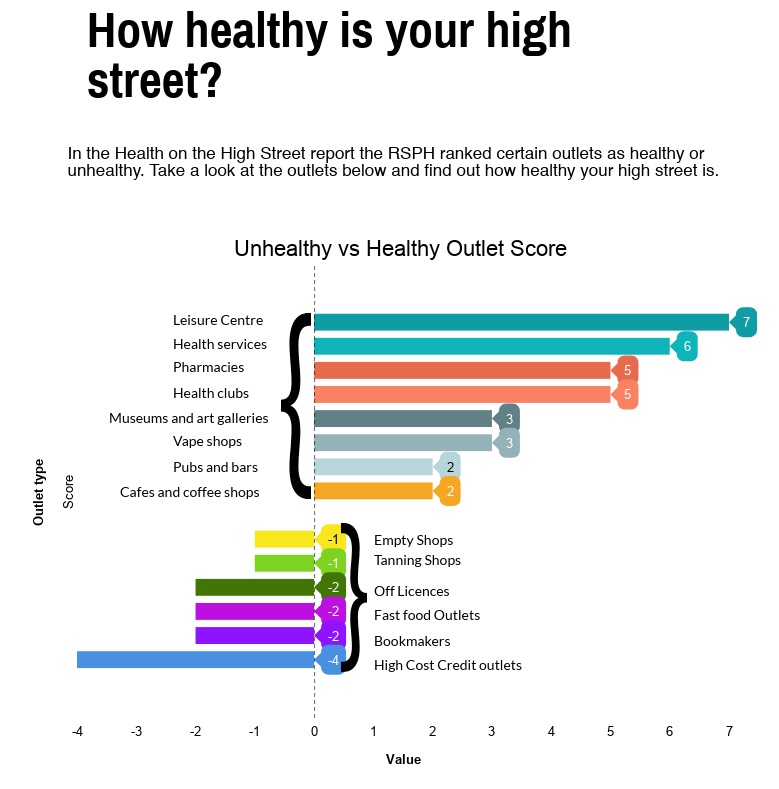 While the RSPH would not reveal what led to the poorer rankings of Croydon's high streets, it said that unhealthy high streets were more likely to have high concentrations of fast food outlets, empty shops and bookmakers.
According to our own research, Thornton Heath high street has 10 fast food restaurants, three off-licences and four betting shops which contributed to its negative score. It does also have three pubs which have a positive value.
One factor not taken in to the study is other community spaces. For instance, Thornton Heath has up to 10 barber shops and a Hindu temple but these do not contribute to its overall health score.
South Norwood has seven fast food restaurants, two betting shops and one high cost credit shop. But just off the high street there are historical sites such as former house of Sir Arthur Conon Doyle but as they are not on the high street they are not counted.
New Addington has six fast food restaurants, three betting shops and two high cost credit outlets which have led to its negative value. But it does have a leisure centre and a swimming pool which could have led to its higher ranking.
The RSPH is calling on local authorities to include health as a priority for their town centre health checks, saying they should have increased power to restrict the opening of new betting shops and other unhealthy outlets.
A Croydon council spokesperson said: "Croydon Council is undertaking a major transformation programme of the borough that is supporting residents to live longer, happier and healthier lives.
"The three Croydon high streets in the RSPH report have already been prioritised for regeneration, community and public health activity in the borough, including our ongoing focus to reinstate empty shops. Recent investment in Thornton Heath has resulted in shop front improvements in the High Street and Brigstock Road as well as public art installations."
Croydon Council is investing heavily in the areas with a £2.7 million regeneration programme launched earlier this year in Thornton Heath to improve the town centre.
The council has also completed a public realm scheme in South Norwood this year which removed old street furniture and lighting, installed trees and seats and new kerbs and paving to improve the area.
Croydon Council have also launched Croydon Local Plan 2018 and Eat Well Croydon which include policies to restrict fast food outlets, encourage physical activity, improve biodiversity and regenerate underused urban spaces.
Find out more here.