With plans to bring AFC Wimbledon back to Merton up in the air, the future of greyhound racing is a hot topic of late.
The last remaining dog track in London has seen better days, with Wimbledon's cavernous and unoccupied terraces symbolic of the sport's steady decline.
The track was due to close on June 18 but the Greyhound Racing Association, who manage the track, agreed a six-month extension to their lease with owners Galliard Homes.
Changing tastes and new technologies have seen the once-thriving dog racing industry spiral into decline as Wimbledon struggle to fill their stadium.
"You got 10,000 people in for a Derby final compared to this current date when you're getting 3,000 this side," said racing manager Gary Matthews.
"The amount of people in on a Saturday is roughly 1,200 now whereas it used to be anything up to 4,000."
Dog racing attracted 34 million paying customers in 1946, providing a welcome release in the grey years of post-war austerity.
Annual attendance figures now hover between two and three million, and with entry priced at £7, Wimbledon offers a low-cost Saturday night out.
Tracks rely heavily on this 'social' trade, with the number of hard-core fans who follow the sport for its own sake waning.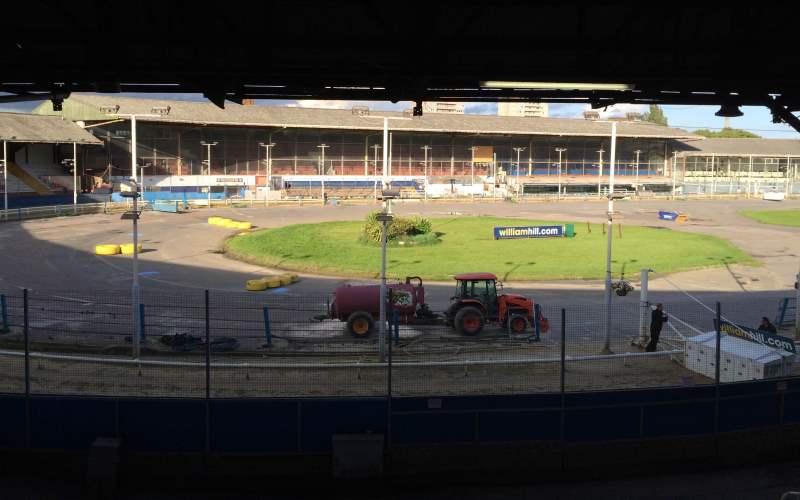 DWINDLING: Not the bustling stadium it once was
John Henwood, who has been a bookmaker at Wimbledon for 33 years, said: "Twenty years ago we got more die-hard, aficionado greyhound racing followers.
"These days, we get more people coming for an evening out, as well as the dogs."
Gamblers no longer have to attend dog tracks if they want to have to have a bet — a crucial factor in this development.
Betting shops show the racing on TV screens and now stay open late into the night and the races are broadcast live on Sky Sports every week.
Furthermore, the explosion of online and mobile gambling has accelerated change.
Mr Henwood challenged the narrative that televising dog racing has damaged the sport.
He said: "I think it's been actually a plus rather than a minus, because I think the showing of the dogs has given it a national appeal.
"People see it on there [television] then it makes them want to come to the dogs.
"In the same way that it improved the football in some respects."
However, although football fans can enjoy the Premier League from their armchairs, stadiums remain full despite high ticket prices.
Mr Matthews said: "They still keep their attendances and we've fallen behind the times.
"If you look at snooker and boxing, you've got Barry Hearn behind those sports revamping them.
"The athlete Michael Johnson said athletics needs to be re-branded to become more popular again and it's the same with greyhound racing."
No such saviour has emerged for dog racing, therefore increasing the possibility of Wimbledon going the same way as Walthamstow, White City, Hackney, Haringey and the rest of our capital's lost dog tracks.
This would be hugely symbolic for the sport as the SW17 stadium, home of the Derby — greyhound racing's most prestigious race — has been coined the Wembley of dog racing.
It seemed as if AFC Wimbledon were set to take-over the Plough Lane site until Boris Johnson 'called in' their plans to build 602 flats and a 20,000 all-seater stadium.
New London Mayor Sadiq Khan has promised a decision soon, though he has in the past expressed concerns about the plans that were unanimously approved by Merton Borough Council.
The issue was complicated recently by heavy rain that caused the precincts of the stadium to flood, which some have argued is proof that the site is not fit for housing.
What happens now depends on Mr Khan.
Featured image courtesy of sixten3 via YouTube, with thanks