Controls on dogs in both Richmond and Bushy Parks are being dramatically stepped up following a series of shocking attacks on deer.
The Royal Parks have announced they would prefer people not to take dogs to the two parks at all during the birthing season for deer.
Failing that, they wants owners to ensure all dogs are kept on a lead at all times for 13 weeks from 4 May through to 2 August.
This is substantially longer than the seven week period requiring dog leads last year, which ran from 18 May until 6 July.
Simon Richards, Park Manager for Richmond Park, said: "During the deer birthing season, we strongly advise that dogs are not walked in either Richmond or Bushy Parks but, if this is not possible, dogs must be on leads in all areas of the parks.
"Female deer are afraid of dogs harming their young. Concern for their newborn means they may act defensively towards dogs – they have been known to give chase and attack, even if the dog is at a distance and not acting provocatively.
"Dog walkers must remain vigilant, avoid areas of dense vegetation and stick to the perimeter of the park. As a dog owner myself, I know this can be frustrating, but it really is for the safety of both deer and dogs.
"We're sorry for any inconvenience caused and we thank all our visitors for their support with these measures."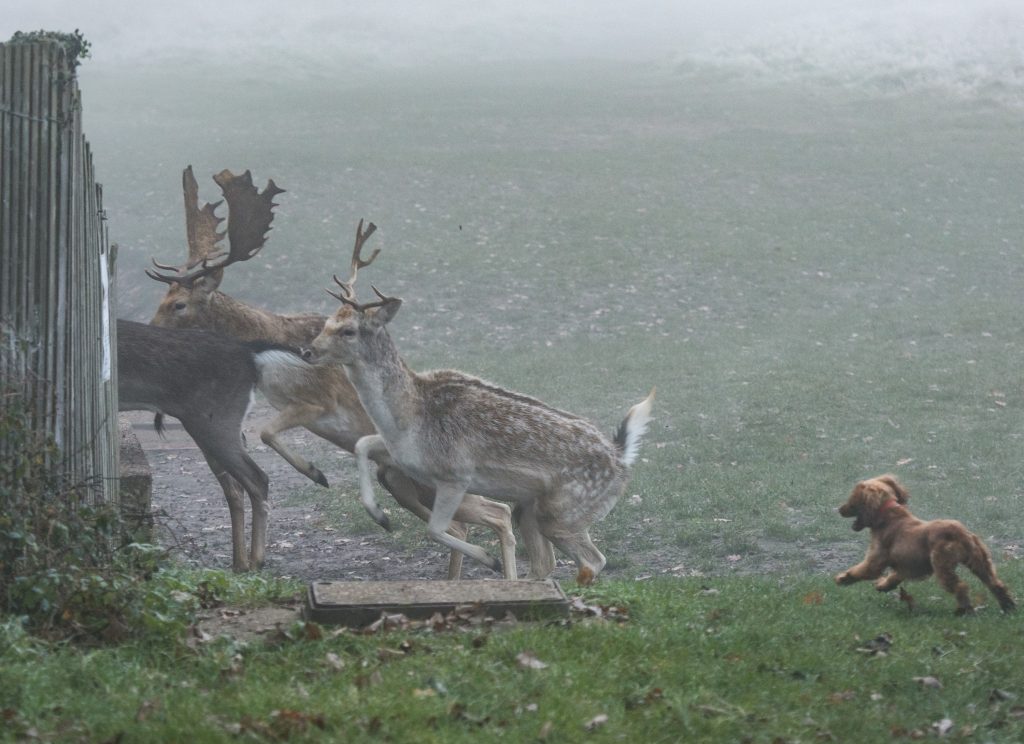 The move appears to be the direct result of a surge in attacks on deer, which resulted in 90 reported incidents in the past year, including 55 involving dogs chasing deer since August.
At least five deer have died as a result of these chases in the past year and a number of owners have appeared in court and been convicted for not having their dog under control.
A major factor appears to be that many households bought puppies during the lockdown, which has led to a big increase in dog walkers in the two parks.
Separately, the rules around social distancing means new owners have been unable to find dog training.
The move has been widely welcomed by supporters of the two parks who insist they should be seen primarily as wildlife reserves, and certainly not petting zoos.
However, there has been some backlash from dog owners and many are expected to switch to other parks in south west London, run by councils and English Heritage, which are already crowded on sunny days.
Over the next few months, around 300 deer will be born in the two parks. 
The season marks a vulnerable time for female deer, who hide their young in bracken and long grass to conceal them from dogs and other perceived predators.
A man was fined £602 in January after his dog fatally injured a deer during a 'relentless' attack in Richmond Park.
Dramatic footage filmed by a cyclist shows Franck Hiribarne's red setter, Alfie, rushing at the small hind, jumping up at her and dragging her backwards.
In November, a frightened group of fallow deer nearly trampled a photographer after they were sent stampeding by a puppy which was off the lead.
The dramatic incident was captured by photographer Max Ellis, who in September took pictures of a small French bulldog confronting a stag.
At the time, he said: "I've seen dogs chase the deer on many occasions. It's natural for dogs to chase deer and poorly trained animals find them irresistible."
Featured image credit: Max Ellis