Sheltered housing residents in Lambeth are accusing the council of leaving elderly people exposed to asbestos in accommodation described on its website as 'like a five star hotel'.
Last month residents of Macintosh Court, a Grade II listed complex used as over-60s' housing in Streatham, found a document from Lambeth Council showing that all 45 flats are at risk of containing potentially dangerous asbestos.
In January, asbestos was removed from first floor ceilings after they became damp and cracked due to roof leaks.
The recently revealed document shows there may also be asbestos behind kitchen panels which may have been disturbed during internal building work in June.
Resident Janet Gayle, 63, said that Lambeth Council failed to provide their findings from May until two weeks ago, when they were found in a site manager's office.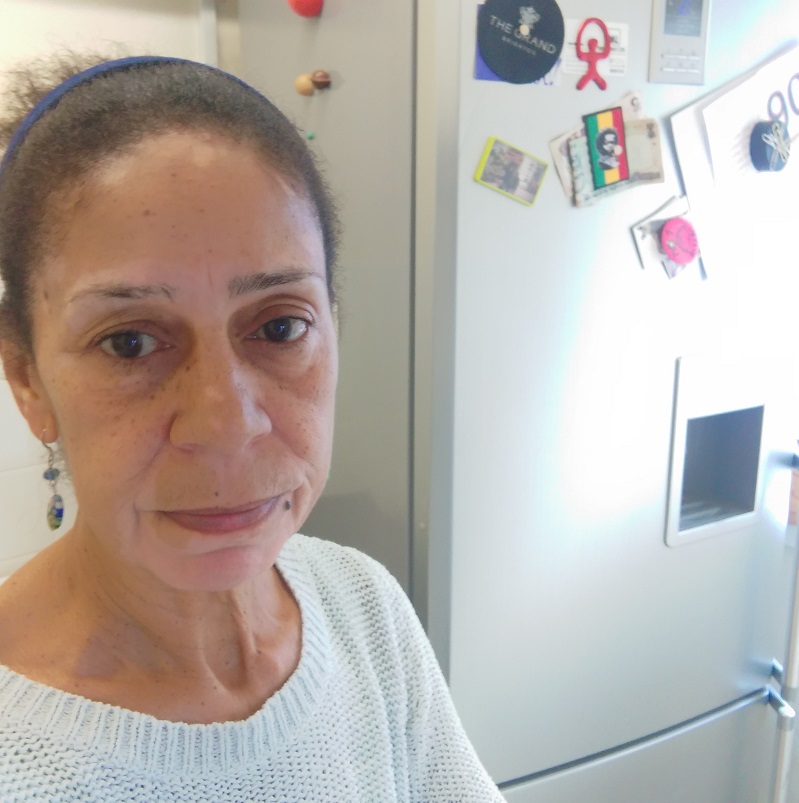 WORRIED: Ms Gayle is concerned about works that have taken place in her flat.
She said that workmen came into her flat in March and took down parts of her leaky ceiling without using face masks or asking her to leave.
Now Ms Gayle is worried for her and her family's health.
She said: "I'm not that old and I wouldn't like to think that they're responsible for shortening my life.
"I've got children, I've got grandchildren and I want to be around for them."
Macintosh Court's Tenants and Residents Association chair John Beechey, 64, said work was undertaken without risk assessments, which the council denies.
He further claimed that an asbestos survey was only taken after work began.
A spokesperson for Lambeth Council said that asbestos surveys were taken before internal work started in June.
He said: "All works to remove asbestos were undertaken in accordance with control of asbestos regulation 2012 and other relevant safety standards, under controlled conditions.
"The council's approach when managing major works is to ensure that all Health and Safety requirements are met including both the Construction (Design and Management) regulations 2015 and the control of asbestos regulations 2012."
Architect Kate Macintosh, MBE, designed the cluster of buildings in the early 1970s and is now involved in campaigns to protect them.
Regarding the council's handling of building works, Ms Macintosh, 81, said: "It's an absolutely incompetent, if not corrupt, regime."
She said the council should have evacuated residents from the building when asbestos was being removed from the ceiling.
The council spokesperson said: "The method of working, discussed with residents prior to commencement of internal works, does not involve moving residents out of their homes, unless there are medical needs."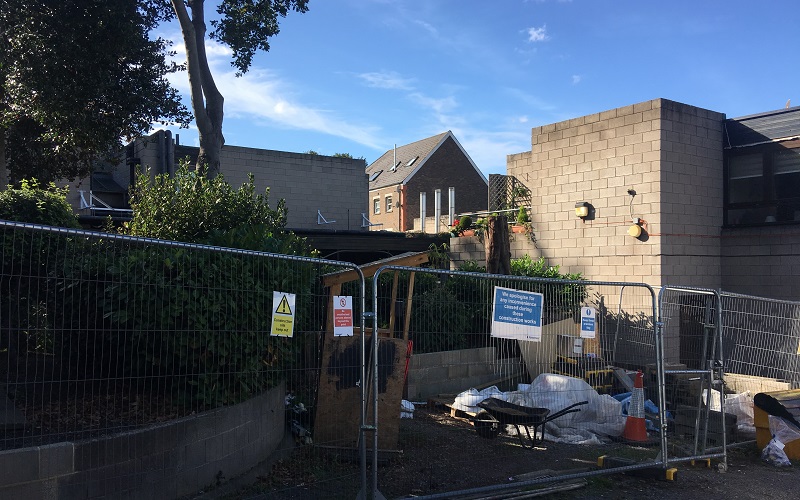 FRUSTRATED: Ongoing building works at Macintosh Court
The complex, which has been described as a 'modernist gem', has been the centre of a dispute since Lambeth Council planned to sell or demolish it in 2014, a move that was stopped when it was granted listed status.
Mr Beechey said the residents have been victims of bad living conditions since work started on refurbishing the housing in 2015 in a £2.5million project.
He said: "The list of bad workmanship is endless. They've got no respect for anyone's property, feelings or dignity.
"What they've done here is a joke."
On Wednesday the council issued an apology to residents for building work that they admitted went beyond what had been approved, but did not mention asbestos issues.
A spokesperson for ENGIE, who were involved in the building work and asbestos removal, said: "We stringently followed the correct procedures in planning, monitoring and eliminating the risks associated with asbestos and have correctly identified, notified and removed all licensed and non-licensed asbestos, which directly affects our works.
"All operatives in ENGIE's employment hold asbestos awareness training and we ensured all necessary precautions were implemented to keep construction workers and residents safe.
"The safety of our employees and local residents is always our number one priority."
The council spokesperson said: "It must be stressed that, at no time, were residents put at risk."
He added: "With internal works near completion, expressed satisfaction from 32 out of 45 residents is over 96%."