A painter braving thunderous downpours and crowds hours before the Coronation said it was worth it to immortalise another memorable royal day. 
Charles Minty, 41, from Bath, has kept his spot on the Mall secure since midday Thursday, despite swelling crowds and clouds.
He said he was motivated by his special connection to the King, who married Princess Diana on the same day the artist was born – July 29 1981. 
"We're quite keen royalists and my father decided to name me after him so of course I'm a big fan," Charles said.
He brings the connection between that day and this one a step further, saying many of his aunts celebrated the 1981 royal wedding from the same spot on the Mall where he is painting.
Charles also painted scenes of the Queen's funeral procession from top of the Long Walk at Windsor Castle. 
He said: "It was a different sort of painting because of the funeral so I did it in black and white and greyscale."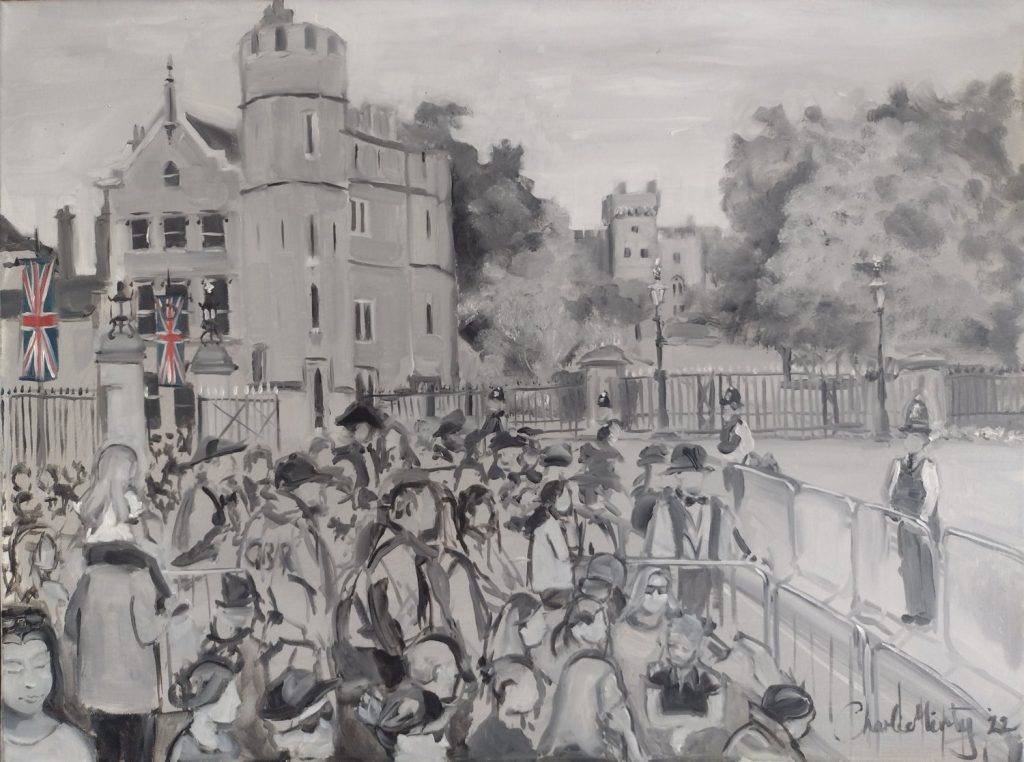 Charles said he was anticipating a big crowd for tomorrow's procession and may try capture it on canvas.
"I don't think I'll be able to keep a spot here on Saturday because it's gonna be so jam packed. Just now when King Charles walked past and everyone pushed to the front, I was afraid my easel was about to knock."
In fact, moments later it almost did when an elderly lady tried to step past it and a steeply-pegged tent cord.
But these elements are all part of his workflow.
Charles explained: "I don't work in a studio as I need the inspiration of being outside with all of the interest and challenges it brings."
Charles says it's also the pace of capturing moments like this live which he enjoys, having to head back tomorrow evening to capture Bath's rugby game against Saracens.
He said: "It's quite a challenge but having to capture it all here today and then hotfoot it back the Bath for the game – that's what makes it all quite good fun."
Featured image credit: Oisin Mcilroy