Hundreds of people from around the world have pitched camp on the Mall in London ahead of tomorrow's coronation.
The pavement along the Mall is lined with hundreds of tents, flags, bunting, camping chairs with royal fans excited to see the procession.
A community of people has sprung up, some experienced royal campers, others camping out for their first royal event, all excited to see a piece of history.
In prime position nearest Buckingham Palace is a group of six people who met recently.
Ally Hawkswood, 50, a nursing associate and her partner Kevin, 45, an excavator operator, both from Bedford, have been camping in their tent since Thursday morning.
Ally said: "It has pushed me out of my comfort zone.
"I'm a massive Royal fan, for weddings we do up the garden and I came to Prince Andrew's wedding back in 1986 and slept on the Mall."
This is Kevin's first royal camp out since he met Ally.
He said: "We will never see anything like this again. This is once in a lifetime, a bit of history. I'm proud to be British."
Camping next to Ally is her friend Joy Grimsby, 60, a tutor from Weston-Super-Mare, Somerset.
She and Ally met for the first time while queueing to see the late Queen's lying in state.
They became friends in the queue and decided to meet up again and camp out for the coronation.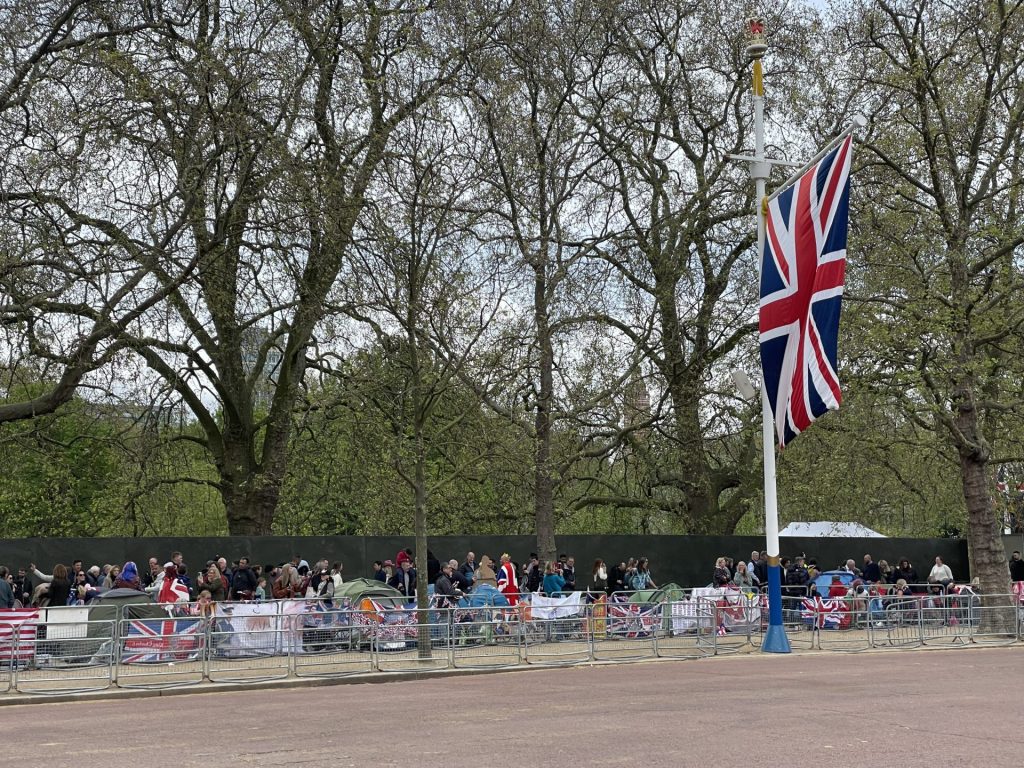 Ally said: "It was so important to come to the Queen's funeral, she was an amazing lady, hers was a life of dedication.
"We know it's a life of privilege they have and we don't have that, but it's so wonderful to watch, so wonderful to be part of, to see it and think, this is ours."
Joy added: "I am so excited.
"I'm a real royalist and I just think everything about the monarchy is amazing.
"I love Camila, she makes Charles so happy.
"The fact I'm here, on the Mall, waiting, and I'm going to see everybody and the horses, I'm so excited."
The campers have formed a community, looking after each other and keeping their spirits up during the long wait and the changing British weather.
While some have arrived well prepared with tents, cooking stoves, sleeping bags and supplies, others have decided to brave the elements with very little.
Ally and Kevin made coffee for the people camping around them, including Andrew Dwyer, 55, a stadium steward and Oxfam volunteer from Maesteg, Wales.
He also came to the Queen's funeral where he decided to come to the Coronation.
He explained: "I'm Welsh but I'm British and I feel this is what we do."
Andrew only brought a ruck sack with a change of clothes; sausage rolls and peanut butter sandwiches. "I brought too much probably."
Joy has come with only two pairs of underwear, a spare t-shift and lots of chocolate.
Joining the group from the U.S. is Lenny Gonzaga, 52, an estate agent, from Seattle, Washington.
She flew over specially for the Coronation and has been camping on the Mall since Thursday morning without a tent.
She didn't know anyone to begin with but has been adopted by the royal campers and has found new friends.
She said: "I was a fan of Princess Di and the Queen, and more so Will and Kate.
"We don't have this in the U.S.
"I like the pomp and pageantry.
"I've always seen it on TV so to actually see it in person and it is such a historic event, I had to come."
Joining their little group is Patrick McCrossan, 62, a retired community worker, from Chelsea, West London, who has been camping out on the Mall since Tuesday. 
He said: "I started coming to Royal events in 1977, I was only 16 and it was a buzz.
"You see the pageantry and it as something we do so well in the UK.
"You always meet new people, and it is amazing.
"You couldn't meet people like you do at Royal events and they stay in touch with each other."
Featured image and all photos: James Sladden
Back row l-r: Patrick McCrossan, Ally Hawkswood, Kevin Hawkswood, Joy Grimsby
Front row l-r: Leney Gonzaga , Andrew Dwyer