Ritzy Cinema workers donned spooky Hallowe'en make-up as they staged their latest protest in their ongoing battle to be paid the living wage in Brixton on Monday.
This was the fifth protest this year staff at the Picturehouse-run cinema have held in their Ritzy Living Wage Campaign, after they said there was a 93% vote in favour of striking.
Organisers estimated 40-50 workers were on the picket line reiterating their demand for the living wage, paid sick pay and parental leave from Cineword – which owns Picturehouse.
Kiv Legate, 24, an usher and ticket seller, said: "The image of the company means people are shocked when they find out we are not paid the living wage."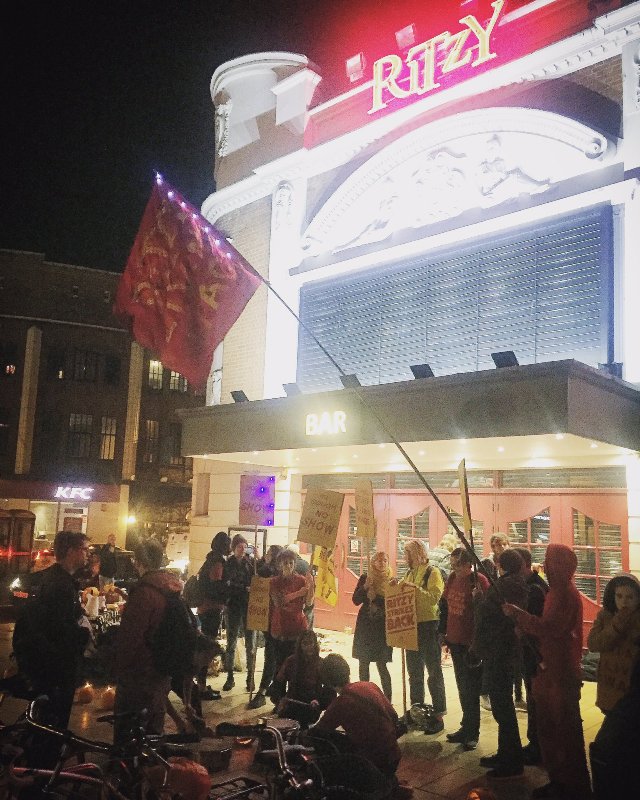 POINT TO PROVE: Ritzy staff on the picket line
He said there was strong public support for their demands and that it serves as an example for other workers.
"When people are just trying to get by, this shows people that you can ask for more," he said.
In 2014 there were 13 strikes aimed at getting the living wage implemented at the Ritzy and entertainment union BECTU negotiated a 26% pay increase over two years.
However, most workers feel the previous agreed rate of £9.10 – 30p less than the current London Living Wage – was not enough.
Holly Fishman Crook, 27, a bar worker, said: "They can absolutely afford the living wage, and listen to people asking for recognition.
"A lot of people want time for creative work, and some are more focused on spending time with their kids.
"But they can't do this if they have to work long hours just to cover the bare minimum."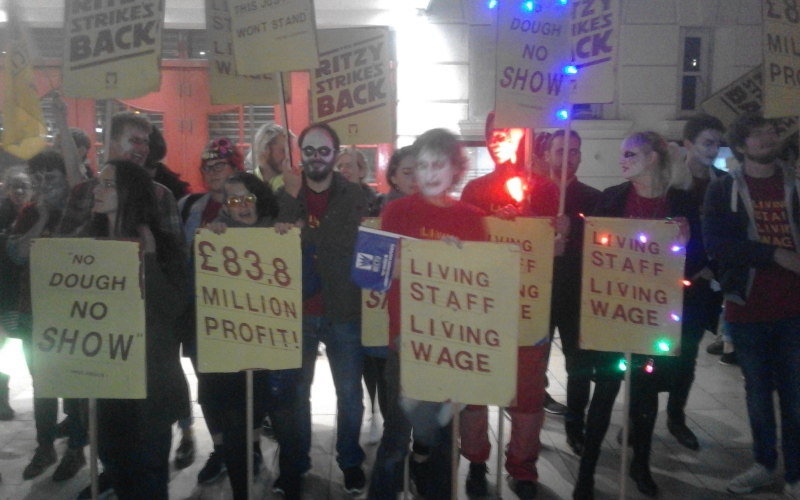 GHOULISH GATHERING: Ritzy staff protesting outside the cinema
One worker who didn't wish to be named said Cineworld could easily afford a pay rise.
"It is a very desirable job, there is so much great about working here for this company," they said.
"But when it comes down to it, we cannot live on popcorn and free films."
Sadiq Khan announced on Monday that the London Living Wage would be raised to £9.75 next year and the protest group has found support in Caroline Russell, Green Party London Assembly member.
She said: "Even as the Mayor announced the new London Living Wage of £9.75 this week we still find people struggling to live below the breadline in precarious employment.
"I would like to highlight the treatment of workers at Britxon's Ritzy Cinema who are currently striking after management have refused to negotiate with the staff's pay claim.
"Their claims are simple, the London Living Wage, company sick pay, maternity and paternity pay and fair pay rises. These should not be beyond the reach of working people."
Cineworld claimed an £83.8m post-tax profit in 2015 and the fall in the pound's value has seen pre-tax profits fall by 34.6% in the first six months of 2016.
However, a Picturehouse spokesperson said only 26 of 81 workers voted for the strike and that they pay fair wages.
"Our staff are hugely important to us, we pay fair wages and have a wide range of benefits within a good working environment," they said.
"Increases in pay for front of house people in Picturehouse Cinemas have far outstripped inflation over the last three years."
Hackney Picturehouse staff were also striking today.
All images courtesy of Daniel Randall, with thanks