Homeless hounds from Battersea Dogs & Cats Home have hours of play ahead of them thanks to a donation of tennis balls from the Aegon Championships.
Just weeks after the championships at The Queen's Club in London finished staff at the tournament heard Battersea's plea for tennis balls to help keep the charity's dogs happy in kennels.
Tennis balls are the toy of choice among Battersea's 400 canine residents who munch their way through thousands each year.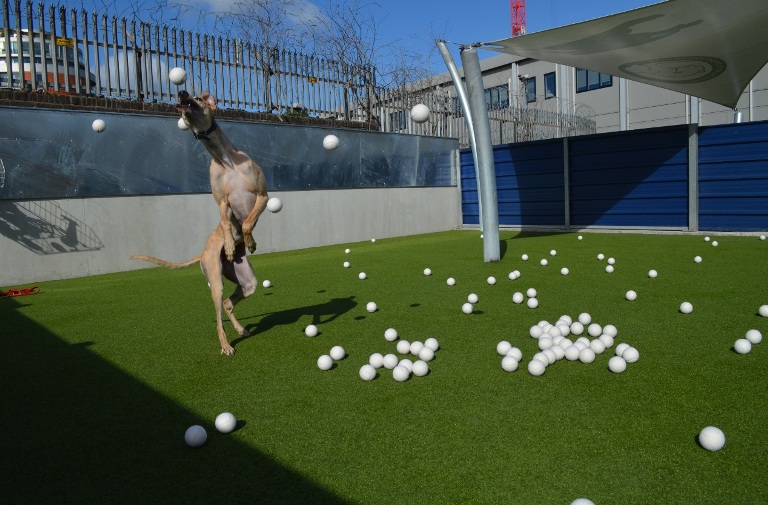 JUMPING FOR JOY! Shandy leaps for one of the tennis balls

Battersea's Head of Operations, Carly Whyborn, said "Our dogs are very grateful to the Aegon Championships for their generous donation.
"They might even be playing with one of Andy Murray's winning tennis balls!
"Andy is a huge dog lover and I'm sure he'd be happy they'll be put to good use here at Battersea."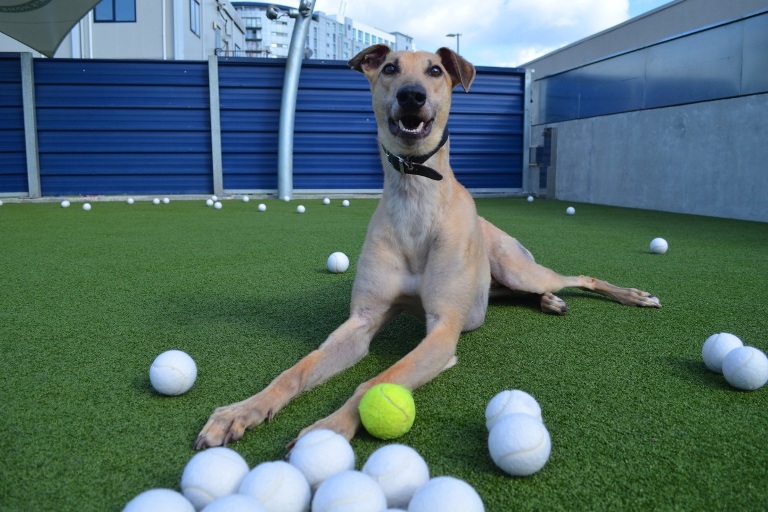 HAPPY CHAPPY: Just some of the donations from the championship
Four-year-old greyhound Shandy is one of Battersea's residents that will do anything for a game of tennis.
He's an ex-racer and has sadly only known life in a kennel.
The playful pooch is an intelligent boy that is looking for a lap to cuddle into and a family to love – but likes to keep his tennis balls to himself!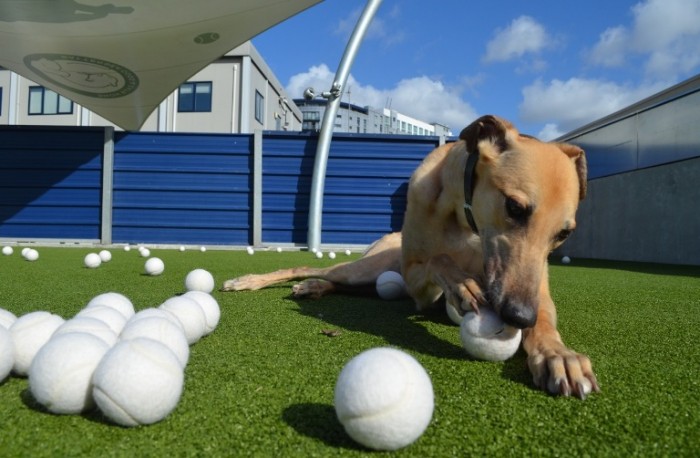 CHEW-BILATION: Shandy is delighted with his new toys

Carly added: "Tennis balls are one of the most popular toys here at Battersea – our dogs can't get enough of them.
"So we're also calling on members of the public to donate much-needed tennis balls at our Annual Reunion and Fun Day on Sunday September 9.
"It's a great day out for families in Battersea Park, so if you can join us with your dog – and some tennis balls – it would be great to see you."
To find out more about Battersea's Annual Reunion and Fun Day visit http://www.battersea.org.uk/annualreunion