Seventy years ago, on June 22 1948, the Empire Windrush docked in Tilbury, Essex, bringing with it nearly 500 black Britons, mostly from Jamaica.
They had recently been made British citizens by the 1948 British Nationality Act, which conferred citizenship on all members of the Commonwealth.
They were by no means the first black Britons. Archaeological records show the presence of black British people can be traced to antiquity. Evidence suggests that in Roman Britain, black Britons could be found in the highest echelons of Roman society.
The same could not be said of post-war Britain. Though the arrival of the Windrush generation was not met with immediate hostility, the racism endemic in Britain soon reared it's head: with signs of 'No Irish, no blacks, no dogs' indicative of the difficulties faced by black Britons arriving in their imperial 'mother country'.
On Saturday, the achievements of that generation were celebrated in City Hall, led by London's mayor Sadiq Khan.
Discussing his parents experience of arriving in Britain from Pakistan, the mayor said: "When you reflect on our history and the disconnect between what our parents imagined and what they experienced you can appreciate just how difficult it was.
"Those who came before us had to strive and struggle to fight for what was rightfully there's: a place in this country for them and their children.
"That's why the Windrush generation must be seen as giants – giants on whose shoulders we stand.
"Their sweat and sacrifices weren't only instrumental in getting Britain back on her feet after the war and keeping our public services and the NHS running, they were crucial in creating the modern, pluralistic Britain we're proud to call home today."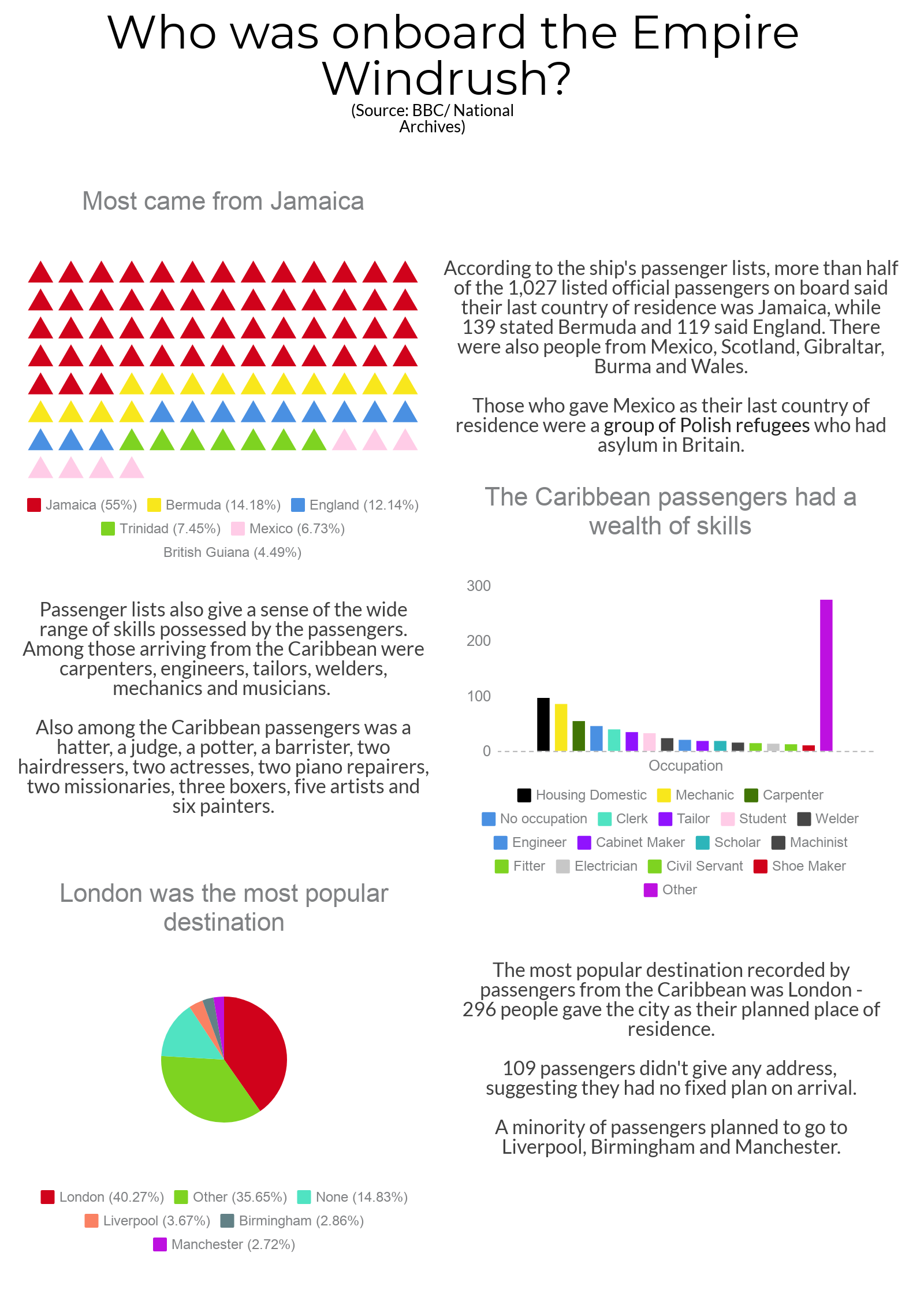 Nevertheless, he expressed anger at the government's 'hostile environment' policy, which has led members of the Windrush generation and others facing deportation.
He said: "I firmly believe that the deportation of our country's own citizens will go down as one of the most shameful episodes in modern British history.
"The government may have denied people their rights but you cannot deny people their history."
Artistic director of The Young Vic theatre, Kwame Kwei-Armah OBE, argued that in spite of the justifiable anger stemming from the scandal and the history of discrimination suffered by British African-Carribean people, the day should be remembered as a moment of profound celebration.
He said: "I choose today not to celebrate the Windrush through anger. I take today to celebrate them with love, to talk about their achievements, how they braved the winter, how they made it warmer for me."
Mr Kwei-Armah's mother, a nurse, arrived in Britain from Grenada in 1962. She passed away in 2005.
Reflecting on what she would have made of the day's celebrations, he said: "I think my mother would be pleased that her generation, after many years of being maligned, after many years of seeing her children go through pain.
"Thank you, you matter. Your time here will be remembered."