Trees in Hammersmith & Fulham parks were adorned with a crowdsourced poem to raise awareness for dementia during Dementia Action Week last month.
Hammersmith & Fulham (H&F) Dementia Action Alliance teamed up with London poet Dan Simpson, 35, to create a poem titled 'Living Well', which was written with words submitted by the community in response to prompts based around dementia, living well and memories.
Dementia Action Week, led by the Alzheimer's Society, aims to bring people together to help improve the lives of those affected by dementia.
Dan, a poet-in-residence at Imperial College, said: "Memory is something that is impermanent for everybody, regardless of whether you have dementia, and something like a piece of art can make that memory feel more solid.
"It lets us share those memories as well."
The words for the poem were collected by speaking to residents, reaching out to people on social media, and sharing the project with libraries and health charities. 
Dan said: "There was a really lovely image of a nan and a granddad with their hands warmed around a mug of tea.
"There was a really lovely sense of everyday human stuff as well, like doing the washing up once in a while.
"That was a lot of the things I got back, it wasn't necessarily those big, epic, amazing holidays or big achievements, it was the very everyday stuff that people are known for and remembered for, which was really lovely.
"There's something very beautiful about that, that sort of everyday impact that we all have on each other."
The poem appeared in five parks across the borough: Ravenscourt Park, Hammersmith Park, Bishops Park, South Park and Wormholt Park.
Peggy Coles of the H&F Dementia Action Alliance said: "It is brilliant to engage so many residents over social media and in local community groups to become dementia friends and highlight a positive image about dementia."
Cllr Ben Coleman, H&F Cabinet Member for Health and Adult Social Care added: "We're working towards a new strategy and action plan to make H&F a recognised Dementia-Friendly community where people with dementia and their families/carers are better understood, respected and supported."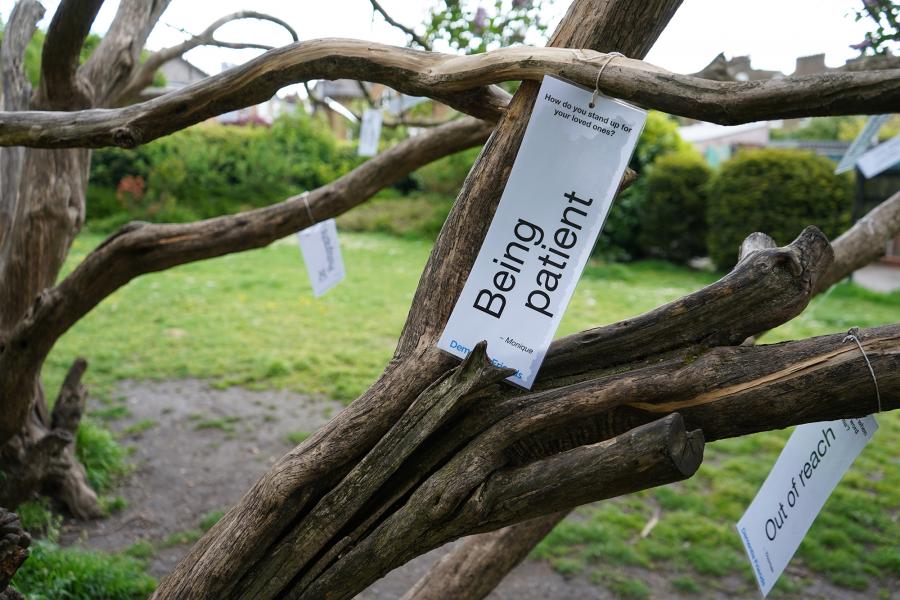 According to the council, more than 800 residents aged over 65 in Hammersmith & Fulham have a known diagnosis of dementia and it's forecast to increase to more than 1,900 residents by 2030.
Dementia Friends, an initiative from the Alzheimer's Society, encourages people to do little things such as visiting someone you know who has dementia.
To learn more about becoming a Dementia Friend, visit dementiafriends.org.uk.
Featured image credit: Hammersmith & Fulham Council