A Labour councillor and life-long Morden resident has been honoured by his peers and colleagues for more than 30 years of service to Merton.
Philip Jones was commended for his long service to the borough alongside fellow Ravensbury ward councillor Peter McCabe and Graveney ward councillor Linda Kirby – who have both also served for more than three decades.
Cllr Jones has seen a lot of changes in his time living and working in the south west London borough.
He said: "It has been a joy and quite amazing serving the people.
"We have achieved so many amazing things even in the changing times."
Cllr Jones himself has spearheaded positive change in his time, including a campaign to build a new medical centre in Morden Road – and now many benefit from having a GP surgery and pharmacy in close proximity.
The Labour councillor champions environmental issues and fondly recalls the successful challenge of a proposal to bring a busy motorway through the borough.
He said: "It would have been detrimental to the environment and would certainly have had a negative impact on the residents.
"This is a great place to live, we have many green spaces and wonderful people.
"It would be such a shame to ruin that and I am glad that our campaign was successful."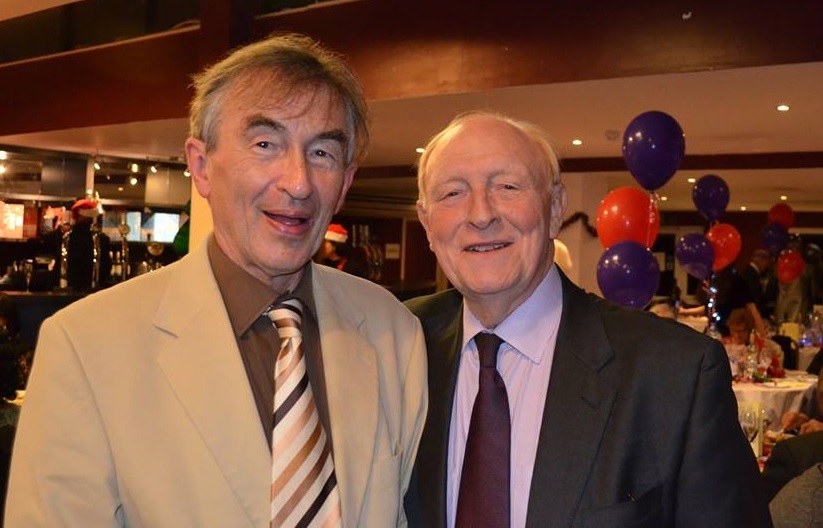 CELEBRATING: With Lord Kinnock
Cllr Jones admits that not all the changes he has witnessed in the last three decades have been positive though.
He explained: "When I first got on the council, we were building and we had excellent services.
"We could connect with the people and be more involved in helping them."
But pressures in local services financing have meant that resources and funding to some vital facilities have been cut and Cllr Jones has been at the forefront of fighting for the retention of these.
"Now there has been a progressive cut down in the services," he said.
"It is disappointing but we do our best to manage the effects."
But 30 years on and Cllr Jones' commitment hasn't waned – he currently serves on several council committees, including the planning applications committee and the licensing committee.
And with an impeccable attendance record too – he has not missed a single committee meeting, with or without apology, in the last year.
But despite having served alongside former Merton councillor, Prime Minister Theresa May, he has not been tempted to go into national politics.
"Local government is seen as a first step for many into national government but I enjoy connecting with the people," he said.
"Our main focus is on the people."