An outdoor Christmas Fayre is bringing festive cheer to Putney tomorrow with local businesses coming together to celebrate the spirit of Christmas.
The fayre run by Positively Putney is returning for its third year, taking place on Upper Richmond Road which is known for its independent businesses.
Positively Putney work to maximise Putney's potential for those who live, work and visit there and provide support for over 400 businesses.
There will be over 20 stalls from Putney's shops and eateries including Christmas music, theatre performances and an appearance from Santa.
Anna Haigh, Business Liaison Manager for Positively Putney said: "We've appreciated local businesses in a whole new light since COVID, whether it's providing essential supplies to the local residents who had to stay at home.
"It's these everyday instances that can make a huge difference to people's well being, both for the customer and the shop owner, therefore it is important that people spend local and support local where they can.
"They bring the community spirit to the commercial side of the high street providing a unique experience for shopping and spending in our town.
"Fayres such as this bring together the community to experience and enjoy their local shops, since COVID-19 it has been proven even more so that we need our local community and businesses as part of the fabric of our daily lives."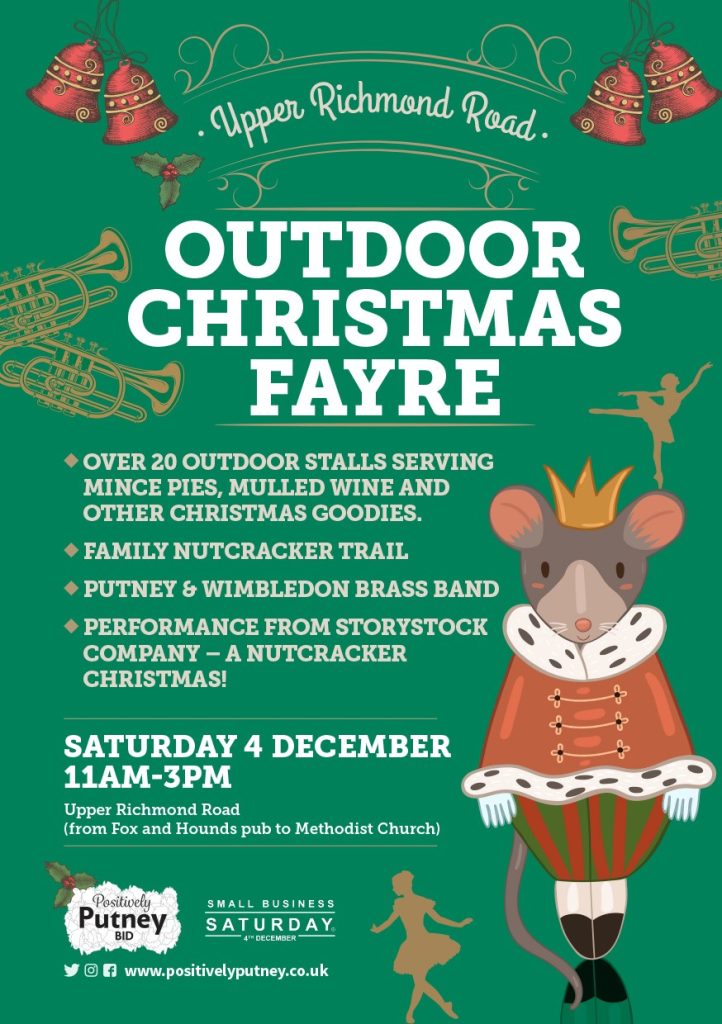 Anna expressed that independent businesses are crucial to the makeup of Putney's town centre, some of which have been there for 20 years.
Initially the fayre was an idea from two of Upper Richmond Road's independent businesses, Ma Goa Restaurant and The Bakehouse, who wanted to showcase what the road had to offer.
Positively Putney was then asked to collaborate with businesses to create the outdoor fayre.
Anna added: "Come and enjoy a glass of mulled wine from Fox and Hounds, or some delicious food from Ma Goa, a rich hot chocolate at Artisan, or a super treat Bubble Waffle at East Bubble Café.
"You can look at gorgeous Christmas gifts from Adornments, cute Christmas decorations at Pitter Potter, a beauty gift set at Kleo Beauty or gifts for the cyclist fanatics at Velosport.
"Throughout the day we'll have activities, games, prizes & events taking place to watch and get involved in."
To find out more about the fayre click here.