Firefighters in Wimbledon have joined a national strike following an on-going struggle with the government over pension reforms.
Fire Brigade Union (FBU) members have been striking around the country since 6pm last Friday and will not resume working again until 6pm tomorrow.
The bitter dispute stems from recent changes made to firefighters' pensions, including raising the retirement age to 60.
The FBU claims this will make firefighters vulnerable to dismissal once their fitness wanes, as well as the prospect of older firefighters facing no job or pension.
Yusuf Timms, FBU borough secretary for Kensington and Chelsea, told SW Londoner: "These pension reforms are wholly unacceptable. The government is trying to smash our pensions and inflict a defeat on the FBU, both of which we can't allow.
"The government is trying to smash our pensions and inflict a defeat on the FBU, both of which we can't allow."
"The strikes need to continue and should escalate until the government offers something reasonable for our pensions. We need to be striking every week.
"People are resolved that we can't afford to be dismissed."
Mr Simms added: "The government is trying to shift the cost of the state of the economy onto normal people. We need to engage them in a serious fight."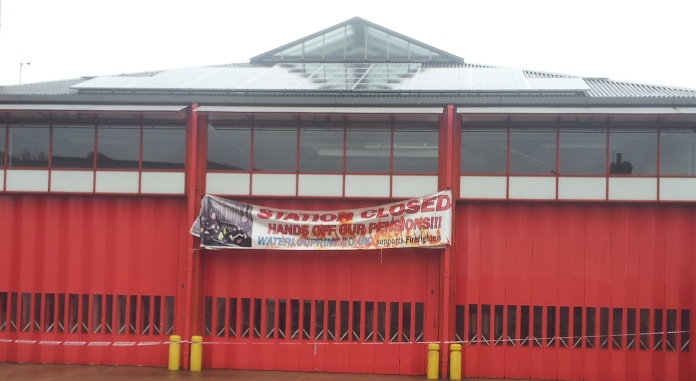 Wimbledon fire station is closed today.
Contingency plans are in action and contract staff have been hired to cover emergencies during the strike.
However, Mr Simms warned Londoners should not be under the illusion that there will be a normal fire service.
He said: "There are currently only 27 fire engines and there should be about 150 across London. We are serious that people should take extra care."
Whilst strike action around England has been widespread, it has not been mirrored throughout the rest of the UK.
Last week the Scottish government informed the FBU that it will improve its pensions proposals, allowing firefighters to retire from the age of 55 with a much more acceptable pensions reduction.
Strikes across Wales have also been suspended as the Welsh government considers a similar option for early retirement.
Fire minister, Penny Mordaunt has confirmed that Westminster will not be coming to the same agreement with English firefighters.
"Pension regulations were laid in Parliament on Tuesday after extensive consultation and amendment," she said.
"The Government recognises the role firefighters play in keeping the public safe and has worked hard to give them one of the most generous pensions in the public sector."
Picture courtesy of Ben Windsor, with thanks