England enter Friday afternoon's World Cup draw with mixed prospects after being thrown into pot two.
All 32 nations who have qualified will be drawn into eight groups containing one team from each of the four pots.
The pots are decided by the FIFA World Rankings going into October; except for Russia who go straight into pot one. After the hosts, the top seven ranked teams are in pot one, the next eight in pot two, and so on.
Groups can only contain a maximum of two European teams and no more than one from any other football confederation. So no African, Asian or South American teams can face each other in the group stage.
Here's a full run down of the pots:
Pot one: Russia (hosts), Germany, Brazil, Portugal, Argentina, Belgium, Poland, France
Pot two: Spain, Peru, Switzerland, England, Colombia, Uruguay, Mexico, Croatia
Pot three: Denmark, Iceland, Costa Rica, Sweden, Tunisia, Egypt, Senegal, Iran
Pot four: Serbia, Nigeria, Australia, Japan, Morocco, Panama, South Korea, Saudi Arabia
England must face one team from pot one, which includes the likes of Germany and Brazil. The Three Lions will most likely be hoping for Poland or the hosts themselves out of that.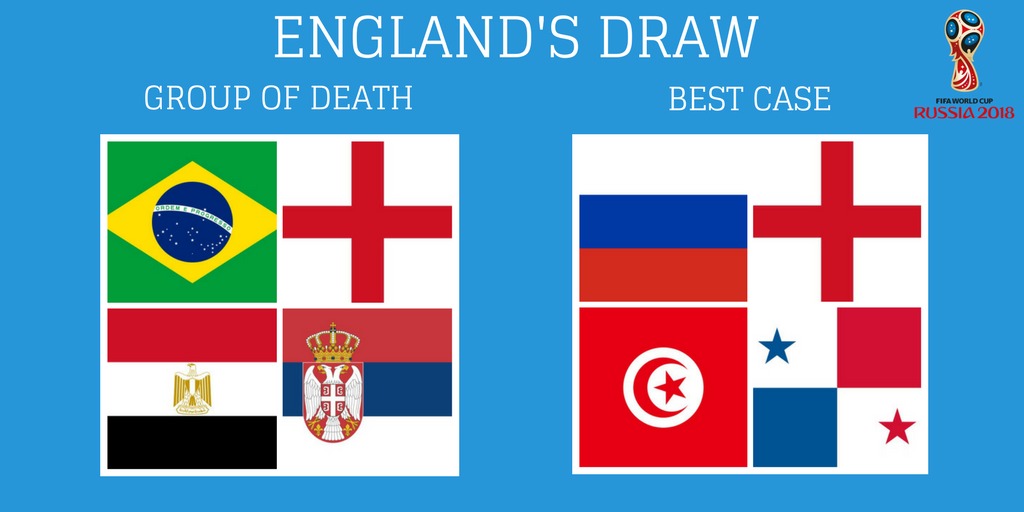 England's potential group of death
FIFA Rankings say: Germany, Costa Rica and Nigeria
SWL says: Brazil, Egypt and Serbia
England's best case scenario
FIFA Rankings say: Russia, Senegal and Saudi Arabia
SWL says: Russia, Tunisia and Panama
Follow SWL's live coverage of the draw from 3pm.