HAMPTON'S Judy Butt experienced a once in a lifetime opportunity at the weekend during the Sainsbury's British Athletics Championships as she took to the track alongside the UK's finest.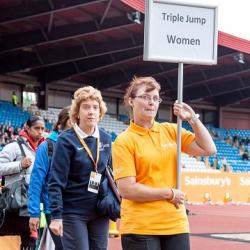 The 43-year-old, who lives at Stewart Close, led out the country's finest triple jumpers, including eventual British champion Yamile Aldama, at Birmingham's Alexander Stadium on Saturday.
Alexander, who has worked for Sainsbury's for 20 years and is currently situated in the Tangley Park Road branch in Hampton, performed her role in front of a capacity crowd and is adamant she won't be forgetting the experience any time soon.
"It was great to get the opportunity to lead out the athletes. I wasn't too sure what to expect but the whole atmosphere was brilliant and all the athletes were really friendly," she said. "It was a great day.
"I was very nervous beforehand because I'd never done something like this before but I got to speak to a few of the athletes and that settled the nerves a little bit.
"It meant a lot to get selected for this because it means the store is really pleased with me.
"It's nice to know that my colleagues look up to me and nominated me to do something like this."
Butt was one of almost 50 Sainsbury's colleagues from across the UK to have led out an event across the three days of the British Championships at the iconic Alexander Stadium.
"I didn't even know I'd been selected," she added. "I got put forward through running the shop as team leader and it was such a surprise to be told I would be going to the Championships.
"I'm quite a big athletics fan and I also went along to the Paralympics as a spectator.
"I've got two children, the eldest of whom used to swim at Harlington Swimming Club, so we like our sport.
"My eldest child would've loved to come along with me but I could only bring one person so I decided to take a colleague as I thought it would mean a lot to them to get the chance to experience the Championships as well."
Sainsbury's is proud to support British Athletics through the Summer Series events and committed to helping young people lead healthier, more active lifestyles.  For more information visit www.sainsburys.co.uk/legacy
Photo courtesy of Michael Szodi, with thanks. 
Follow us @SW_Londoner