A Chelsea Pensioner will complete his 100th parachute jump in Salisbury this afternoon to raise funds for the Taxi Charity for Military Veterans.
Mike Smith, 69, who was born in West Ham, is no stranger to being thousands of feet up in the clouds as he has served in the British Army (Royal Corps Transport logistics) and has travelled to many countries including Cyprus where he lived for 12 years. 
After discovering Mr Smith had completed 97 solo parachute jumps, the Taxi Charity were keen to round up his number to 100. He was initially reluctant since suffering a mishap back in 1992 but soon changed his mind at the opportunity to jump tandem in the safe hands of the Red Devils, and represent a charity that does so much to support veterans of all conflicts. 
Mr Smith said: "If you didn't feel nervous about jumping out of an aircraft at 13,000ft there must be something wrong."
Mr Smith, a life-long Chelsea fan, has developed great friendships with other in-pensioners mainly through their love of football and attending matches representing the Royal Chelsea Hospital. Mr Smith said: "I've talked to other Chelsea pensioners to do the jump but not sure I have managed to inspire them."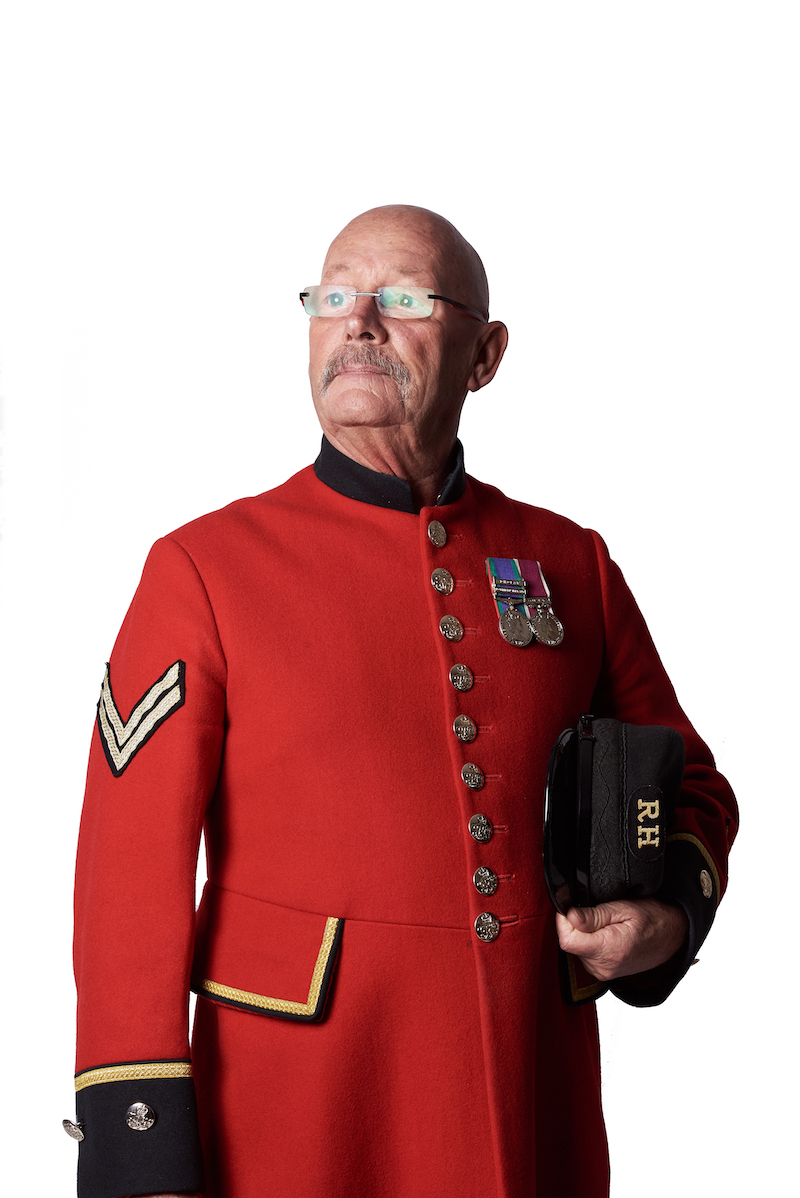 INSPIRING: Chelsea Pensioner Mr Smith will complete the jump for the Taxi Charity
He added: "I would though love to jump with Eden Hazard, he's just so good."
When asked if there will be any future jumps on the horizon after his 100th today, Mr Smith said: "While I am physically able to do it, I am going to."
He added: "It's addictive, you have to round it up to 100 but there again if you want to perhaps you do one more, the next minute you've got to 110 then 120.
"We will see what the body says."
Mr Smith's three children were born in different countries with Amy, 39, born in Germany, Ben, 34, in Belgium and Katie, 32, born in Beverly, Yorkshire. None have ever jumped from an aircraft themselves but are supportive of the cause he is jumping for. 
Mr Smith will be joined by two Taxi Charity committee members' wives – Susy Goodwin and Anne Parson who will be jumping for the very first time to raise funds for trips, including this year's 75th anniversary D-Day visit in June, when the charity will take 30 veterans, in London black cabs, to Normandy. 
When Mrs Goodwin jumps she will be carrying a beret in memory of Ted Pieri – who was a popular member of the Taxi Charity and the first person to do a fundraising sky-dive. Meanwhile, Mike will will be wearing his Chelsea Pensioner shield badge on his glove so he can proudly show it off when he is free-falling.
The Taxi Charity is wholly reliant on donations from members of the public, businesses and trusts and the generous group of London licensed taxi drivers who offer their time and vehicles free.
To find out more about the charity or to donate visit the website.