Andy Murray enjoyed an evening at a Wimbledon restaurant in his first public sighting since undergoing hip surgery.
The tennis star arrived on crutches for the Thai meal with friends at Patara restaurant on February 15 and posed for photographs with staff.
Restaurant manager Sutin Sriyod, 50, said: "He could not walk properly still.
He used his stick and moved quite slowly."
Murray ordered chicken satay and Pad Thai chicken.
Mr Sriyod said: "He said he loves Thai food and said that it is his favourite."
"He was really friendly."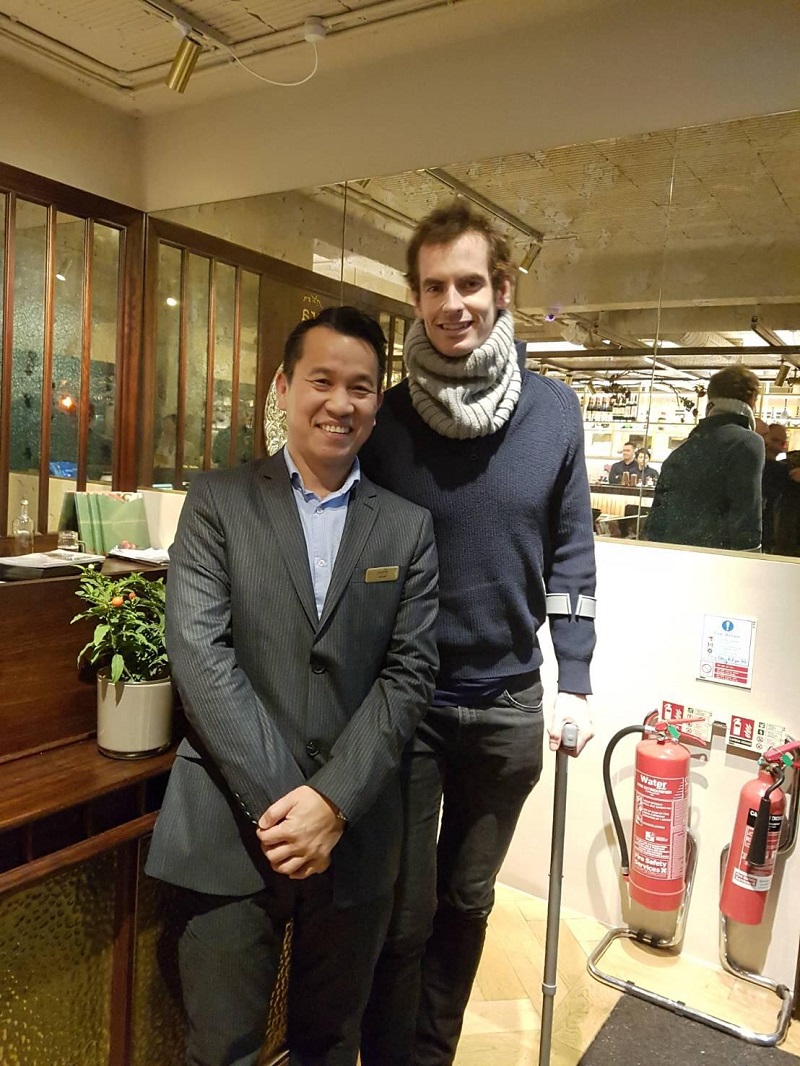 HIP AND COOL: Andy Murray posed with restaurant manager Sutin Sriyod
Murray arrived with a group of seven male friends at 8.25pm and the party stayed past 11pm.
He did not drink any alcohol.
Mr Sriyod added: "He was very happy to take a photo.
"We are hoping he will come back."
Patara is a fine dining Thai restaurant on Wimbledon High Street, which seats 80 people indoors and has a 50-seat outdoor terrace
The restaurant is less than one mile away from Centre Court where Murray has twice lifted the trophy.
The former Wimbledon champion and world number one underwent hip resurfacing surgery on January 28 this year. He had a previous hip operation in January last year in Australia.
At the start of the year before the Australian Open, one of tennis' grand slams, Murray announced he may be forced to retire due to the pain from his injury.
He said he hoped Wimbledon would be his last tournament.
This week mother Judy Murray said she thinks he will return but is aware it might not be possible.
The name Patara translates as gracious lady. There are seven Patara restaurants in London, the first of which opened 28 years ago. There are branches in South Kensington and Knightsbridge as well as the Wimbledon branch.
Read about this story and more in our latest e-edition.