A former Crystal Palace striker was today sentenced to six years in jail for drug dealing.
Ben Kudjodji, 29, of Mulgrave Road, Croydon, had previously pleaded guilty to two counts of possession with intent to supply cocaine, possession with intent to supply herbal cannabis, possession with intent to supply MDMA and possession of criminal property.
Kudjodji, pictured below, came through the youth ranks at Palace but only made one appearance off the bench, as an 89th minute substitute in 2-0 win against Barnsley at Selhurst Park on March 15, 2008.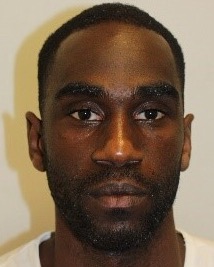 He left the club in the summer of 2008 and had unsuccessful spells at Bromley and Croydon Athletic.
He was sentenced today at Snaresbrook Crown Court alongside Karl Dowbiggin, 48, of Tapestry Gardens, Birkenhead, Wirral, who was sentenced to nine years' imprisonment having pleaded guilty to possession with intent to supply cocaine and MDMA.
On July 2 last year, officers from the Metropolitan Police's Organised Crime Command approached a car in Hurst Road, Croydon.
Kudjodji, who was in the driver's seat, ran from police and was detained after a foot chase.
As Dowbiggin was removed from the vehicle, a blue carrier bag fell out of the car and was found to contain 2,000 MDMA tablets.
Police also found 125g of high purity cocaine in the driver's door and £4,500 inside Dowbiggin's rucksack.
The two men were arrested for possession with intent to supply MDMA and cocaine and a subsequent search of Kudjodji's home recovered £28,000 in cash and a search of his girlfriend's property recovered 146g of high purity cocaine, 28.7g of MDMA and 85g of cannabis, along with a set of electronic scales.
Detective Superintendent Neil Ballard from the Metropolitan Police Specialist Crime Command said: "These convictions show the MPS' commitment to tackling organised criminals who seek to profit from the misery inflicted by the distribution of drugs.
"I am pleased that these two men now face a significant prison sentence.
"I would encourage anyone who has information regarding the supply of drugs to contact police with their concerns, so that appropriate action can be taken against the criminals involved."