As drag legend Lavina Co-op, 67, enters the stage wearing a flamingo-print blouse, it becomes apparent that not only will SwanSong captivate but it will do so in style. 
Written and directed by Nathan Evans, Swansong is a play about how older gay men find love in their silver years in the care home system.
David Meyer stars as gentlemanly Jim who becomes the neighbour of Gay Liberation veteran and resident peacock Joan (Co-op) in a sleepy care home.
Becoming 2018's answer to The Odd Couple, the duo become acerbic enemies before forming an unlikely relationship.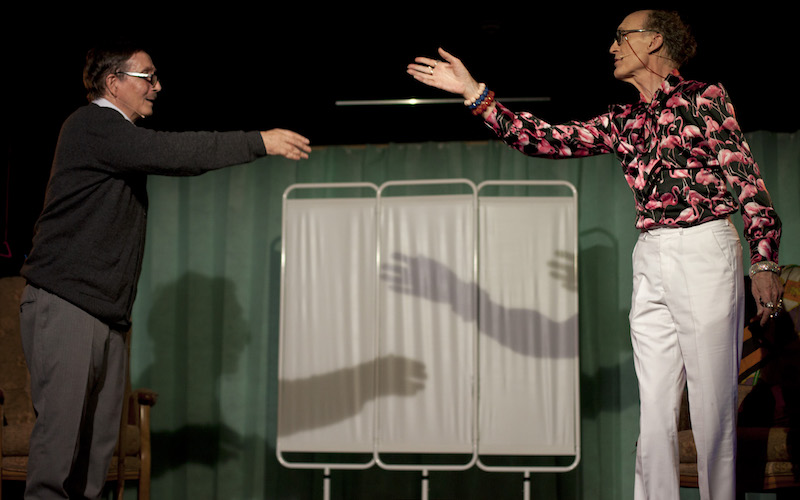 UNLIKELY RELATIONSHIP: Lavina Co-op (right) and David Meyer onstage. Picture credit: Holly Revell.
Themes of queer history and generational differences mingle with the poignant performances of Co-op and Meyer, who are contrasted with the staid gay care assistant Craig (Nathanael Campbell).
Speaking after the show, Mr Meyer said: "It is the first time in history where we've been open about who we are.
"We can exchange notes between the younger and older generations and work together."
The trio's contrasting personalities form a play that explores how queer men's history of marginalisation struggles to adapt in an increasingly homonormative world.
Joan is desperate to revolt in the stuffy care system she is stuck in, while Jim does everything he can to fit in while planning his escape.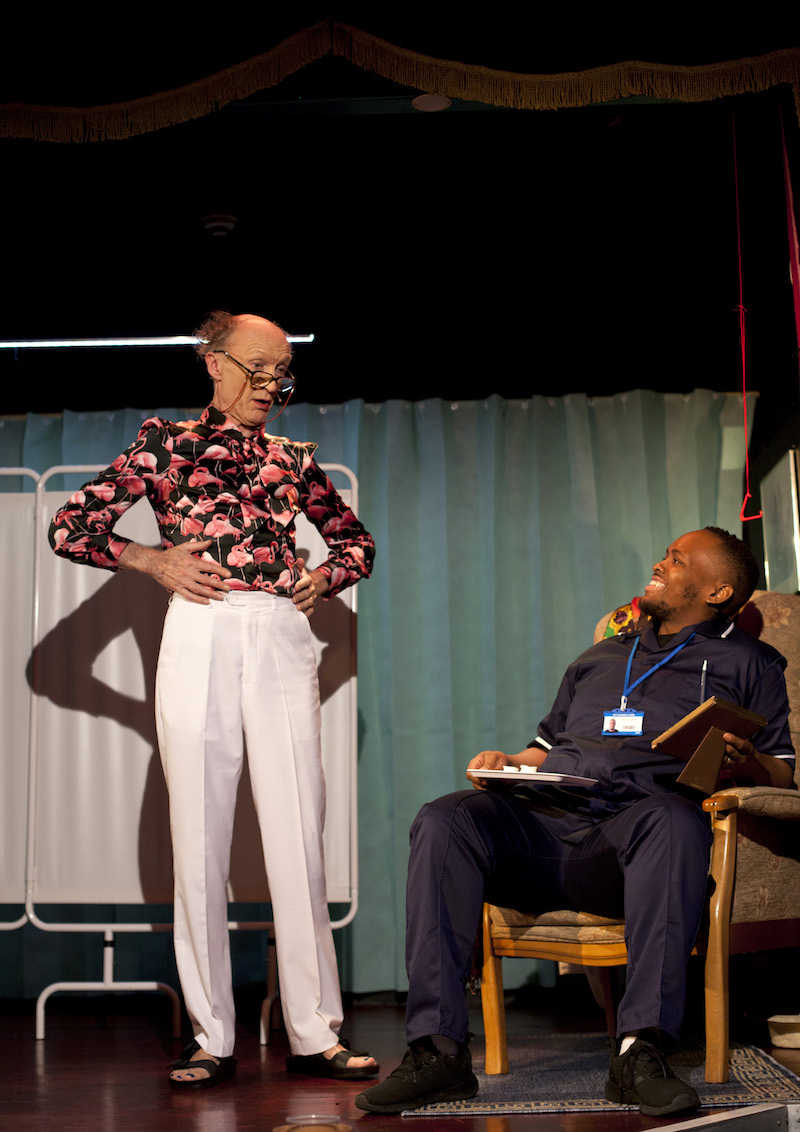 CAPTIVATING: Nathanael Campbell (right) and Lavina Co-op. Picture credit: Holly Revell.
The words of Joan and Jim fill the theatre, reflecting on past lovers and a world nearly forgotten. Now alive only with the words of those who lived it.
The play is interlocked with screenings of the banned silent film, 'Un chant d'amour' ('A song of love') which sees two male prisoners in love separated by their prison cells.
Black-and-white close-ups of this 1950 French film set the sombre yet combustible tone of SwanSong.
Before the show began, Mr Evans said: "I confidently predict a crying audience, standing ovations and excellent reviews."
And this reporter can confidently predict that all three predictions will come true.
Feature image shows David Meyer and Lavinia Co-op. Picture credit: Holly Revell.