Residents across south west London are preparing to celebrate Black History Month which officially commences on 1 October.
This year's theme is 'Time for Change: Action not Words.'
According to Black History Month's official website, the aim of the month is to fight racism, eradicate inequalities for Black people and ensure that Black history is celebrated year-round.
BHM has traditionally championed historical figures such as Archbishop Desmond Tutu, Shirley Bassey and Martin Luther King Junior.
This year the organisers are widening their focus to the everyday heroes in the UK, and will honour the Black Britons fighting on the frontlines of the coronavirus pandemic in schools, hospitals, care homes, supermarkets and countless other places.
In order to highlight the rich cultural tapestry and the copious contributions of Black people in the UK and around the world, a range of events will be held throughout London.
Widespread and extensive, the events range from forums on cancer and black businesses to food stalls, music events and creative spaces.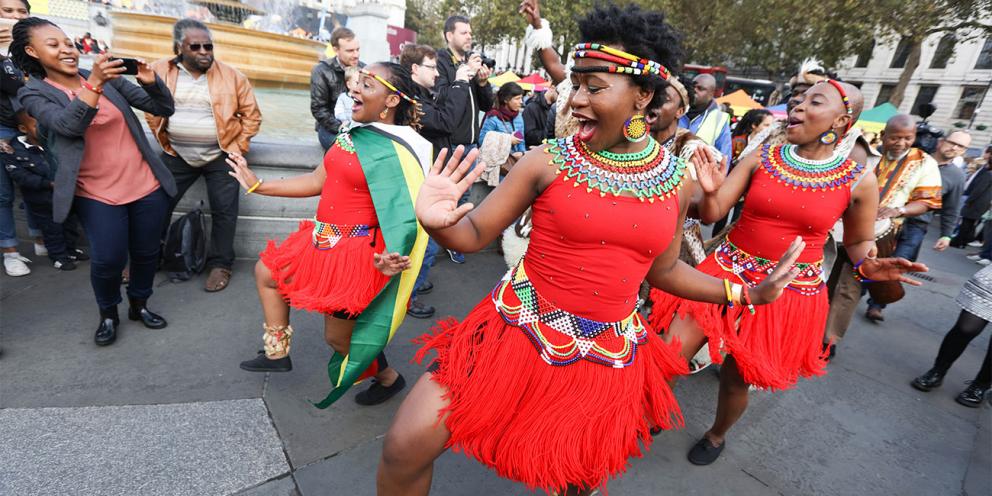 Kensington and Chelsea
In Kensington and Chelsea, in partnership with Cancer Research UK, a Black in Cancer Conference is taking place to provide Black professionals, funders and patients in any scientific field an opportunity to share their work and network with their peers.
This event will be taking place on the 10th and 11th of October at the London Science Museum. You can find out more here.
At Kensington Library Lecture Hall, author Lorna Holder will be holding a session discussing her new book Style In My DNA in which she examines the influence of Caribbean culture on British fashion over the last 70 years.
The event will take place on 27 of October and will conclude with a Q&A session and book signing.
Richmond upon Thames
At Richmond Theatre, four-time Grammy winners Ladysmith Black Mambazo choral group will be performing.
Catch them on the 23rd of October. Find out how to attend here.
Brixton
Brixton has an abundance of opportunities to celebrate Black History Month this year.
On 1 and 2 October, the borough will host the Black Culture Market that will showcase African and Caribbean entrepreneurs in an indoor face-to-face setting.
This event supports small Black businesses with attendees able to buy clothes, prints, jewellery, skincare and gifts.
Melissa Thompson will be hosting a discussion on the history of Jamaican food and her new cookbook, Motherland.
This will take place at Brixton Library. You can click here to register.
On 19 October local musicians and music-lovers will have the opportunity to Map Brixton Through Song at Brixton Library.
People are encouraged to bring their instruments as Indigenous Australian musician Jessie Lloyd explores Brixton's music, history and culture.
Brixton Library will be hosting a unique Carnival Headdress Making Workshop on the 25th of October.
Celebrating 60 years of Jamaican independence, this workshop promises to be fun for all the family.
Croydon
On 1 October at St Mildred's Parish Church, the Black British Classical Foundation is hosting a musical evening during which people will be entertained by famous operatic arias, duets & compositions by Black Composers.
Tickets are required for this event.
The Phoenix Community Centre will be paying tribute to the late great Delroy Wilson as reggae artists such as AJ Franklin, Little Roy and Frederica Tibbs perform on the 15th of October.
Westminster
Pimlico Library will be hosting a Black History Month exhibition by Sandra C Ike, a British-Nigerian artist on the 5th of October.
A spokesperson said: "Pimlico Library is proud to host an exhibition of her art."
Eight Northumberland Avenue, an events space, will be hosting a plethora of opportunities this month for Black Britons to network around various influential topics.
On 18 October, Black Women Business Talks will be hosting a space in which Black women can learn and share growth strategies for business development and career success.
The event is open to everyone, including allies.
On 20 October Black in Legal will provide those in the legal field the opportunity to learn about keys to success as a legal professional.
Meanwhile, Black Media, Culture & Sports Talks will discuss potential methods of propelling and promoting Black creatives in this field.
On 21 October, Black Finance talks will be an event filled with some of the most prominent experts in the financial industry and those who are interested in a successful career in finance are encouraged to attend.
The event promises to be a great networking opportunity and will provide finance and alternative finance tips for anyone in business.
If you would like to find out more, please find the Official Black History Month 2022 magazine here.