A pop-up exhibition celebrating the history of the area is taking place at St John's church at Waterloo this weekend.
As part of Lambeth Heritage Month, 'Waterloo Lives!' showcases the area's rich history, from a marsh in the 18th century, through the world wars, to the present day.
Along with several talks, visitors can look forward to an immersive theatre performance recreating the experience of the Blitz in the church's air raid shelter on Sunday.
St John's vicar, Canon Giles Goddard, said: "I've never experienced change as fast as it's happening here in Waterloo at the moment.
"We've got huge redevelopments, the Shell Centre is being transformed, there are great plans for Elizabeth House, for Waterloo station.
"The whole area is going to be utterly different in the next few years, and I think it is really important that we remember our history, so that we are more grounded."
He added that prior to 1750, when development started as Lambeth expanded, the area was primarily used for agriculture and pleasure gardens.
Through photos, documents and maps showing the changing streetscape, the exhibition shows the transformation Waterloo went through over the years.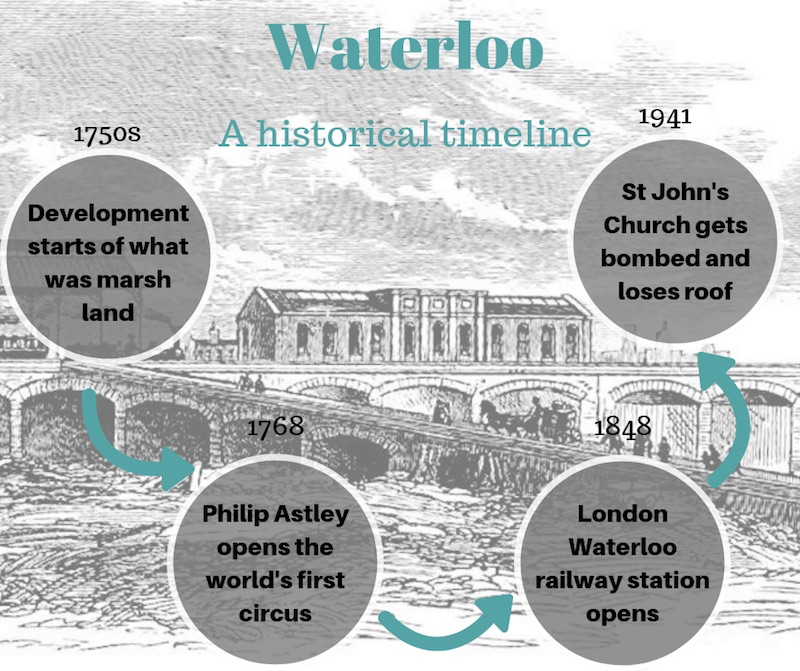 The free event was organised in partnership with Morley College, Lambeth & Southwark Archaeological Society and Coin Street Community Builders.
Canon Giles said: "My favourite bit is the pictures of St John's Church during the war because it was bombed in 1941, and then it had no roof, but they went on having services here.
"There were some great pictures of the Church almost as a shell where people carried on living their lives and doing what they could, so I like that very much."
There is currently a fundraising drive to renovate the Church, built in 1824, which Canon Giles said he hoped would help bring it into the 21st century.
To continue telling the story of its heritage, the church will bury a time capsule on November 15 to commemorate 100 years since the end of the first World War.
"We've got a lot of new things going on along the South Bank like the Festival Hall and the National Theatre and all that which is wonderful, but there isn't really anyone telling the history. We are hoping as part of the renovation we'll be able to do that much better," he said.
For more information visit: https://stjohnswaterloo.org/blog/33175
Waterloo Lives will be at St John's Waterloo until Sunday September 30th. Open: Saturday 10am-6pm. Sunday 1-6pm.