A father-of-three is competing in 40 gruelling sporting challenges in just one year to raise money for the Royal Brompton Hospital, where his baby daughter's life was saved.
Steve Marwood, from Rochester, is currently showing his gratitude by raising money for the charity Brompton Fountain, which supports the children's units at the Royal Brompton Hospital.
His last event was his most challenging to date, the Race to the Stones, a 100km ultra-marathon that many people complete over two days, but Steve completed in one exhausting 15-hour run.
Describing the ultra-marathon he said: "I did it in one sitting and it's brutal, absolutely brutal.
"I'd never run an ultra-marathon before and before three weeks ago, I'd never run a marathon!"
Honor, his eldest daughter, was born with a heart condition in 2007 and spent the first weeks of her life in the Chelsea hospital's Paediatric Intensive Care Unit.
"Simply put, Honor's life was saved at the Brompton," he said.
"They saved her and they saved us. We are eternally grateful and have said this to them many times."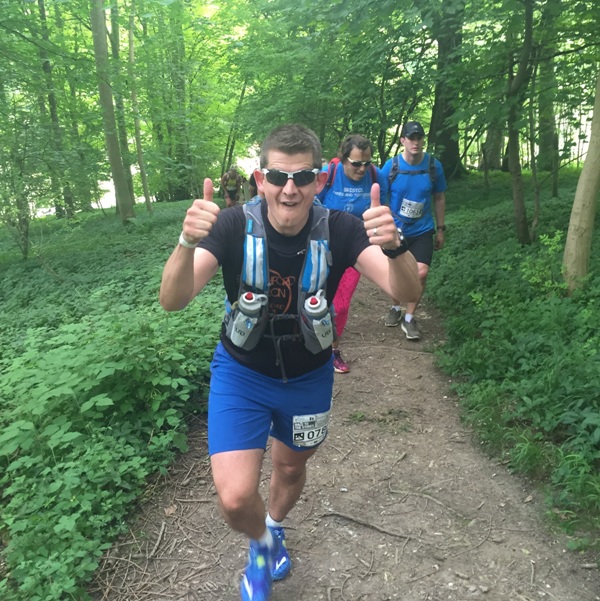 The business manager has tackled 16 events so far, including a London to Land's End cycle to kick off the challenges and a mud run through a petrol covered motocross track, raising more than £3k of a £40k target in the process.
He was inspired to take on the 40 challenges after reading Hell and High Water, a book by adventurer Sean Conway, who has run, swan and cycled the length of Britain.
Steve met Sean on June 2 and a run along the Kent coastline together inspired him to add an epic final hurdle to the event schedule that will see him run a marathon every day for almost two weeks.
He said: "I really liked the idea that he saw adventure in absolutely everything, so it didn't have to be this polar expedition that would cost millions to get there, and he's inspired me to make a change to my schedule.
"Rather than my original plan to go back to Land's End and do the return journey on the bike back to London, I actually think I'm going to go to Land's End and then run back to London."
This year is not only significant for Steve's fundraising exploits though, as his wife Lauren gave birth to their son Arlo on June 4.
"He's already twice the weight he was at birth and my wife is doing pretty well.
"My other two children are absolutely besotted with their younger brother – they help when they can and they also get in the way!"
It's been a challenge itself for Steve to fit the training and events into a busy life including a demanding job in the City of London and looking after the children.
He joked: "Lots of people have said to me having a third child should that be chalked up as event number 41 because it's not been without its challenges!"
Next up is his third sprint triathlon tomorrow at the Ocean Lake Triathlon Club in Canterbury, Kent, where Steve serves on the committee.
Steve would like to see as many people supporting by cheering him on or through donations which will be used not only for hospital equipment, but also for ill children and their families.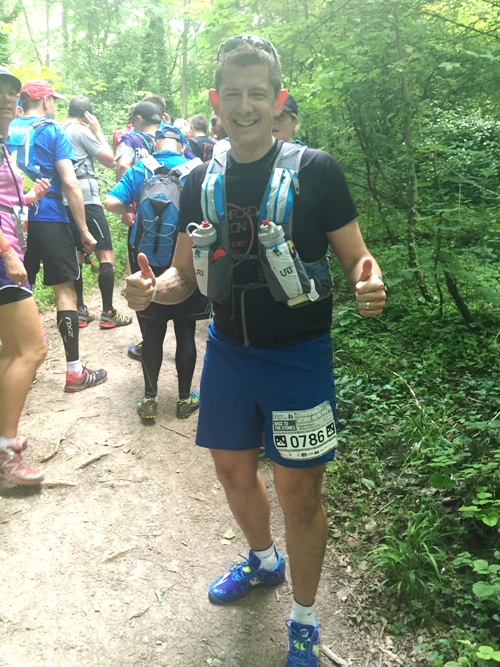 "If we're able to use the money to bring a bit of happiness and light into the lives of people who are otherwise having a difficult time of it then I think that's a great thing to do."
You can keep up to date with Steve's progress on Twitter using the hashtag #steves40for40 or at www.steves40for40.co.uk.
If you would like to donate and help Steve towards his target you can do so at https://www.justgiving.com/fundraising/steves40for40