A thrifty young musician who busks in Wimbledon to fund his music degree at Newcastle University has earnt almost £3,000 since the start of the summer holidays.
Talented Yohane-Liam Osafo busks daily to help fund his way through his Bachelor's degree so he doesn't have to borrow from his parents.
The 19-year-old started busking three and a half years ago and hasn't looked back since.
The Merton resident said: "I am 19 now but I started in year 10 when I wanted to go on a music trip to America with a youth group and I had to pay £2,000 in the space of the Christmas holidays.
"I panicked and decided to try busking because I had a friend who played the cello and she did it for one of her gap years."
Yohane-Liam, who attended both Rutlish School and Graveney School, now makes between £70 and £120 per two-hour session each day.
"Just during this summer holiday I have raised around £2,000-£3,000 which is great," he said.
"Today I am hoping to make to make between £70 and £120. When I first started, because I looked younger, I used to make about £200.
"But I've been here so long I'm not surprised it's gone down now. But it still pays for what I need it to pay for."
Despite earning quite a decent wage from his busking, Yohane-Liam admits it isn't what he wants to be doing.
He said: "I'd prefer to be at home practising my classical repertoire which is what I am at uni for but sometimes it's necessary to pay the money."
Young Yohane-Liam is only busking to raise money, and hopes to return to London after university and study at the Royal College of Music or the Guildhall School of Music and Drama.
"I have just been approaching it like an actual job and it's worked out for me," the musician said.
"I am paying for my second year because I have to pay for the last bit of my rent before my loan comes in.
"Without this I'd never be able to afford a Bachelor's degree — I'd have to get a lot of money from my parents and I'd just feel kinda bad.
"I understand that the government need to pay for different things but at the same time, it's probably gone a bit out of hand."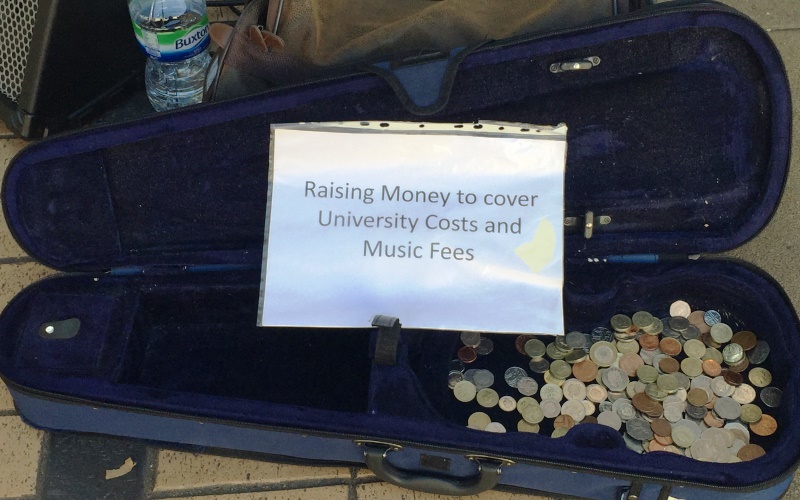 MONEY, MONEY, MONEY: Yohane-Liam doesn't have to borrow from his parents like most students
Not only has busking helped fund Yohane-Liam's course, it has also opened doors for him.
"My parents think it's great because they don't have to pay for my stuff. And because I get bookings they are happy I am getting a good start to my career," he explained.
Despite the success he's had, the busy busker admits the life isn't for everyone.
He said: "As a musician it's great for me because I like playing.
"If you're already at a high level and want to play you might as well.
"But I wouldn't recommend it if you're just starting because generally people get annoyed and you wouldn't be very successful."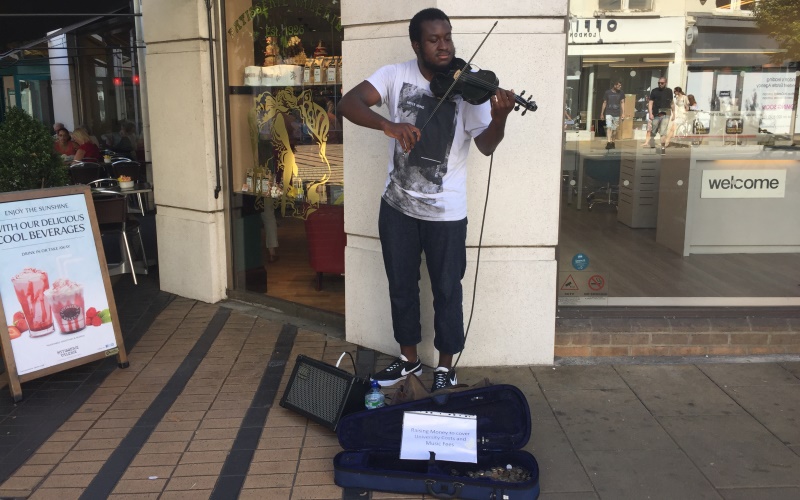 WHAT A WAY TO MAKE A LIVING: Yohane-Liam treats busking like a job during the holidays
The talented teen usually busks in Wimbledon and does what he can to keep himself and his audience interested.
"I usually play here and I generally try to update the songs so, as well as the people around me, I don't get bored," he joked.
"I usually busk here but I'm starting to think that everyone in Wimbledon has probably heard my stuff.
"I play a lot in Oxford Street too – it really depends on my mood, I like to mix it up."
Yohane-Liam has been in the busking business for a while now and knows how to please the passing commuters.
He said: "I don't really like pop songs, I listen to classical music. I'm really into jazz at the moment.
"But I play the music I think the people will like.
"I've had a couple of times where people have drunk way too much and they throw £30 in and run off but I can't do anything because I'm playing.
"There's always people dancing and being silly, enjoying the music."