It must have been a strange sight, 16 men and women, laden with food and bags of warm clothes, asking if anyone on the Strand wanted a cup of tea.
This is Brixton Soup Kitchen's typical outreach work, people come down to their building on Coldharbour Lane at about 5pm to prepare a meal, before driving it to wherever it's needed.
Volunteers Solomon Smith, 31, and Mahamed Hashi, 30, said they both wanted to do something about the visible rise in poverty and homelessness in their area.
"It was a rainy night," Solomon remembers, "I was in my room and something hit me – 'if you like it when it's nice and warm, what about the other side? The person who's actually out in the cold and rain?'
"Funnily enough, the next day on the news we lost about six homeless people in the whole of the UK just through not having the right clothing, not having enough food in their belly.
"I just thought it's very simple to give people clothes and it's not expensive to feed people, so I decided to contact all my friends and say, 'if you've got any clothes you don't want, let me know, I will come and collect it' and within the first month, whole piles were donated."
On Sunday night I joined the outreach team as they headed to the Strand, a small stretch of road between London Bridge and Trafalgar Square where dozens of people sleep rough every night.
Having finally found somewhere to park round the corner, we all take as many bags as we can each and set out.
There are half a dozen homeless men sitting in a semicircle on the floor outside Charing Cross station – and someone's beaten us to it.
Three men, armed with a suitcase of warm clothes, flasks of tea and coffee and a bag of Pret-A-Manger sandwiches, are already helping those who will be spending the night here.
But there's certainly no shortage of people needing help on the streets this night.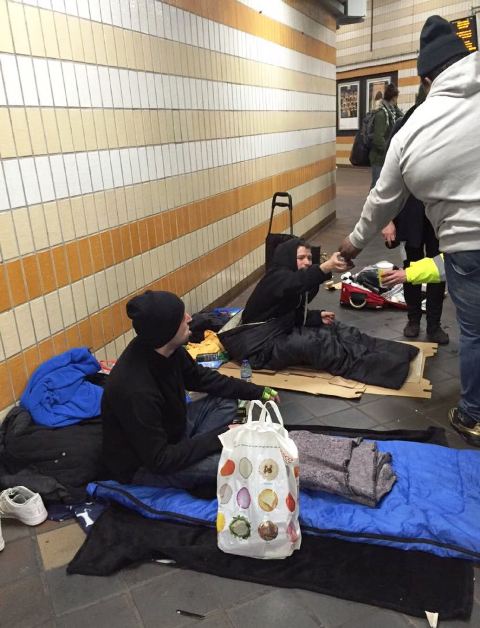 HELPING HAND: Solomon gives out hot drinks and food
As Solomon walks up to the group, a spontaneous cheer goes up and an older man in a hi-vis jacket jumps up and greets him like an old friend.
John was one of the first people the Brixton Soup Kitchen helped and now helps the BSK outreach crew find where people are sleeping rough.
Brixton Soup Kitchen has been doing this since January 2013 – all with the same hot water dispenser.
It rapidly went from being a nice idea at Solomon's house to the slick operation it is today – and not even its founders can quite explain how it happened.
"I can't tell you a specific time when it changed," Mahamed said. "But, as far as we're concerned, people that come here and volunteer are our friends, so that doesn't really change.
"Because the work is so selfless you see the real goodness in people, which means we all end up with friendships that go beyond the soup kitchen."
This Sunday evening, the five volunteers who are doing one of the most important jobs – making the food – are there for a very special, if unusual, reason – it's volunteer Ola's birthday.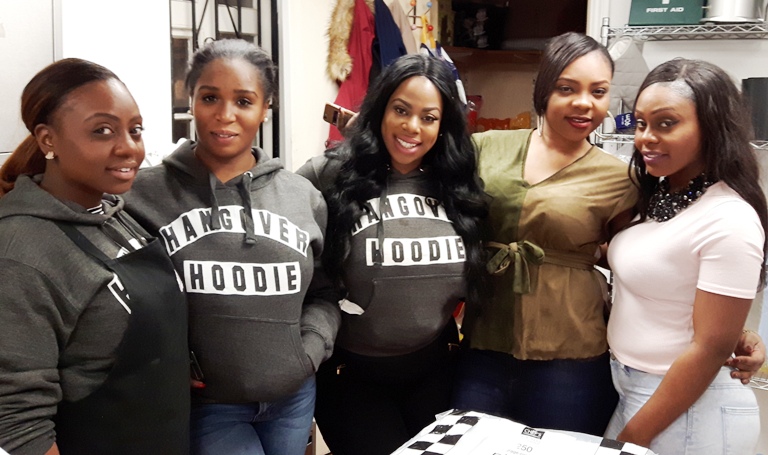 GENEROUS: Birthday girl Ola (second from left) is joined by pals Josephine, Mary, Zenzi and Marina
"I've always seen and heard about it," Ola said.
"It was my birthday and I told my mate I wanted to do something like kind of outreach work to give back and she just surprised me with this day.
"She said, 'we're going somewhere' and then it was this, to come and cook and go out and give the food. She heard that I wanted to do something like this so she just made it happen."
"It's easier [than previous outreach work]," said Josephine, who organised the day for Ola, "it's easily accessible, you don't have to go through too much protocol to get to the main person that sources it and it makes very easy for you to feel comfortable to just want to come and do it.
"He [Solomon] helps you. It's not like, 'oh, you have to send an email here', you can literally just walk in here and you're involved straightaway."
Solomon spends much of the outreach evening taking photos for Instagram and recording snippets for Snapchat and he is in no doubt that social media is the reason for Brixton Soup Kitchen's popularity and success.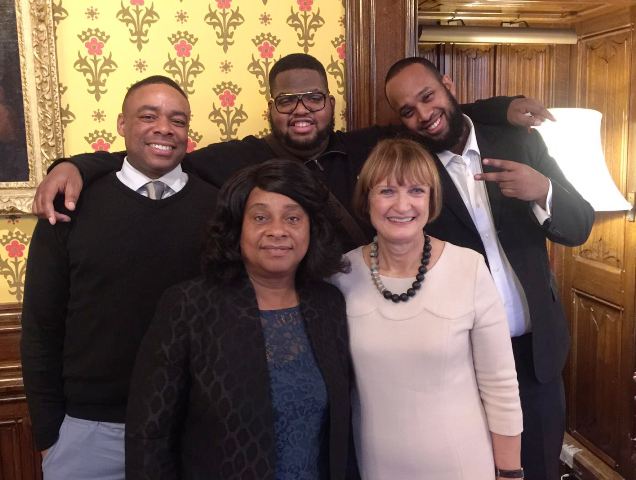 SUPPORT: Tessa Jowell joins Solomon (centre back) and Mahamed (backrow right)
Solomon said: "We've been helping a lot of organisations who have been doing this for 10, 20 years or so and they say, 'how did the hell did you guys build up so much momentum in eight months?', and all I could say is, 'I don't know!'
"This was just an idea from my room and it actually grew into something big!"
"Initially people just thought we were a restaurant!" Mahamed added.
"Then they thought it was just soup that we served! Even up to now, someone said to me the other day, 'when can I come to the restaurant and taste your food?', and that's not really what it is.
"With the social media, it's like you're with us when we're doing the work, you can see the food get given out."
With a re-elected Conservative government making more cuts to public services and in its first six months in sole power, it appears the situation Brixton Soup Kitchen have a long struggle ahead of them.
"I think it's especially the benefits cap that's going to change everything," Mahamed said.
"Where people were able to stay where they've been, it's quite an intelligent little ruse by the government: cap the benefits, but as rents rise you might be forced to get out because you can't afford the £10 extra.
"And the rent's going to be rising every year, so it's only a matter of time before the whole area's cleared out unless you can buy your property and it's not a reality for a majority of people.
"Around 27% of the residents in Lambeth are on the poverty line already. They could be on Jobseeker's and get sanctioned and all of a sudden they need to come to the soup kitchen, we get this all the time.
"Things like the impact of Kids' Company closing, we've had an influx of young people and families coming in and there's literally no one there, or nothing there, to pick up that slack apart from us, who are not getting paid, who are not getting funding."
The most important thing though, as far as Solomon and Mahamed are concerned, is the atmosphere that people are welcomed into: they want the soup kitchen to be somewhere people want to go and feel at home.
"We don't want them to feel like we're looking down on them," Mahamed said.
"For us, this is what makes us different from the food banks. The food banks, firstly, you need to prove that you need them by showing a voucher and the voucher you can only get from the council or the police or other institutions like that, which for me is quite bad already.
"I will challenge you guys to walk in here and tell me who's a volunteer and who's a staff member."
For Mahamed, the occasionally thankless task he and Solomon have set themselves can feel like banging his head against a wall – but there's no question of giving up.
"It gets quite depressing for you as a person when you can't move forward because so many people are depending on you, but all these people are depending on us because they haven't got anyone else to depend on," he said.
"It's a really weird position. We can't give this up because they need us, but we can't continue because we're slowly getting ground down to the bone."