A Rwandan genocide survivor told London students how football saved his life.
Eric Murangwa Eugene, 44, from Feltham, West London, shared his story at the 'Kwibuka 25 Commemoration' event at City Hall on Monday with students and Mayor of London Sadiq Khan, marking the 25th anniversary of the 1994 genocide against the Tutsi in Rwanda.
The event was the culmination of activities supported by the Ishami Foundation across 25 London schools explaining the genocide, survivor stories and reflecting on lessons to be learnt from the atrocity.
Former international footballer Mr Eugene MBE played for one of Rwanda's biggest football clubs since he was 10-years-old, Rayon Sports.
He said: "Football saved my life on that first day of the genocide and influenced my survival journey."
When the genocide started on April 7 1994, Hutu militia burst into his home he shared with a friend in the Rwandan capital Kigali.
Mr Eugene said: "They were throwing things around the house and I told them we were just sportsmen, but they were having none of that.
"My football photo album fell on the floor and the soldier picked it up and said 'Are you Toto?' which was a nickname given to me when I joined the club as a little boy.
"I was lying on the floor, then the soldier told me to get up and sit on the sofa and for the next 10-15 minutes we just talked about football.
"All he wanted to talk about was football."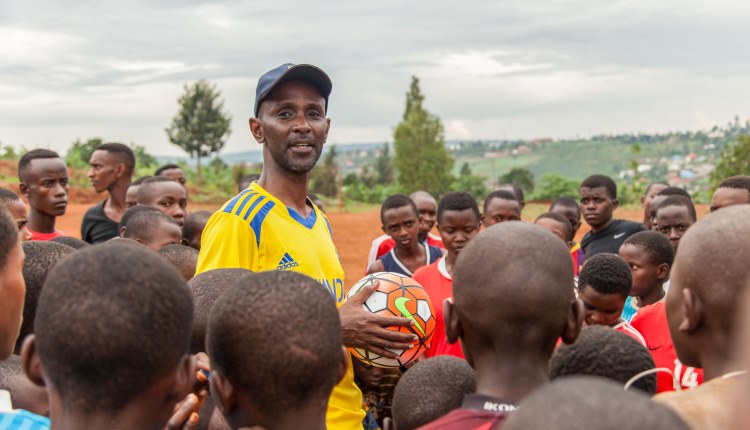 COACHING: Eric with young soccer players in Rwanda
Teammates protected Mr Eugene for nearly a month but as the genocide continued it was difficult to keep him safe.
They took him to the home of another Rayon Sports fan who was also a Hutu militia leader, who eventually drove him to a Red Cross camp.
"This was a man who spent all the hours of the day killing Tutsis and raping women," Mr Eugene said.
"He said to me, 'I will definitely protect you and when this whole madness is over we can go back to playing football'."
Most of Mr Eugene's immediate family survived apart from his seven-year-old brother who was murdered with his cousin and thousands of other Tutsis seeking refuge at a hospital near Kigali International airport.
After the genocide supposedly ended Mr Eugene was still in fear for his life and had the opportunity to play for his country in a World Cup France 1998 qualifier game in Tunisia.
He decided not to return to Rwanda then found his way to Belgium and later the UK in 1997.
Mr Eugene said: "Because of the relationship Belgium had with Rwanda, a lot of the militia who took part in the genocide were going to Belgium.
"They were on the streets, in the pubs, wherever you go; so it was not a good place to stay.
"I have forgiven now. When I go into schools to talk to young people, I don't go to teach them hate."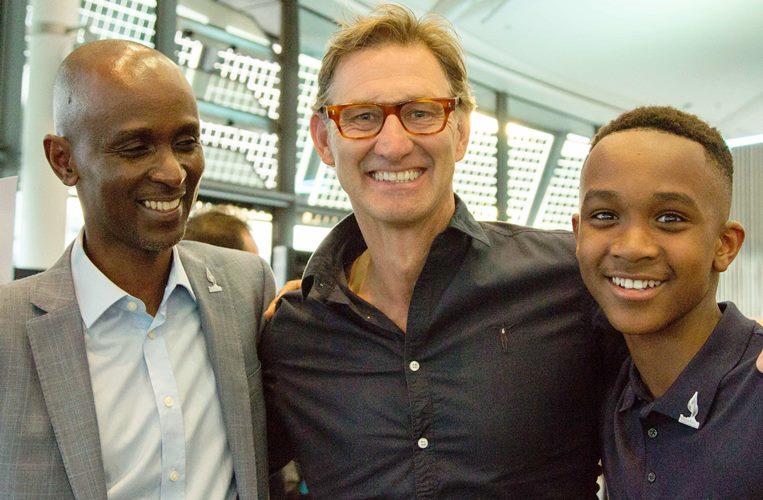 TEAMWORK: Eric, his son Cailean, 14, and former Arsenal and England player Tony Adams at the City Hall event
Mr Eugene, awarded an MBE for services to  community through sport and genocide education, uses his extraordinary personal story and sport to empower and instil values of acceptance and empathy in young people, including coaching football (main photo).
Another speaker at the event was genocide survivor Jo Ingabire Moys, 30, who lives in  Parsons Green, South West London with her English husband. She was just five-years-old when the slaughter started and most of her family were killed.
Mrs Moys recalled: "My cousin was carrying me on her back and was killed instantly and the bullets that went through her, went through me too. She acted as a shield for me.
"My mum was shot six times and people said, 'Why don't you just go home and die quietly?'"
Mrs Moys and her mother were looked after by family friends but when she was seven-years-old her school was attacked by Hutu militia.
Her mother decided to emigrate to Uganda and then the UK where Mrs Moys studied film studies and used art and professional therapy to help with her recovery.
"As a teenager I didn't want to be that weird kid, the one with the genocide history," Mrs Moys said.
"I felt a lot of shame coming from that background and I dislike being described as the genocide survivor because there is much more to us than that.
"My Christian faith is a cornerstone for me, but I'm still trying to understand forgiveness and try to forgive daily as a process of healing for me."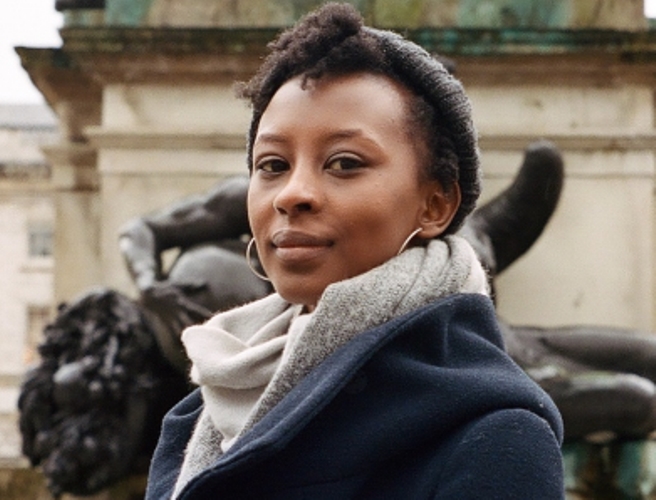 HEALING: Jo says she's  trying to understand forgiveness
Mrs Moys said commemorating the 25th anniversary with students was key because hope and hate was learnt from a young age and it was important to positively shape their world view early.
She added: "Many of the Hutu militia were young men who were told to do horrific things."
An estimated one million people were killed within 100 days during the genocide against the Tutsi.
Mr Eugene and Mrs Moys are co-founders of the Ishami Foundation which shares genocide stories and believe genocide history should be taught in schools.
Find more information for free events organised by the foundation at the Victoria and Albert museum  here.
All photos courtesy: Katie Garner