Following last November's look at local independent shops, SWL returned to see how Christmas trade fared for the three stores, and whether the easing of lockdown brought merriment and cheer or the misery of Scrooge. 
Diverse
For Diverse on Coldharbour Lane, Christmas has fared better than expected.
Although the spend per head was higher this year than last, it was still not as high as pre-pandemic days. 
By continuing to offer a click and collect service, owner Anita Thorpe believes that people were determined to have a good Christmas after missing out last year and wanted to get out and shop in person. 
Thorpe said: "People started shopping earlier as there was a bit of a panic that Christmas might be called off so they were determined to have a good celebration with their family and friends."
In order to entice shoppers back into her store, Thorpe stocked smaller gifts like tea towels and puzzles of hip hop characters.
However, it was stocking Christmas decorations for the first time ever in Diverse's history, which proved a huge hit with locals looking for something different to give as gifts. 
The decorations fell into two categories: traditional and celebrity.
The traditional decorations of angels and Santa's elves were all Black character-themed with the Father Christmas tree topper being the best seller. 
Amongst the celebrity Christmas decorations Beyonce, Prince and Diana Ross sold fast but it was the cult following of David Bowie that ensured his baubles sold out first. 
SWL asked Thorpe if the popularity of the Christmas decorations surprised her.
She said: "I wasn't surprised at the traditional ones selling well but I was surprised at the celebrity ones. 
"They are quite expensive at £16.50 but they are glass and hand painted and made locally by March Muses who had a residency in Selfridges and they've just exploded this year.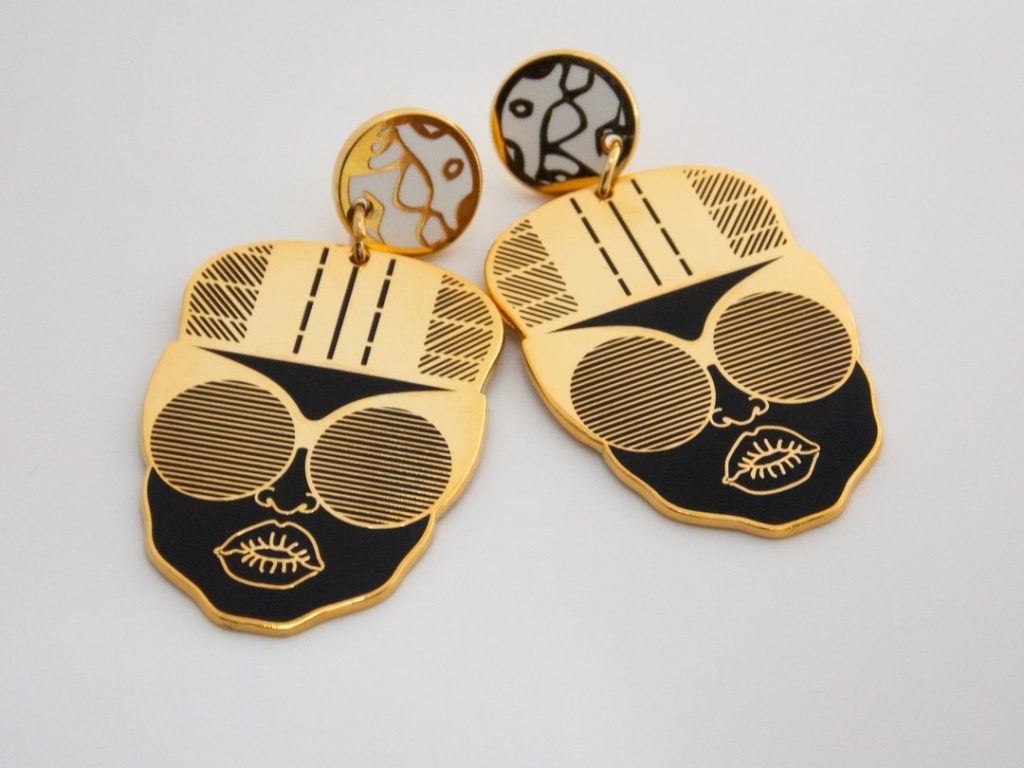 Whilst not having a need for a January sale due to Diverse's stock selling well all year round, the only thing you might be able to get is a slice of the very alcohol filled traditional Caribbean Christmas cake. 
It's now half price at £10 and feeds 8 – 10 people.
Thorpe joked: "It's got so much alcohol in there, it should come with a licence!"
You've been warned, get it while you can!
The government's Plan B Covid restrictions will ease on 27 January and Thorpe hopes this will increase foot fall into the shop.
She said: "It hasn't been easy asking people to wear masks as it can mar the shopping experience, but the easing is one less obstacle in getting back to normal."
With the new year sees trade shows opening up, Thorpe plans to visit home and gift trade show Spring Fair in Birmingham and the design led Top Drawer in London to buy new, fresh stock.
She predicts that 2022 will be a busy trading year and said: "There has been a lot of interest in diversity and inclusion books so we'll be selling more of those types of books.
"We'll also be doing a range of Valentine cards and incense packs so do come and support your local shops."
Diverse can be found at: 390 Coldharbour Lane, London SW9 8LF, tel: 020 7733 1488 or by email: [email protected]
Eel Pie Records
Twickenham's famous Eel Pie Records situated down the quaint and cosy Church Street, is a firm favourite with both music lovers and occasional listeners.
Surviving a pandemic is quite an achievement for any high street shop, but for Eel Pie Records , being a niche independent store takes resilience, determination and one heck of a deep understanding of what it is selling to its target audience in order to keep afloat during a very trying time for the independents.
Kevin Jones, co-owner of Eel Pie Records said: "Our biggest seller over Christmas was 'Oasis live at Knebworth'.
"It's quite retro but you're never quite sure what will be big and it's nice for folks to buy this as a special gift. 
"It costs £40 which is quite a lot of money for an album. 
"We sold 16 copies of it and no specific marketing was needed, it was just on the racks. 
Along with Goat Girl's 'On All Fours' selling well, the store has been very busy with last Friday's re-release of David Bowie's 'Low' on vinyl for £35.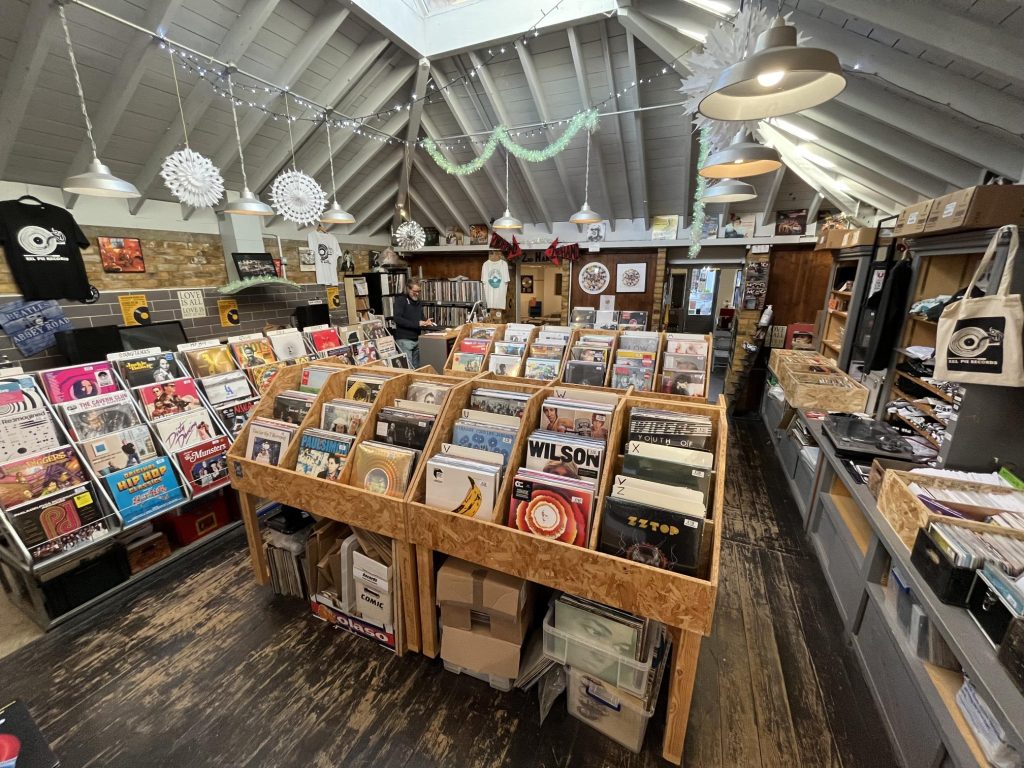 Any re-release is a sure bet for loyal fans but one with Bowie's name on it and especially vinyl, flies off the shelves in no time.
With the store's very successful twice yearly sale finishing last week, this has made room for fresh new stock. 
Jones believes  the hard work which both himself and co-owner Phil Penman put in by getting on their bicycles to deliver purchases to  customers during lockdown has cemented an even greater loyal following.   
With Covid measures easing from 27 January, Jones continued: "We just  want people to come back in and customers want to come back in.
"We're near normal times now but we will continue to  follow government guidelines in order to keep customers and staff safe."
Eel Pie Records, 44-45 Church Street, Twickenham TW1 3NR
Butikken
SWL spoke to Helle Makoni, the affable owner of Butikken about how Christmas trade was this year compared to previous years.
With the country easing from Covid restrictions, Makoni believes that being able to trade right up to the last minute made a difference. 
She said: "Trade was very good, it was up from last year because we had no restrictions like we did the year before and people had saved up during the year because of the lockdown. 
Whilst not offering a click and collect service, Makoni showed why independent businesses often go the extra mile to stand out from what is already a crowded tough market by making an exception to click and collect and hand delivering an order for a customer who was isolating at home. 
The biggest seller over Christmas was decorations, advent calendars, scented candles and Royal Copenhagen mugs which also sell well throughout the year. 
Whilst having no need for sales due to Buttiken's stock selling all year round, customers understand that and few expect January sales in this shop. 

Makoni explained: "With gifts, we don't have seasons. 
"We might reduce the price of some things to shift them but I try to keep prices as low as I can to compete with internet shopping platforms. 
"We are a small shop, I don't have a lot of stock, I don't have hundreds of items, we might just  have ten of each one."
Butikken is now looking at pre ordering for next Christmas due to Covid restrictions from China and the far East making delivery times longer. 
Since Brexit, there have also been problems with independent traders in Scandanavia and other European countries that usually supply Butikken having to fill out paperwork and paying commodity tariffs to import into the UK. 
With trade show visits planned to Formland in Denmark and London the next couple of months it will be a busy time for Makoni.  
Although it's been a tough time for independent traders, Butikken appreciates its customers and said: "The hospitality trade has really suffered because of the pandemic, but we've been able to keep trading and have very loyal customers."
Butikken can be found at 200 Upper Richmond Road West, East Sheen, London SW14 8AN.